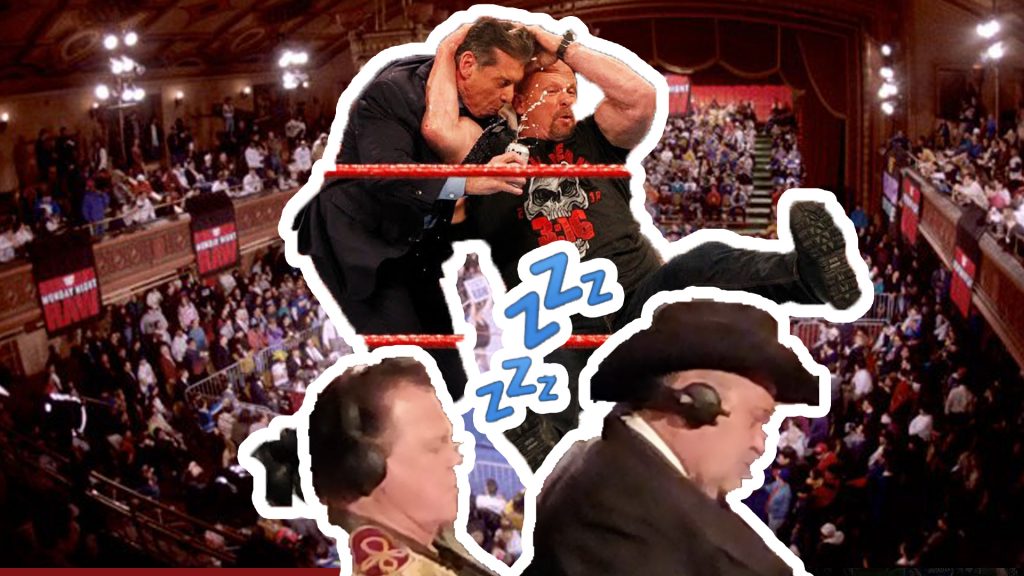 WWE Raw celebrated its 25th anniversary this past Monday and brought back a whole host of wrestling legends like The Dudley Boyz, The Godfather, Razor Ramon, D-Generation X, The Undertaker, Steve Austin and many more. WWE pushed the show very hard as a celebration of Monday Night Raw's history, and it was also the go home to the second biggest event of the year, Royal Rumble. They were even going to hold some of the show in the Manhattan Centre, home to Monday Night Raw in its early years. The show pulled in one of Raw's largest audiences in years, which has to be held up as some sort of success. But what was the fan reception?
"Awful show felt bad for the people at the Manhattan Center wasting their money & the legends wasting their time," one WrestleTalk viewer wrote. Another said: "This show did not live up to any of the hype. Raw 1000 was better." Another added: "Out of all the Raw 25's over the years, this one was definitely the worst"
But how about a report from someone who was actually in the Manhattan Centre? Surely being there live will have helped.
Ah. In fact someone even took this photo of commentators Jim Ross and Jerry "The King" Lawler apparently falling asleep at ringside. Although Jim Ross has denied this on Twitter. Looking back on Raw 25, the show got off to a hot start with Steve Austin stunning both Vince and Shane McMahon, but it all sort of fell apart after that. Trying to be both a nostalgia show while also building towards the Royal Rumble. So where did it all go wrong?
Well let's first look at the elephant in the room – the fact this show took place in two locations. The idea of doing Raw from the Manhattan Centre is a great one in principle. It's where the first episode aired from back in 1993 and people have a lot of nostalgic love for it. In fact the ones who went to that location to see Raw 25 were the most hardcore of hardcore fans. Some in the audience have even said they paid upwards of $800 for front row tickets. That's the sort of price one might pay for WrestleMania tickets. For that price, you would expect quite a bit, right? Well what did they get? The Undertaker cutting a promo, a short unadvertised match between Bray Wyatt and Broken Matt Hardy and the DX/nWo/Balor Club Too Sweet-a-thon. That's it. Of the 3-hour Raw broadcast, the Manhattan Centre audience got 30 minutes worth of product. The following day saw Twitter feeds filled with the video of the crowd chanting "bulls**t" at the empty ring while they watched all the other in-ring action on a big screen. They got other stuff in the Manhattan Centre, but it was all Cruiserweight action – the least over people on the WWE roster.
But people in the Barclays Centre had a good time right? After all they got 2 hours more content that the Manhattan Centre got!
"Come on WWE. You got half hour left to give this crowd something special. They're losing interest," WWE podcast Gorilla Position wrote on Twitter.
Ah. Yeah, following the awesome segment with Austin and the McMahons, we got a redundant 8-woman tag match, people being paraded on the stage, some backstage skits and Titus Worldwide vs. Heath Slater and Rhyno in what was essentially the main event match for the Barclays Centre. They also got Roman Reigns vs. The Miz – which was a great match – and Elias attacking John Cena, but are those killer angles and matches befitting the 25th anniversary of Monday Night Raw? Oli mentioned in his Raw 25 review that Raw 1000 – the last time WWE had a landmark episode – had the shock twist of the knife when CM Punk turned heel by attacking The Rock – which would eventually pay off in their Royal Rumble match in 2013. It also created an excellent run for CM Punk, as he continued his amazing record-breaking WWE Championship reign. Raw 25 didn't have that. You didn't even have Heath Slater versus the legends – unless you counted The Dudleyz which came very late in the show.
Coming six days before the Royal Rumble was also an odd choice, as all the Rumble build played second fiddle to nostalgic cameos. However in this day and age of the WWE Network, go-home shows aren't as important as they once were. WWE aren't relying on PPV buys for a show to be a success, as they already have your money thanks to the Network. Even if they don't pick up any new subscribers, Royal Rumble has nearly 2 million potential viewers – which is far greater than they would have had on traditional PPV. Ignoring that fact however, it strikes me as odd that this nostalgia show wasn't held two weeks ago where it could have been 100% focused on cameos and gimmicks.
So was Raw 25 a disaster? In many ways, yeah it was. As a go-home show for the Royal Rumble it was very lackluster, with the main event angle of Brock Lesnar, Braun Strowman and Kane lasting no more than a few minutes, and as a nostalgia show it wasn't that great either. Most of the announced appearances were in backstage skits, being paraded on stage like the droids in Star Wars, in Kurt Angle's office, or playing cards with the APA. There were a lot of names there, but it was quantity over quality. The fact it was held in two arenas didn't help either as there wasn't an even split of in-ring content with WWE pleasing the 15,000 people in Brooklyn over the 500 in Manhattan. It didn't really work as a nostalgia show, and it failed at building towards the Royal Rumble.