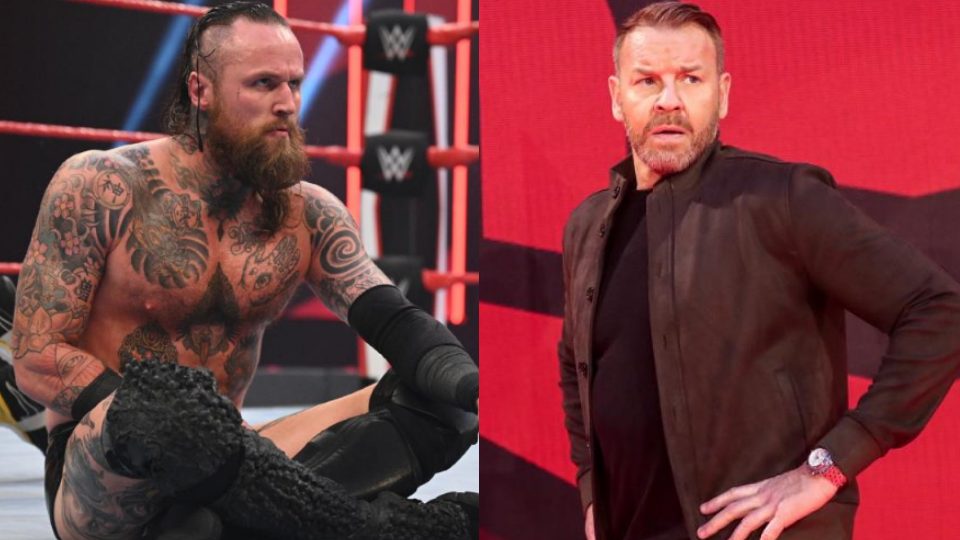 In the first Q&A here on the site, we discuss what's next for Aleister Black, WrestleMania plans for Christian, and more of your questions!
@Walu2go – What do you think is next for Christian? Will he be Big E's WrestleMania opponent? 
Louis Dangoor:
Like many people, I was buzzing to see Christian back in the Royal Rumble, and reports seem to suggest that he is going to be working a part-time schedule with WWE moving forwards. I'd personally love to see Big E defend his Intercontinental Championship against Christian at 'Mania. I think it makes sense, with Christian never getting the IC title shot that he won back in 2014. The match would do wonders for Big E too, especially if he goes over, and it seems based on his social media posts that this will be something he is pushing for. I'd also be surprised if we don't get some sort of tag team run with Edge and Christian, either after WrestleMania or in the build-up to the show.
Liam Winnard:
If we do get Big E defending against Christian, I think it's most likely going to be on TV for a ratings boost. I certainly don't think it should be a WrestleMania program considering it would be babyface vs babyface and this is E's first WrestleMania as a singles guy. He should be beating a real villain… Seth Rollins I think would be a great option for him. I think the best option for Christian heading into WrestleMania is just being involved in Edge's program and they can maybe have a tag run afterwards.
What is Shinsuke Nakamura's role in Cesaro's push?
Louis:
Shinsuke Nakamura and Cesaro were built up pretty well in the road to the Royal Rumble, and it was genuinely great to see. I would be pretty surprised if both don't factor into the Elimination Chamber or Fastlane title plans as we approach WrestleMania. The idea of Shinsuke and Cesaro maybe even coming to blows and going one-on-one on either night of WrestleMania 37 would certainly be a great idea.
Liam:
I'm not sure he'll even have a role. It seemed like they may have turned Cesaro babyface on SmackDown after his match with Daniel Bryan, which means both he and Nakamura would be faces now. That would make sense too given that Nakamura's gauntlet role was initially intended for Cesaro when Bryan came up with it. It's probably best to keep them apart for the time being, although I don't despise the idea of Nakamura turning back heel and then Cesaro beating him. But I'd keep them apart I think.
Who is going to win the Dusty Rhodes Tag Team Classics? 
Louis:
This is a pretty hard to question to answer, as there are quite a few options for both the men's and women's Dusty Rhodes Tag Team Classics this year. For the men's I see either MSK or the Grizzled Young Veterans walking out of TakeOver next weekend with the win. Both teams are relatively new to NXT, but we saw last year that WWE wanted to push Grizzled Young Veterans, and I actually see the heels walking out with the win. For the women, I think Dakota Kai and Raquel Gonzalez should win, and probably will. WWE clearly wants to push Raquel, so I see her winning to set up a match with Io Shirai at the TakeOver event around April time.
Liam:
I feel like history points in the direction of Timothy Thatcher and Tommaso Ciampa because we've now seen these mish-mash teams win the Dusty Classic several times throughout the years. If I had to make a prediction, I'd say them. But out of the teams left, if it was up to me, I'd give it to the Grizzled Young Veterans. It's about time an actual tag team wins it and I do think an accolade like that would give them a boost. For the women, I don't see a reason to slow down the push of Raquel Gonzalez so I'd say her and Dakota Kai. Any other team winning would be a bad decision at this point.
Should Miro turn on Kip Sabian?
Louis:
Frankly, the Miro and Kip Sabian partnership has not worked for me. I would have Miro turn on Kip relatively soon and have him go on a big solo heel run. Unusually for AEW, Miro's first few months since his debut have not worked, and while things have got better over the last few weeks, the former WWE star needs something, likely a big turn, to make him feel important.
Liam:
Absolutely. The whole thing has more than run its course now. It had run its course at week one quite frankly. He needs to break away, get a dominant win over Sabian, and move on up the card where he belongs. Unfortunately, I have a feeling that isn't what's going to happen, but I hope to be proven wrong. I really don't mind Sabian but I do feel like the whole thing is holding Miro back rather than elevating Sabian.
@donmoran33 – Do you guys think Aleister Black is on the chopping block?
Louis:
I would be pretty surprised if WWE ever releases Aleister Black. The company knows that he has the potential to be a huge star as Tommy End if he ever does leave the promotion, so I would be pretty surprised if he does get released. Whether Aleister Black re-signs with WWE if/when he contract comes to end is an entirely different question, and I wouldn't be shocked to see him snub a new deal.
Liam:
Aleister Black's situation is really interesting. I definitely don't think WWE will want to offload him. If there's any animosity about the situation with Thea Trinidad (Zelina Vega), it's more likely to be from him towards WWE rather than from WWE towards him. A lot of people complain when he isn't included in battle royals and stuff, but I actually think it's best for him to not be in there mixing it up with a load of other midcard guys anyway. Considering how he was being used before he was taken off TV, the time away is probably a good thing. It means if they do want to bring him into a top spot it'll feel that bit more special. If he wants out, it seems unlikely that they'll let him out at this point, so he'd probably have to let his contract run down if that's the case. I certainly don't think they'll actively be looking to get rid of him.
@BwanaToronto – Does interviewing a wrestler make you like their segments and matches more, compared matches with wrestlers you haven't interviewed?
Louis:
This is a pretty hard question to answer, but I think I do subconsciously enjoy the segments and matches of the wrestlers I have interviewed more. Interviews are essentially just conversations between two people, where a camera happens to be there, or that's how I like to think of them anyway, so it's pretty natural to feel a closer bond with the people you interview. Many of the people I have interviewed I have stayed in touch with and have also developed a professional relationship with, and I'm sure this also has an impact on my enjoyment of their work too.
Liam:
Not being an interviewer means I'm not particularly qualified to answer that specific question so pay more attention to Louis's answer, but what I can say – which is probably pretty obvious – is how wrestlers act in interviews and the things they say does often affect my perception of them. As a website we obviously have a duty to report on everyone fairly and equally, which we do, but when it comes to enjoyment of their work, that's something that can definitely be affected.
If you think of any questions you want us to answer next week, send them to @LiamFWinnard on Twitter or email liam@wrestletalk.com. We'll also post a reminder tweet from @WrestleTalk_TV next Saturday and get replies from there too.