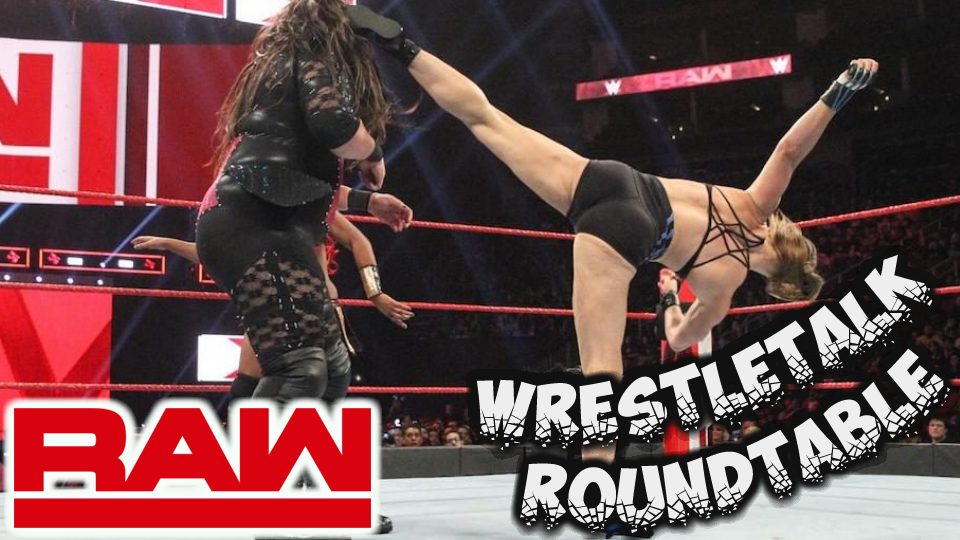 There was something noticeably different about the way Raw started last night. For the first time in several weeks, the show didn't kick off with some combination of Baron Corbin, Drew McIntyre and third-wheel Bobby Lashley in the ring, cutting lengthy promos about… I don't know, things and such.
Instead, what we got was the red brand's biggest star, Ronda Rousey, and the announcement of a match about to take place. It was a welcome change of pace for the Monday night show, clearly designed to distance itself from the historically abysmal offering it put on seven nights ago.
The revelation that last week's abomination was exclusively written by Vince McMahon himself should come as little surprise to anyone familiar with the eccentric billionaire's vices. The show was crammed wall-to-wall with all of the elder McMahon's favourite things: big sweaty men, toilet humour and the systematic burial of the company's babyfaces. WWE's efforts then to resuscitate the red brand were not only welcome, but desperately needed.
Unfortunately, and as much as it pains me to say, the freshness of this new formula soon faded, giving rise to another problem. Where last week's Raw was plagued by heels utterly demolishing their babyface counterparts, this week's show suffered from not allowing anyone to get over at all.
To illustrate, the show started with Nia Jax beating down Rousey in a segment clearly designed to build anticipation ahead of their encounter at TLC. It was a decently executed segment – barring some unnecessary Tamina-shaped nonsense – that served its purpose of getting heat on Nia. It's completely baffling then why all this tension would be defused by the end of the night, with Ronda getting one over her title challenger in the main event. Does Ronda look more dominating now than she did a week ago? Is Nia any more of a threat to take the title away? Have we moved the needle in any meaningful way?
And these two segments only bookended what ultimately became an extremely flattened out wrestling pie. Bobby Roode beat up Drake Maverick before getting pinned by the diminutive piss-master; Lucha House Party managed to defeat the Revival again, but this time in an even more lopsided three-on-one handicap match; McIntyre beat up Dolph for a bit, then lost the match; Bálor spent most of the night outsmarting heels, yet ended the show flattened by McIntyre; and Dean Ambrose, looking like the villain from a WWII-themed video game, initially ran away from Seth Rollins but then decided to lay him out. Everyone got their licks in, everyone got beaten up and no one got over.
https://www.instagram.com/p/Bq8xmQAFjkc/?utm_source=ig_web_button_share_sheet
After a promising start, this show disappointingly devolved into the wrestling equivalent of being a member of Oprah Winfrey's live audience. You get heat! You get heat! Everyone gets heat! And yet, for that very reason, no one looks any the better for it.
Despite this initial gripe though, the question remained whether Raw had done enough to separate itself from the horrific past few weeks. Have we finally turned the corner and started to build some much-needed momentum heading towards TLC?
Only time would tell. And, on a three-hour show, we've got a lot of time to get through. So in an effort to distill the good from the bad, we've recruited three of our WrestleTalk writers to take you through each of the most significant moments of Raw. What worked? What didn't? And most importantly, was the show better than it has been in recent weeks? Each of those questions (and more) are answered on the next pages.