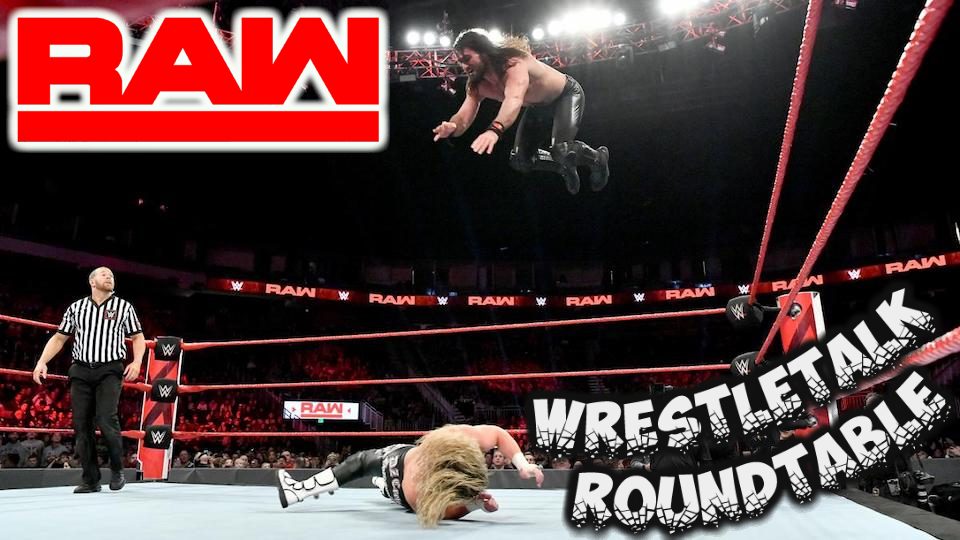 There was a point during last night's broadcast where AOP gruffly proclaimed "laugh now, cry later." I think that's equally applicable to my feelings towards Raw. Well, except for the laughing part.
If it sounds like I'm exaggerating the point, just consider the context in which AOP made that statement. They were responding to the long-running jokes being lobbed at their manager for wetting himself at Survivor Series last Sunday. Still not convinced this show was bad? What if I told you that this segment was followed by a lengthy debate by the Raw announcers about whether Drake Maverick's ringside accident was ingenious strategy or simply a case of a grown man becoming so overcome with fear that he leaked involuntarily?
"But come on", I hear you say. "I'm sure the match that followed all of this juvenile nonsense was still good." And I wouldn't blame you for thinking that. Matching the AOP against Gable & Roode should virtually guarantee an exciting contest. Add the tag belts to that equation and we should surely be in for a hot bout. And we were… until Drake Maverick stole Roode's bedazzled robe, legged it to the nearest bathroom and had a camera man film him pissing on it.
This scandalous act of vandalism, stolen straight from your least favourite 90s teen comedy, while not enough to make any of us care about any of this nonsense, somehow distracted both Gable and Roode long enough for AOP to get the quick win.
https://www.instagram.com/p/BqqsIp4low-/?utm_source=ig_web_button_share_sheet
As WrestleTalk is a family friendly outfit, it was around this time that I grabbed my favourite swear jar and unloaded 90 minutes of frustration into it. You see, this was only one of many awful segments on Raw. The entire show was in essence just a long series of poor decisions, loosely strung together to create the illusion of a television program.
On a night where Baron Corbin anointed himself the 'General Manager Elect', we witnessed the final death knell sound for the red brand's babyfaces. Seriously, which one of them came out looking good last night?
The show kicked off with Strowman delivering a promo from his hospital bed, essentially explaining that his doctor has never seen bone spurs before. I'm not sure if he's been consulting the same loon who spent most of the night drilling needles into Dean Ambrose's backside, but I'd look into finding a new doctor, mate.
Then, throughout the night, we saw an Elias beatdown, a Natalya beatdown, a Bálor beatdown and an attempted Sasha and Bayley beatdown. Ironically, the only people I wouldn't mind seeing getting beaten up escaped the night unscathed. The good guy Lucha House Party won another three-on-two handicap match.
As an aside, it's starting to look like Alexa Bliss won't be making an in-ring return as a result of her injuries. I sincerely hope that WWE is simply taking its time to clear her out of an abundance of caution, because 'the Goddess' – increasingly capable in the ring – has the charisma to outshine the entire division. As if to prove the point, Nia Jax delivered one of the most monotonous, painful promos I've ever sat through. This was Sid Vicious levels of terrible.
Is there ANY stopping this force?#RAW @BaronCorbinWWE @fightbobby @DMcIntyreWWE pic.twitter.com/Q9uNSVBo3y

— WWE (@WWE) November 27, 2018
So that was the gradual erosion of Raw's babyfaces. There's an old saying that a hero is only as compelling as the villain he vanquishes. By the same token, a heel is only as interesting as the face he battles. Based on the deafening silence that greeted Drew McIntyre when he booted the grin clean off Bálor's face last night, Raw failed on both fronts.
But that barely scratches the surface of what went down on yesterday's show. We've gathered some of the smartest wrestling voices on the internet (take that as you wish), to delve into some of the finer points of Raw. So while I uncork my swear jar for another deposit, let's get rolling with the best moments from last night's broadcast.