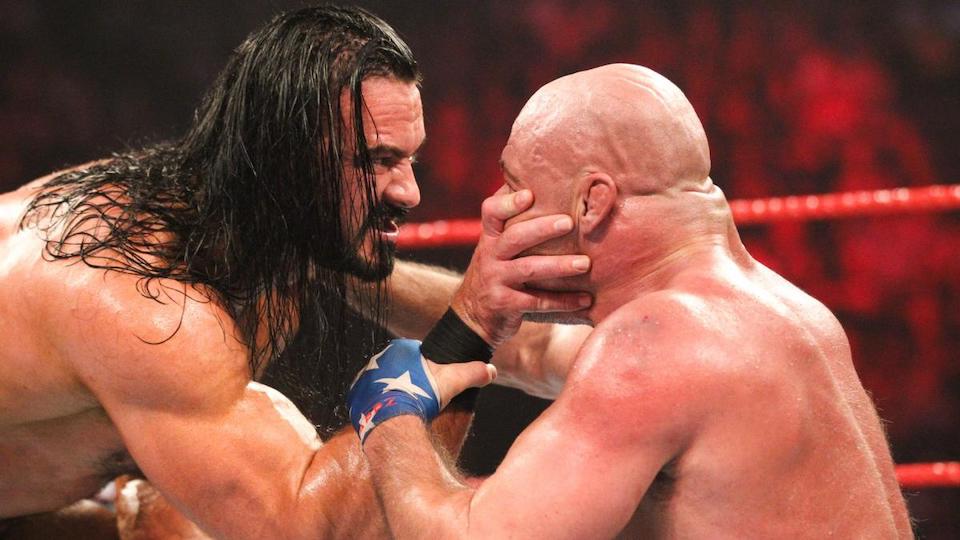 Step aside Backlash. Crown Jewel is the captain now.
Emanating from a purposefully undisclosed location, WWE's most recent pay-per-view had all the makings of a memorably awful event.
It was a kernel of terrible matches wrapped in a layer of political outrage, coated with crumbs of ineptitude and callous disregard. It was like a turducken of awfulness, except more sinister. It was, in fact, the human centipede of offensive wrestling showpieces.
Full disclosure – in case you hadn't already guessed it – I did not enjoy this pay-per-view. For a full review of Crown Jewel, you should check out our excellent, and decidedly more positive, review.
But it wasn't the quality of the matches that annoyed me. It was something far more insidious. 
FOUR #F5s!!! THIS is wild! #WWECrownJewel #UniversalTitle @BrockLesnar @BraunStrowman @HeymanHustle pic.twitter.com/bMHLtgMV8y

— WWE (@WWE) November 4, 2018
Repeatedly we've been told that WWE listens to its audience. It's a sentiment often driven home by the company's executives, most recently publicly echoed by Stephanie McMahon. Our opinions matter, we're told. In WWE lore, our voices were the catalyst for Daniel Bryan's rise to the top, the increasing prominence of women which culminated in Evolution, and Becky Lynch's recent success.
But we know that's a load of McMahon family gibberish. The truth is our opinions are only relevant when they conveniently align with the company's objectives. We're only acknowledged when we cheer who we're told to cheer. Any other time, the reaction is cast as being "controversial" or "polarising".
Daniel Bryan was buried for years before he tasted championship gold. Trish Stratus and Lita were headlining Raw long before WWE decided to introduce the Divas division. Would Evolution even exist if it weren't a public relations boon; if it weren't necessary to counteract some of the controversy created by Crown Jewel? And regardless of how loud you cheer for Becky Lynch, don't forget that she's a heel. Because that's the story we're being told.
And so, in the face of massive public outcry, WWE decided to stage Crown Jewel. They did so at the expense of the entire women's division and, previously, the 'undesirable' Sami Zayn. They did so while parading an unrepentant racist as the night's host. They did so in spite of the fact that it meant replacing the biggest star in the company, making last minute changes to the company's championship match and luring at least one fifty-year-old out of retirement. Oh, and of course Brock Lesnar is the Universal Champion once more and this idiot is supposedly the "best in the world":
There's the value of your opinion.
Duly noted.
But not even that is the reason I got so annoyed.
What really bothered me was the knowledge that I was so deeply entangled in this web of self-congratulatory, conceited narcissism that I was not going to find my way out again. As much as I generally enjoy Raw and SmackDown, and as fantastic as NXT and pay-per-views like Evolution are, WWE will continue to pretend that what we say matters – while doing whatever it wants.
And I'll keep tuning in every week, regardless. That's what upset me. The thought that no matter how bad things get, WWE's core audience will stick around. And the company will consider that validation for the treatment of its workers and justification for the sacrifice of its values for money.
Shortly after the conclusion of Friday's main event, Michael Cole joylessly exclaimed, like the damp firework that he is: "this will be a moment that we remember for a long time".
I agree, Cole. You're still the worst.
https://www.instagram.com/p/BpxOfeaF_RT/?utm_source=ig_web_button_share_sheet
One positive coming out of the weekend was that WWE was clearly so embarrassed by Crown Jewel that they barely acknowledged it on the night and have tried to move on as quickly as possible. That means that things were largely reset on Raw as we speed towards Survivor Series in two weeks.
So what did our WrestleTalk writers make of this clean slate? Which segments did they enjoy and which could have used slightly more Elias? Join us as we cover the best and worst from last night's Raw, then share your thoughts and let us know your rating of show.