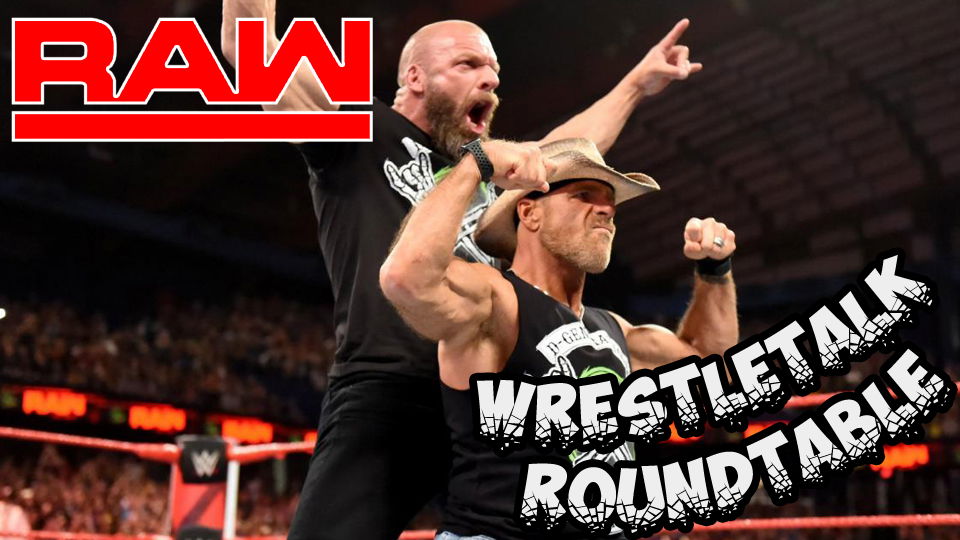 So, Super Show-Down was a thing that happened on Saturday. The Australian mega event was a surprisingly decent, if largely unremarkable spectacle, where the biggest shock was seeing John Cena's ability to wrestle with the top part of a feather duster glued to his head… and you keep telling me he's not the greatest of all time. Open your eyes, people!
And yet, just like a trip to Human Resources after your first meeting with Randy Orton (allegedly), every big show is inevitably followed by another Monday Night Raw. If you were looking for a roundup of what happened during last night's episode, you've come to the right place! Every week, we look at the best and worst moments of WWE programming and present it to you in our neat, occasionally self-indulgent, Roundtable discussion.
However, before we dive into our analysis of Raw, I'd like to share a few observations I had while watching the 'Greatest House Show of the Spring' over the weekend.
Now, I don't want to work up a comprehensive review any more than you want to read it. Those are all over the place (including the best one above), and you've probably had your fill. Instead, I wanted to pick out some facts that you might find interesting, throw them at you in quick fire fashion, before arriving at a personal opinion (which you're free to criticise).
Here are my (mostly) factual observations:
1) Becky Lynch and Braun Strowman are heels. Charlotte and Roman Reigns are babyfaces. Not even Road Dogg knows what story they're telling.
2.a) Long-haired John Cena looks like he's auditioning for the role of Ned Flanders in the live action remake of The Simpsons.
2.b) These observations become more interesting, I promise.
3) Following his abrupt roll-up win over Miz, Daniel Bryan revived his old nickname of 'Mr Small Package'. It took less than a minute for someone to ask the obvious.
….is that what Brie calls you?

— Jacob Fonseca Ŧ (@g2Drummer) October 6, 2018
4.a) Paige announced that Daniel Bryan would get his shot at AJ Styles at Crown Jewel. This was immediately followed by the announce team crowing about Evolution.
4.b) Crown Jewel will be taking place in Saudi Arabia, where laws prohibit women from competing in the ring. Evolution is notable for being WWE's first ever all-women's pay-per-view.
4.c) Expect every mention of Crown Jewel going forward to be followed by a reminder of Evolution – WWE is so beautiful and progressive!
5) Long-haired John Cena also looks like a wrestler who's body has been possessed by the ghost of the coolest dad at your local country club.
6.a) Prior to facing Charlotte at WrestleMania, Asuka was riding a two-plus year undefeated streak.
6.b) Since suffering that defeat, she has lost matches against Carmella (twice), the IIconics and drawn with James Ellsworth.
6.c) She again lost to the IIconics on Saturday, in the process bringing her overall win percentage since WrestleMania to 60%.
6.d) That's equal to or worse than Charlotte (70.5%), Becky Lynch (73.5%), Ronda Rousey (100%), Nia Jax (69%) and Zelina Vega (60%), amongst others, over that same period.
7.a) Buddy Murphy, who won the Cruiserweight belt by defeating Cedric Alexander, is the first Australian to hold a title in WWE since 2015.
7.b) That last Australian to hold a belt? Also Murphy, who won the NXT Tag Team Championship with Wesley Blake.
7.c) No other Australian has ever held gold in the promotion.
7.d) Both he and Cedric Alexander are phenomenal wrestlers who put on the performance of the night at Super Show-Down. 205 Live is an unbelievably underrated show and deserves a larger audience.
https://www.instagram.com/p/BolwsGqlGV9/?utm_source=ig_web_button_share_sheet
8.a) The WWWF was formed in 1963. Less than two years later, The Undertaker was born. A 'Baby-Taker', if you will.
8.b) I promise to never use that name again.
9) Triple H fought the 'Dead Man' for the first time in September 1997. Although his last one-on-one victory against the 'Phenom' came sixteen years ago, the pair have only wrestled one another in singles competition three times since then, most recently at WrestleMania XXVIII in 2012.
10) Their encounter on Saturday went over 27. (That's minutes, not years.)
11.a) If you aggregate the ages of the four men who featured in the main event, you arrive at 206.
11.b) The aggregate age of the SIX men involved in the Shield vs Braun, Dolph & McIntyre match? 203.
12) In terms of average age, at 51.5, this was the oldest main event the WWE has put on at a pay-per-view since… ever.
13) The total list of people over the age of 50 to main event a WWE pay-per-view prior to Saturday: Ric Flair, Bret Hart, Sting and Vince McMahon. That's it, that's the list.
14.a) Mae Young is the oldest person to ever compete in a match for the company, when she took on the team of Lay-Cool in a 2010 episode of Raw. The average age of the competitors in that match was exactly 50.
14.b) Mae Young was 87 at the time.
14.c) None of the competitors in Saturday's main event fell within three decades of that number – and yet, on average, Saturday's match-up was older.
15) All four men are certain to join Coco B. Ware in the WWE Hall of Fame one day.
Now for the opinion:
They should never wrestle again. Watching The Undertaker, Triple H, Kane and Shawn Michaels hobble around the ring was not nostalgic; it was a painful and depressing reminder of how the ravages of time affect even the greatest of all time.
I love all four men involved in this match – they played a major role in getting me into wrestling in the first place. But their legacies were solidified years ago – they have nothing to gain by competing now, and their presence ultimately robs those who are more deserving of the spotlight. I had no desire to watch them face-off at Super Show-Down, and I'm actively dreading their now confirmed encounter set for Crown Jewel.
#HBK @ShawnMichaels is coming OUT of retirement when he teams up with @TripleH at #WWECrownJewel to take on The #BrothersOfDestruction! https://t.co/RfQ3ykFC7x

— WWE (@WWE) October 9, 2018
For now, what did we think of the post-Super Show-Down episode of Raw? Did it successfully build on the momentum of that show? Read on for our opinions and then share your views with us in the comments.