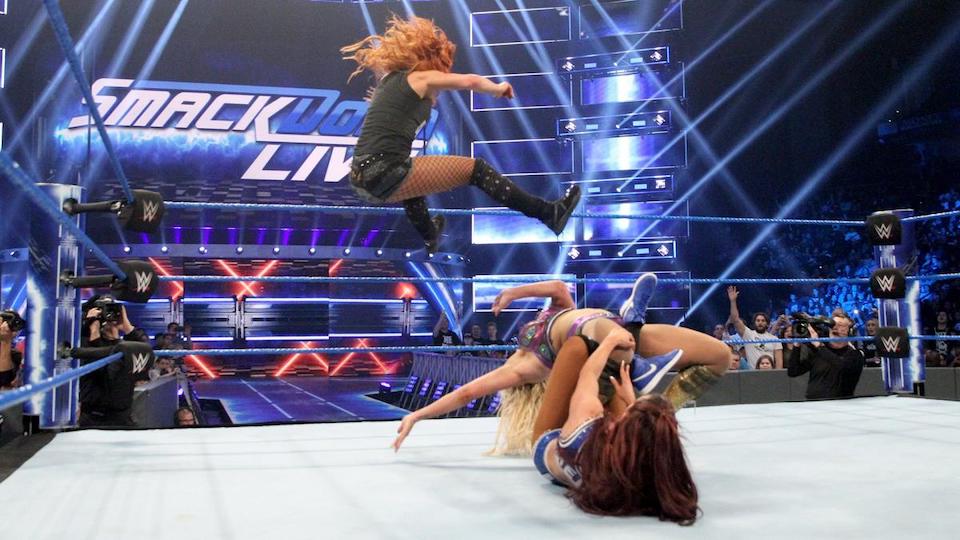 I'm a sucker for a decent number one contendership match. In whatever form. Be they tournaments, multi man (or woman), or the good old-fashioned one-on-one grudge match, I'm all for it. The drama, the anticipation, the unpredictability. It's like sweet, sweet nectar, and I want its undiluted goodness pumped directly into my veins.
And SmackDown Live gave us two of them last night! …Oh, be still my beating heart.
Admittedly, in true WWE fashion, they couldn't quite get both right. That would always be too much to ask. So one of the matches naturally had to devolve into somewhat of a non-sensical, circular, half-baked excuse for a number one contenders match.
Giving the Usos a match against the tag champs with a future match against those same champions on the line is terribly uninspired. Especially when you consider the alternatives. How about a tag team gauntlet for instance? Give SmackDown's tag division 45 minutes to an hour to showcase their abilities, elevate new teams and invite new, exciting encounters. It's worked before, with Seth Rollins being the most notable example.
Of course, that would have distracted from WWE's true focus here, which was to further develop the Miz / Shane McMahon storyline. A hastily thrown together pairing, who have now ostensibly leapfrogged every other team in the division to claim a tag team title match against The Bar at the Royal Rumble. Because time is a flat circle, where Shane McMahon gets pushed in 2019.
Doctor Strange could foresee 14 million possible outcomes to this mess and still not find the one which doesn't drive me insane.
https://www.instagram.com/p/BsZU4xWlOOu/?utm_source=ig_web_button_share_sheet
So while we were left slightly disappointed on one front, oh boy, did SmackDown deliver when it came to the women. Becky Lynch vs Charlotte vs Carmella. That's how you decide your next challenger for Asuka's SmackDown Women's Title. It's the kind of threesome that's guaranteed to deliver an excellent match. The first woman is the hottest star in wrestling at the moment, the second is the most decorated champion in the company today, and the third… is Carmella. Okay, they can't all be winners.
But in all sincerity, this was a really compelling main event. Carmella's in-ring ability is often derided, but she more than held up her end last night. Her transitions were smooth – most notably when she seamlessly manoeuvred Charlotte into the Code of Silence – and her suicide dive through the middle rope was particularly impressive. Ultimately though, as most could've predicted, 'Mella's greatest contribution to the match was being there to take the submission loss, thus granting Becky a shot at reclaiming her title against Asuka at the Royal Rumble.
.@WWEAsuka, at the Royal Rumble I'm going to slap that paper plate off your face for cooling down my title. Some people like to rescue animals, but I'm a sucker for titles in distress. https://t.co/maRMrlOnom

— The Man (@BeckyLynchWWE) January 9, 2019
I am all about this. The match was great, the outcome was perfect and Becky is fantastic. The prospect of Lynch taking on Asuka in a couple of weeks should genuinely excite us all.
So you already know what I loved about last night's show. But how did our writers feel about the blue brand's offering? Keep reading to find out what they considered good, what they deemed less good, and how they felt about the show overall.