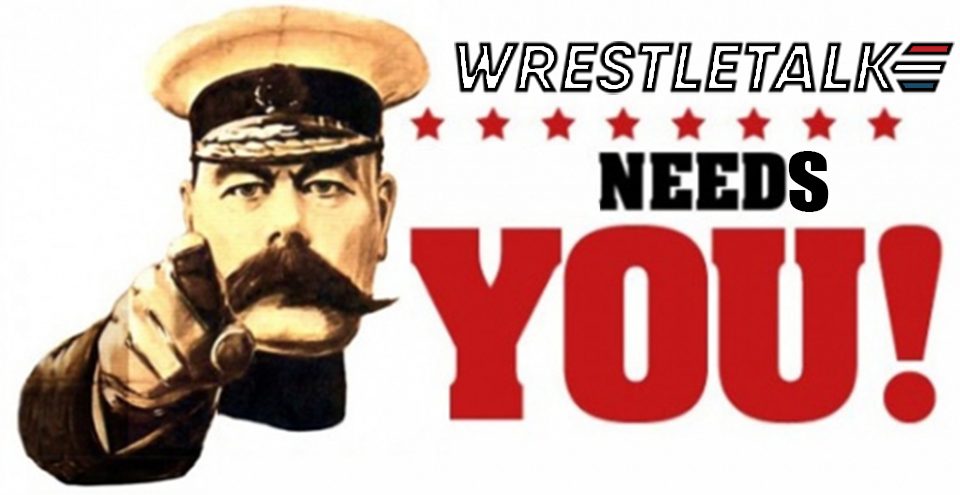 Hello! WrestleTalk is looking for new staff across the board, and perhaps you are exactly what we're looking for.
Don't worry, we're not getting rid of any of the old team, we're looking to expand and make you a part of our wonderful family.
Below you will find the roles we are looking to fill, and how to apply if you think you fit the bill.
Please only apply if you think you are suitable for a role. Please refrain from sending an email admitting that you have no experience, but that you would love to work for WrestleTalk, as you will not be considered for a role.
————————————————————————————————————————

WrestleTalk Onscreen host/Script Writer/Producers
WHAT WE'RE LOOKING FOR: Experienced onscreen writer/hosts who can come to our London studio several days a week and work Saturdays. Need to have hosting/YouTube experience. Can write 1,000-2,000 word scripts daily. Interest in movie and video games a bonus for ScreenStalker content.
HOW TO APPLY: Write a 700-word sample script using the stories below in the WrestleTalk News video style, then film you presenting that script (don't worry about production, camera, sound, etc – we're looking for your style, so be yourself, not an impersonation of a current host!).
Use the following stories to write the script:
Send in that with a CV and a showreel/links to previous videos/your YouTube channel to admin@wrestletalk.com
If you're in the US, you'll need your own camera, lighting and audio equipment.
————————————————————————————————————————
Website Writers
WHAT WE'RE LOOKING FOR: US-based writers to cover when we go to sleep. Applicants should have experience in writing and the ability to commit to more than one evening a week.
HOW TO APPLY: Write a test news article of 250 words (make sure it's something topical) and email to admin@wrestletalk.com
————————————————————————————————————————
Social Media Managers
WHAT WE'RE LOOKING FOR: People to help grow our WrestleTalk and ScreenStalker social media, including Facebook, Twitter and Instagram.
HOW TO APPLY: Send in a strategy for how you'd grow WrestleTalk or ScreenStalker's presence and a CV with previous experience to admin@wrestletalk.com
————————————————————————————————————————
Video Editors
WHAT WE'RE LOOKING FOR: Video editors based anywhere with a very good knowledge of Adobe Premiere Pro. Can edit videos with a tight turnaround. Experience with green screen editing and experience of cutting together wrestling matches is a huge bonus.
————————————————————————————————————————
YouTube Live Stream Moderators
WHAT WE'RE LOOKING FOR: Reliable individuals who have experience in moderating YouTube and/or other social media platforms. While 99.9% of our viewers are very lovely, we do get the occasional unpleasant person and we want to avoid any trolling or unpleasant behaviour in the comments during our live streams. You will need to be able to consistently watch live streams, and be able to spot the kind of behaviour we want to avoid in our chat.
HOW TO APPLY: Send an email to admin@wrestletalk.com outlining your experience. Include a cover letter about why you should be considered.