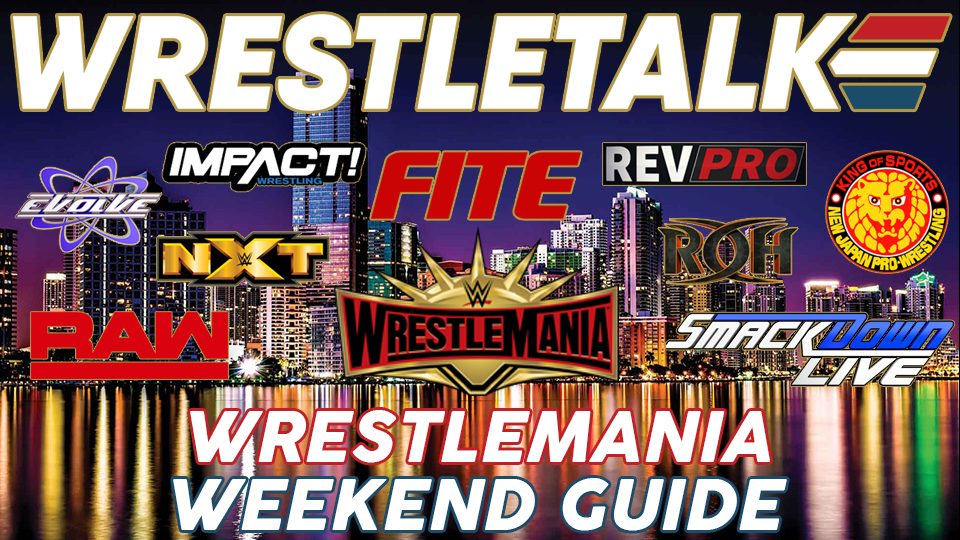 The week-long WrestleMania festivities are coming up in just under one week (!!!), with dozens of shows from promotions worldwide taking place in New York within a seven-day spell from Wednesday, April 3 onwards.
And WrestleTalk.com will be covering (almost) all of it with rolling live blogs featuring results and reactions from all of the major – and some not so major – shows taking place that week.
It can be hard to keep track of what shows are happening and when, which one to choose when there are clashes (and there are several), how to watch them and what matches, performers and promotions to look out for.
Hopefully this guide will help ease the process.
Remember you can visit our Events Page to see a list of every major show happening that week and our WrestleMania Weekend Schedule which features everything happening over the course of the week, including shows that are not streaming.
---
Wednesday, April 3
At 8pm ET (1am UK) Beyond Wrestling kicks off the festivities with Uncharted Territory (available on FITE), a one-night only eight-person tournament featuring the likes of Jordynne Grace, David Starr and Wheeler YUTA. Former WWE star Lisa Marie Varon (aka Victoria) will also be wrestling on the show. Louis Dangoor will be on hand to talk us through it.
Just 30 minutes after Beyond starts, WrestlePro hits the Rahway Recreation Center in New Jersey with a show called Does Funny = Money? (available on FITE). Highlights include a Bird Box Match (no, we don't know either) between Shawn Donovan and Buster Jackson, a street fight between Swoggle and Dan Maff and a tag team gauntlet involving the Blue World Order. Andy Datson will be covering the event live on the site.
---
Thursday, April 4
Family Reunion (available on FITE) gets the ball rolling on Thursday at 12pm ET (5pm UK). An Independent Wrestling Championship match between title-holder Orange Cassidy and ROH star Jonathan Gresham headlines. Look out for AEW's Kylie Rae in mixed tag action elsewhere on the card. One of her opponents, Shotzi Blackheart, is one to watch. Andy Datson will also cast his eyes over this one.
EVOLVE 125 starts at the same time, featuring NXT star Kyle O'Reilly challenging Austin Theory for the EVOLVE Title. There's also a high stakes match between rivals Darby Allin and Anthony Henry and an in-ring appearance from Steve Corino's son Colby Corino. No streaming details are available for the show yet. Assuming it airs live, Brian Joyce will be reporting on the action.
Destiny World Wrestling and UK group Fight Club: PRO team up to present Fight For Destiny at 3pm ET (8pm UK). A six-man tag pitting Chris Brookes, Kid Lykos and Kyle Fletcher against Amazing Red, Puma King and Robbie Eagles should be a standout. Unfortunately we will no longer be covering the event as for "legal reasons" it will no longer air on FITE.
German super-indy wXw hits the US for Amerika ist Wunderbar (available on FITE) at 4pm ET (9pm UK). Highlights of a stacked card at La Boom include Marius Al Ani defending the Shotgun Championship against Emil Sitoci and Bobby Gunns putting the wXw Unified Wrestling Championship on the line against Japanese star Shigehiro Irie. Quite how Aussie Open and Chris Brookes will manage to be in two places as once (they are on the Destiny/FCP show which starts an hour earlier) remains to be seen. Our resident statto Louis Dangoor will be watching this one.
Perhaps the most unique event of the entire week is GCW Josh Barnett's Bloodsport (available on FITE), the successor to the very well-received Matt Riddle's Bloodsport held prior to 'Mania last year. For those who did not see the event, the concept is shoot-style pro-wrestling held inside a ring with no ropes, and all matches have to end via tap out or knock out. The battle between Minoru Suzuki and Josh Barnett could be one of the highlights of the week. James Dixon will have the pleasure of covering this on the site.
WrestleCon Mark Hitchcock Memorial Supershow (available on FITE) immediately follows Bloodsport at 7pm ET (midnight UK). Only two matches have been announced but both sound immense: Will Ospreay vs. Bandido and Dragon Lee vs. Barbaro Cavernario. Several Dragon Gate stars are also scheduled for the card, as is Zack Sabre Jr. (in an open challenge) and ECW legend Masato Tanaka. This could be one of the best shows of the festivities. James will be taking it all in for the website.
The remarkably named Interspecies Wrestling presents the equally bizarrely titled Boner Jam IV: Balls Out (available on FITE) at 7:30pm ET (00:30 UK). Andy Datson will get to experience such joys as Fluffy the Killer Bunny vs. Leon St. Giovanni, a Food Fight Invitational and a Fans Bring The Lego Death Match. It sounds different, we will say that much.
Speaking of different, bonkers Japanese promotion DDT presents Coming To America (available on FITE) at 8pm ET (1am UK). Although Eddie Murphy is not scheduled for the show, there will still be entertainment to be had as MAO battles Sanshiro Takagi in a Weapon Rumble and Konosuke Takeshita takes on Daisuke Sasaki in a potential cracker. Cody Brooks will experience the promotion for the first time, having been sold on covering the event thanks to being informed that the promotion once had a ladder, a dog, and Reddit hold one of its title belts.
One of the most hotly anticipated shows of the weekend is Impact Wrestling's United We Stand (available on FITE), which kicks off at 11pm ET (4am UK). The show is headlined by a fascinating main event as ECW legends Rob Van Dam and Sabu team up once again to battle the sentational Pentagon Jr. and Fenix in an Extreme Death Match. Other highlights of a packed card include Rich Swann vs. YAMATO for the X Division Title and a Monster's Ball Match between Sami Callihan and England's own Jimmy f'n Havoc. Brian Joyce has this one covered.
Incredibly, there is more. At 11pm (4am UK), AIW hosts the aptly-named Slumber Party Massacre (available on FITE). The Brits on the writing staff are tempted to stay up purely to witness a match that has been nicknamed "the thing that should not be" by those in the office: Scott Steiner vs. Swoggle. Yes, that Swoggle. Chances are this will be too late/early for us to cover, but we may change our minds.
There's a show that starts ever later still. At 11:55pm ET (4:55 am UK), Kaiju Big Battel (available on FITE) comes to town. For those who have never seen it, it is hard to describe. Basically, it is monsters wrestling each other. Last year there was an evil doctor with a face that was a square cube, a giant slice of French Toast, a bear dressed as a burger an Lingerie Muto. It's an experience, that's for sure. Unfortunately, we will not have live coverage of this either. Sorry!
---
Friday, April 5
There's an even earlier start on Friday with WrestleCon presenting US vs. The World (available on FITE) at 11am ET (4pm UK). Highlights of an intriguing card include Brian Cage vs. Masato Tanaka, LAX vs. Robbie Eagles and Adam Brooks, Brian Pillman Jr. vs. Emil Sitoci and Sammy Guevara vs. Puma King. James Dixon will be watching along with that.
At the same time, all-female group SHIMMER holds its annual WrestleMania weekend supercard from La Boom. No matches have been made official as of yet but the list of talent looks impressive. Names to watch out for include the aforementioned Shotzi Blackheart, Impact's Su Yung, the excellent Nicole Savoy, AEW's Britt Baker, Australian Madison Eagles and the ever-improving Tessa Blanchard. Andy Datson will be getting his first experience of SHIMMER as he covers the event for the site.
CHIKARA is bringing in some top European names for Once Upon A Beginning (available on FITE), including CCK, A-Kid and Carlos Romo. The show begins at 12pm ET (5pm UK). Brian Joyce will be giving his thoughts throughout.
The WWN Network presents WWN Supershow Mercury Rising (available on FITE) at 3pm ET (8pm UK), which seems very early for an event of this nature. It likely has something to do with NXT TakeOver taking place a few hours later. Titles from WWN, SHINE and FIP will be on the line at this one. Brian Joyce will be watching this as well.
At the same time, Andy Datson covers something a little closer to home with RevPro Live In NYC (available on FITE). Although PAC is no longer able to work the show, the replacement match looks just as tantalising as Hiroshi Tanahashi teams with Will Ospreay to battle Minoru Suzuki and Zack Sabre Jr. That could be spectacular.
The Wrestling Observer's Bryan Alvarez steps into the ring at 3:30pm ET (8:30pm UK) against Orange Cassidy on Black Label Pro's Adventures In Wrestling (available on FITE). Josh Howey joins the fray to cover this.
Japanese joshi group Stardom hit New York for American Dream (available on FITE) at 4pm ET (9pm UK). No matches have been made official but gaijin Bea Priestley, Martina, Jamie Hayter and Britt Baker have been confirmed. Around 13 of the promotion's Japanese stars including Kagetsu and Mayu Iwatani will also be wrestling. James Dixon will cover the action.
The third biggest show of the week, NXT TakeOver New York (available on WWE Network) is perhaps the most anticipated. It is certainly the WWE-produced event that fans are most looking forward to. Any of the five matches announced could be the standouts but Pete Dunne vs. WALTER for the NXT UK Title and Adam Cole vs. Johnny Gargano for the vacant NXT Title are particularly appealing. TakeOver kicks off with the pre-show at 6pm ET (11pm UK). Our resident WWE coverage maestro Liam Winnard will be taking the reins on that one.
At 7pm ET (midnight UK), MLW hosts its second Battle Riot (available on beIN sports), with names scheduled to appear including Low Ki, Pentagon Jr., The Hart Foundation, Fenix, MJF and Rey Horus. Unfortunately, due to TakeOver, we will not have live coverage of this.
The already-sold-out new WrestleMania institution Joey Janela's Spring Break III Part 1 (available on FITE) begins at 8pm (1am UK), with Joey Ryan's Penis Party (available on FITE) following five minutes later. Masashi Takeda vs. Jimmy Lloyd in a death match is probably the most intriguing thing on Spring Break thus far. Ryan's show has former WCW Champion David Arquette vs. Timothy Thatcher, an inter-gender six-person tag featuring Ryan, Val Venis and Sexxxy Eddy vs. Martina, Priscilla Kelly and Scarlett Bordeux. It's not hard to see what they were going for here. Tracy Smothers, Tommy Dreamer and John Morrison are also scheduled for the party. Unfortunately, again due to TakeOver, neither will be given full coverage on the site. We are disappointed about it too.
Friday wraps up with Blackcraft Wrestling's No Apologies (available on FITE) at 23:59 ET (4:59 UK). Paige's mother Saraya Knight will battle Maria Manic, Pentagon Jr. takes on Simon Grimm (formerly Simon Gotch) and Gangrel wrestles against Matthew Justice in what looks to be a very intriguing card. Sadly, however, we will all be in bed by this point.
---
Saturday, April 6
Sami Callihan's Wrestling Revolver holds its third consecutive pre-WrestleMania Pancakes & Piledrivers event (available on FITE) at 11am ET (4pm UK) on Saturday morning. A stacked tag team gauntlet match featuring The Rascalz, The Lucha Brothers, LAX, Aussie Open, Team Tremendous and Besties In The World looks set to be a highlight. James Dixon will be covering that one.
GCW has another themed show at 12pm ET (5pm UK) called Orange Cassidy Is Doing Something Or Whatever . . . (available on FITE) which features Jonathan Gresham vs. Shinjiro Otani and something called Teddy Hart's Reading Rainbow. No, we have no clue . . . Josh Howey will have the pleasure of taking this one.
At 2pm ET (7pm UK) comes the MoreThanMania.com Wrap Up Party (available on FITE), which is perhaps a little premature given there are plenty of major events still to come. No talent has been confirmed, with the only thing announced as Kaiju Big Battel vs. DDT bout, which could be bonkers. Again, we have not yet confirmed who will be manning the blog for this.
House Of Glory will be running at the same time, presenting Culture Clash (available on FITE) at the NYC Arena in New York. A dream six-man tag pitting Low Ki and LAX against The Great Muta, Pentagon Jr. and Tajiri stands out, as does Fenix vs. Amazing Red. James Dixon will watching and reacting.
Two hours later at 4pm ET (9pm UK) IWS Wrestling Unstoppable (available on FITE) in New Jersey takes center stage. An Alcobrawl Match between Sexxxy Eddy and Arik Cannon and a women's hardcore bout between Addy Starr, Veda Scott and Solo Darling are the most intriguing bouts on offer. Josh Howey will be reporting.
Starting just before the WWE Hall of Fame and G1 Supercard at 6:30pm ET (11:30pm UK) Uncanny Attractions (in association with Game Changer Wrestling) gives us Drags & Dropkicks (available on FITE) at the House Of Yes in Brooklyn. A few matches have been announced but to be honest it is largely performers we have not heard of. Regardless, we will not be covering the event due to HOF and G1 coverage.
Louis Dangoor gets to watch rich people stand on a red carpet when the WWE Hall Of Fame (available on WWE Network) starts at 7pm ET (midnight UK), with the main broadcast commencing an hour later. This year's inductees include D-Generation X, The Hart Foundation, Torrie Wilson, Harlem Heat, Brutus Beefcake, Sue Aitchison and The Honky Tonk Man. Three people (Shawn Michaels, Bret Hart and Booker T) will join Ric Flair as two-time inductees once the night is over. Rumour has it that inductors have been scrapped and each speech will be reduced to 15 minutes. Thanks, Hillbilly Jim! Let's hope those reports are true.
Meanwhile, over in Madison Square Garden, the arena that many of those HOF performers enjoyed career-defining moments in (well, perhaps not Torrie), NJPW and ROH combine their collective might with the historic sold out G1 Supercard (available on FITE), which starts at 7:30pm ET (00:30 UK). The stacked show features Kazuchika Okada challenging Jay White for the IWGP Heavyweight Championship, Tetsuya Naito defending the IWGP IC title against Kota Ibushi, Zack Sabre Jr. putting the RevPro British Heavyweight Championship on the line against Hiroshi Tanahashi and tons more. This is a once-in-a-lifetime event that everyone should be tuning in for. Liam Winnard will be manning the live blog throughout.
Or, if you would rather stick with the indies, then CZW and WrestlePro are combing forces at 8pm ET (1am UK) for CZW vs. WrestlePro (available on FITE). Chances are the Rahway Recreation Center in New Jersey will be pretty empty for this one given the competition, unfortunately. We will not be tuning in either, due to the two major shows taking place.
Joey Janela's Spring Break 3 Part 2 (available on FITE) at White Eagle Hall in New Jersey does not have to worry about attendance – the show was sold out months ago. To ensure the G1 and HOF crowds do not miss out, the event begins at 11:59pm ET (4:59 am UK), frankly obscene times for a wrestling show. Those still awake will be treated to the madness of La Park vs. Masato Tanaka and The Rock 'n' Roll Express vs. LAX. Unless we ply one of the writers with copious amounts of coffee we might have to give this a miss.
---
Sunday, April 7
And we wrap things up with WWE WrestleMania 35 (available on WWE Network), eight hours of excitement, a dollop of misery and undoubtedly plenty of WWE's much-loved 'moments'. The pre-show is expected to kick off around 5pm ET (10pm UK) and from that point onwards the whole thing is likely to go around eight hours. Eight hours! The matches to look out for are of course Becky Lynch vs. Ronda Rousey vs. Charlotte Flair in the main event, Kofi Kingston's quest to win the WWE Title against Daniel Bryan, what will likely be a blinder between Drew McIntyre and Roman Reigns, and the return of Batista against Triple H. Liam Winnard will have the coffee, energy drinks, popcorn and salted snacks lined up as he bravely covers the entire ordeal.
---
Monday, April 8
Semi-normal service resumes the next night at 8pm ET (1am UK) with the most exciting WWE Raw of the year. The show is sure to be packed with major storyline developments, debuts, call-ups and surprises. By this point Liam will be in one of those recovery chambers like Luke Skywalker had in Empire Strikes Back, so James Dixon will take the reins on the live blog.
---
Tuesday, April 9
And we wrap things up (for real, this time) with the post-WrestleMania SmackDown Live. The last post-WrestleMania SmackDown for a while, probably, due to the show moving to Friday nights later in the year on FOX. Andy Datson will record the ins and outs for the site at the usual times of 8pm ET (1am UK).