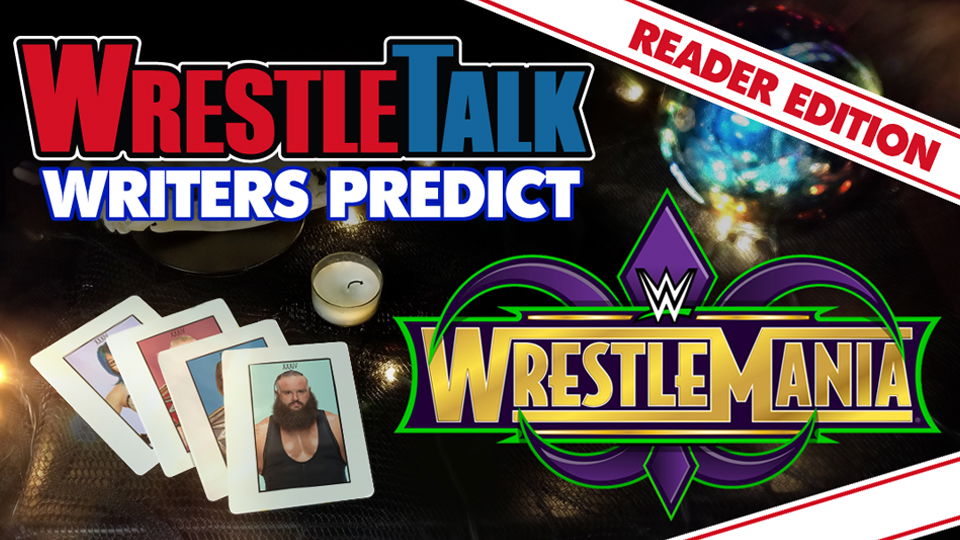 You asked them, we answered them!
The writers of WrestleTalk appreciated the engagement in last weeks article and hope you enjoy seeing your WrestleMania 34 questions answered in this one. Let's get into the questions…
Q1) From April Harmon via the WrestleTalk website: What match should go on last as the "Main Event"? It's most likely going to be Lesnar vs Reigns but what match really deserves that spot?
Kevin Cavanagh: Brock Lesnar (c) vs. Roman Reigns. Seven years ago, John Cena challenged The Rock the night after WrestleMania XXVII to a match at WrestleMania XVIII. For the first time in history, a match for WrestleMania was set almost one full year in advance. Lesnar vs. Reigns has been the plan for even longer, even if it only became official at Elimination Chamber. Some will argue that the match will represent just another ill-fated attempt to push Reigns. I actually see this match as the end of the part-timer era, at least in terms of WrestleMania main events. In just a few short weeks, the full-time guy in Reigns will topple the part-time guy in Lesnar. Maybe this is me drinking in the story WWE is telling, but main events of WrestleMania should always be reserved for those who give it in the ring all year long. WrestleMania is the 'season finale' for WWE, after all. Brock Lesnar shouldn't be there. The Undertaker shouldn't be there. John Cena shouldn't be there. The Rock shouldn't be there. Triple H shouldn't be there. Roman Reigns should be there. And this year, his victory will put a metaphorical end to it. WrestleMania 35 will be headlined by full-timers for the first time in a long time thanks to what Reigns will do at WrestleMania 34. Hold me to it!
Andy Datson: AJ Styles (c) vs. Shinsuke Nakamura. I always think that the best match on the card should be left until last, and therefore I'd have to go for Styles vs Nakamura. I'm sure Brock and Reigns will put on a good show, but everyone knows how it's going to end, which isn't the case for the WWE Championship match. Styles and Nakamura put on a mental match at Wrestle Kingdom 10, and I have no doubt they'll do the same this year.
Gavin Griffiths: AJ Styles (c) vs. Shinsuke Nakamura. April, good question! I think it should be the WWE Championship match. Personally, not only is it WWE's flagship title (THE belt to hold) but it's the one that traditionally everyone should be fighting for. The road to WrestleMania begins at the Royal Rumble, where the winner should get their shot at the WWE Champion at WrestleMania. It's during this period of building up the story and rivalry leading into the main event that for me, personally, means it should be Shinsuke Nakamura vs. AJ Styles this year. Sadly, WWE no longer operates that way and Vince McMahon is too fond of his big money golden boy Brock Lesnar and his new pet Roman Reigns. I myself don't like the WWE Universal Championship, I think it's a bit silly. On a side note, this year it would be fitting if the main event was actually Asuka vs. Charlotte Flair, to keep pushing their Women's Evolution and give them their first main event at WrestleMania!
Liam Winnard: Brock Lesnar (c) vs. Roman Reigns. Now I know exactly what you're thinking, but let me put this all in perspective. This is a story that has been told for over three years. And while we might not necessarily like the characters, the story itself has been awesome. I am under no illusion that AJ Styles and Shinsuke Nakamura are going to put on a better professional wrestling match than Roman Reigns and Brock Lesnar. However, I think Lesnar and Reigns will put on one hell of a sports entertainment match. The atmosphere will be absolutely epic and the near falls and power spots will be something to behold. They've rammed this down our throats so much, they may as well put it on last.
Q2) From Wrestle Ling Holic via the WrestleTalk website: How do you see the Charlotte Flair/Asuka feud playing out during and after WM 34?
Kevin Cavanagh: Asuka wins a close back-and-forth contest at WrestleMania 34 to become WWE Smackdown Women's Champion. Asuka goes on to defend her championship with ease throughout the year, defeating every challenger that comes her way. This allows her to shatter Charlotte Flair's record of 145 straight days as champion (what it will be at the time of WrestleMania 34) as well as Naomi's record 148 combined days as champion (spread across two championship runs). Charlotte Flair wins the Women's Royal Rumble next year to set up a rematch at WrestleMania 35 where Asuka's streak finally ends. Charlotte Flair holds the title for an entire year (becoming heel along the way) where she losses the WWE Smackdown Women's Championship to Rowdy Ronda Rousey in the main event of WrestleMania 36. Boom!
Andy Datson: Well hopefully Charlotte will have turned heel by then. Just like Bobby Roode, Charlotte Flair just doesn't work for me babyface, and coming up against someone like Asuka who is just so intense and great to watch, there needs to be an added dynamic to the match. Carmella's cash in has been teased, and I wouldn't be surprised if she, like Baron Corbin, failed in her attempt. My prediction is that Asuka wins, Carmella tries to cash in, but Asuka wins again. After that, we'll see Charlotte Flair vs Asuka a few times, before hopefully Ember Moon is called up to finally defeat Asuka.
Gavin Griffiths: Wrestle Ling Hogic, thanks for the question! This is both an interesting and tough one because it's hard to tell how long the WWE will keep up this undefeated run with Asuka. She had one hell of a run on NXT but this is ultimately in Vince's hands now and we all know what he's like with last minute booking changes! Personally, the best case scenario is obviously she backs up her word and defeats Charlotte Flair for the title at WrestleMania 34 in a solid, back and forth match. Charlotte Flair is believable enough to go toe-to-toe with Asuka in the ring and it's a potential show-stealer this year. Post WrestleMania 34 Charlotte Flair has her rematch clause and fails to convert her advantage. Asuka will be Smackdown and have a run there going through their roster, staying undefeated but keeping her competition fresh. Meanwhile, Charlotte Flair can go back to Raw and be part of the WWE Raw Women's Championship picture again. Personally, my inner heel would love to see Carmella cash in on Asuka after the WrestleMania 34 match. This would absolutely ruin everything and I think that would be funny… but that's just me.
Liam Winnard: If it were me, I'd turn Charlotte Flair heel and have her pledge a semi-allegiance to The Riott Squad in an effort to weaken Asuka. They could do this after WrestleMania 34, with Charlotte Flair being somewhat of a sore loser when Asuka beats her. However, I think it is more likely that Asuka wins at WrestleMania 34, after which Charlotte Flair has her rematch at Backlash. When she losses again she is drafted to Raw in the Superstar Shake-Up. I predict either Bayley or Sasha Banks to be Asuka's next challenger post-Backlash, with one of the two also moving to Smackdown Live in the Shake-Up.
Q3) From Daniel Schachtmeier via the WrestleTalk website: Which currently scheduled WrestleMania 34 matches will end up on the Kick-off show?
Kevin Cavanagh: Randy Orton (c) vs. Bobby Roode vs. Jinder Mahal. It feels weird to put this here after writing last week how the Intercontinental Championship match had the potential to be a show-stealer. The primary difference between the two for me is that one has been built in a way that I actually care about the story and one just hasn't. Seth Rollins and Finn Balor both having 'iron-man' performances are still fresh in everyone's mind. Seth Rollins and Finn Balor both winning the last-chance qualifying match to put them into the Elimination Chamber is still fresh on everyone's mind. The Miz throwing a temper tantrum looking for an opponent and ending up with two is still fresh on everyone's mind. I honestly had to look up what Jinder Mahal has been up too recently. It feels hastily thrown together and unbecoming for a match at WrestleMania 34. It goes on the pre-show for me!
Andy Datson: The two battle Royales hopefully. No one really cares who wins, because the winner never goes on to achieve anything. I guess they might put the women's one on the main show because it's the match's debut, in which case I could see the United States Championship match being dropped to the pre-show. Either way, I'm going watch all eight hours of it, so it makes little difference!
Gavin Griffiths: Thanks for the question, Daniel! The Andre The Giant Memorial Battle Royal seems like a good bet given the announcement of the women's version. I highly doubt they'll cram two on to the main card, so it's likely the men's will end up on the pre-show. Secondly, there's the Cruiserweight Championship. As they continue to struggle and have lost some of their biggest names, it's safe to assume their title match will be on the pre-show too. It's also possible that the United States Championship match will be sacrificed to headline the pre-show. WWE's talent pool is so deep these days, it really is hard to tell who will end up where on the WrestleMania 34 pecking order.
Liam Winnard: Cruiserweight Championship Match. In my opinion, they should have put this on the NXT TakeOver: New Orleans show. The audience for that event would be much more appreciative of the division's talent. I also think they will put the United States Championship match on the pre-show. The build to this has been an absolute snoozefest.
We are still a few weeks away from WrestleMania 34. Any other loyal WrestleTalk readers have a burning question they want to see featured?