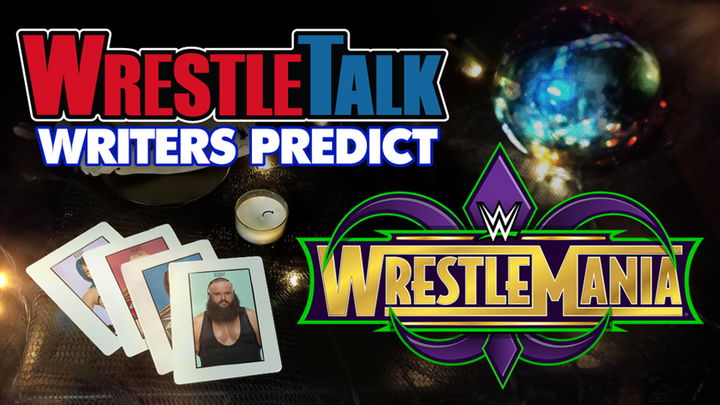 In this new series, WrestleTalk Writers Predict, some of your favorite WrestleTalk writers tackle the pressing questions heading into WrestleMania 34, including which match is most likely to steal the show in New Orleans on April 8th! If you have any WrestleMania 34 questions, leave them in the comments section below and you may see your questions answered in the next article in this series.
Let's get into this week's questions…
(1) What match do you think is most likely to 'steal the show' at WrestleMania 34?
Kevin Cavanagh: The Miz (c) vs. Finn Balor vs. Seth Rollins. This match features three main-event caliber talents with an interesting story to tell. I expect an early alliance between Finn Balor (who should be in Demon King form) and Seth Rollins to deal with The Miztourage. After this opening phase, the story has the potential to really open up as Balor and Rollins are forced to turn on each other while dealing with the omnipresent threat of The Miz. This is one of the only matches on the card where the winner could be anyone in the match, which should lead to an exciting finale that has members of the WWE Universe talking the next night.
Cody Brooks: The Miz (c) vs. Finn Balor vs. Seth Rollins. Now the easy answer here would be Styles vs. Nakamura. Unless these two decide to shotgun Nyquil before the match, this bout should be nothing short of… phenomenal. However, the  Triple Threat Match for the WWE Intercontinental Championship will be the one to watch. On the largest stage of them all, the WWE won't fail to break out the Demon King. Pairing that epic persona in a match with Rollins and The Miz is a recipe for greatness. Adding a title as prestigious as the Intercontinental Title and we may have one for the ages.
Liam Winnard: The Miz (c) vs. Finn Balor vs. Seth Rollins. All three of these men have something to offer, and finally the Intercontinental Title has the showcase it deserves – a true nod to the prestige The Miz has brought to what was once a complete afterthought. Miz is arguably the best in the world at working WWE's, for want of a better word, "soft" style. Rollins and Bálor on the other hand, are awesome at pretty much anything and everything. Both have been lost in the WWE roster shuffle recently but this could prove to be where they re-establish themselves as the best WWE has to offer.
Anthony Woodfield: The Miz (c) vs. Finn Balor vs. Seth Rollins. With so much potential over the whole card, we're spoiled for choice on possible breath-stealing matches. After several changes of mind, I think it's going to be the WWE Intercontinental Championship Triple Threat match that we'll be talking about most the next day. With two of the best endurance men in the WWE in the form of Seth Rollins and Finn Balor backed up by The Miz's ability to pull one out of the bag, all the ingredients are there.
(2) Which WWE superstar is most likely to have a breakout performance at WrestleMania 34?
Kevin Cavanagh: Shinsuke Nakamura. As someone who only has a foot in WWE programming, I haven't fully understood the legend that is Shinsuke Nakamura to this point. I see a significant amount of in-ring talent, but haven't been impressed with his booking since bursting onto the Smackdown Live scene last April. AJ Styles has the unique ability to bring out the absolute best in anyone he is in the ring with and Nakamura should reap the benefits of that. So long as they are given enough time to work, I think Shinsuke Nakamura comes away with his best performance in the WWE to date.
Cody Brooks: Harper of The Bludgeon Brothers. After the Usos gave the Goonies speech about it being "our time," one can hardly doubt they'll miss the opportunity at Wrestlemania 34. Now, we know when The New Day and The Usos are involved we're in for a hell of a fight. This time around we have another team that's been waiting even longer for a chance at glory. Harper has been plagued by injury, bad booking, and Bray Wyatt's shadow. Harper has been favorite both with his peers and with the fans. Harper and Rowan make me want to tune in to Smackdown Live to see just how brutal they can be. So, while it may not be the prettiest performance I think Harper has a chance to do something borderline unsettling that'll stick with us all in the best way
Liam Winnard: Rowdy Ronda Rousey. As wrestling fans, we're all guilty of being a bit cynical from time to time. However, I hope Rousey lives up to the hype and puts on a brilliant showing. We've all heard the stories about Rousey sneaking into the WWE Performance Center when she's not really meant to so she can improve and if all that hard work and dedication pays off WWE have themselves yet another phenomenal women's performer. If she turns out to have a boss showing, she's basically the perfect pro wrestler, right? A huge draw with genuine celebrity status, a great in-ring worker, all she'd need is maybe to brush up her promo skills or maybe be given a mouthpiece and she'd be the ultimate package (get it?).
Anthony Woodfield: Mustapha Ali. WrestleMania 34 is built around such a strong core of established stars that finding a diamond in the rough took a bit of thought. At the time of this writing, he has yet to punch his ticket to New Orleans but I've got a feeling that Mustapha Ali is going to turn quite a few heads in the WWE Cruiserweight Championship match. His recent promo work has matched his awesome in-ring output so a good outing would be a much-deserved award for his recent efforts. It would be cruel to keep the belt away from the division's nearly man, Cedric Alexander, but I expect a great showing and bright 2018 for Mr. Ali.
(3) Will Rowdy Ronda Rousey / Kurt Angle vs. Triple H / Stephanie be a HIT or a MISS?
Kevin Cavanagh: MISS. Despite being booked as a mixed tag match, I fear this will primarily be a Kurt Angle vs. Triple H singles matchup. The WWE needs to hide Rowdy Ronda Rousey's lack of in-ring experience while simultaneously keeping her credibility by making her look extremely strong against Stephanie McMahon. This will likely lead to Kurt Angle and Triple H carrying the bulk of the matchup before Rowdy Ronda Rousey ends the match against Stephanie. I'm far more excited for what happens after this matchup.
Cody Brooks: HIT. The Ronda Rousey signing is already a minor success. The WWE is getting exactly what they want: mainstream press. However, with the goal of making Stephanie a household name, I don't know how well that will go over. It wasn't just Tyson that helped kick off WWE's success in the 90s. It was the dynamic between Vince McMahon and "Stone Cold" Steve Austin. Vince was basically an evil millionaire version of Moe from the 3 Stooges. Vince was so dastardly and hilarious that we tuned in every week to see how Austin would make him look like a buffoon. Unless Stephanie is willing to sacrifice her dignity to the fans like Vince was, the attention this match garners for her will fizzle out faster than a Rusev push.
Liam Winnard: HIT. I'm not sure this is going to be that good, but I damn sure hope it is. If we break it down, we've got Ronda, someone who's never wrestled before; Kurt Angle, who, whilst he is quite possibly the best pro wrestler of all time, at 49 might not be able to handle the heat so to speak; Triple H, which is basically the same equation as Angle; and Stephanie McMahon – the woman who has to sell for Ronda Rousey. I sure hope she doesn't 'Stephanie McMahon' this up – make it all about herself and all that. As long as this match doesn't go too long, and Angle & Rousey win, this will be a HIT. And, being the optimist I am, I'm predicting that will happen.
Anthony Woodfield: HIT. You've got two experienced ring generals in the form of Angle and Hunter to see us through the main body of the match, add in some heat inducing shrieking from Steph and Rousey's long-awaited debut and there's your Wrestlemania worthy spectacle! I can't wait to see how Ronda translates her MMA game to the WWE ring but
Do you have any WrestleMania 34 questions you want the WrestleTalk writing staff to weigh in on? Leave your question in the comments below and you may see your question featured in the next "WrestleTalk Writers Predict" article prior to the big event!