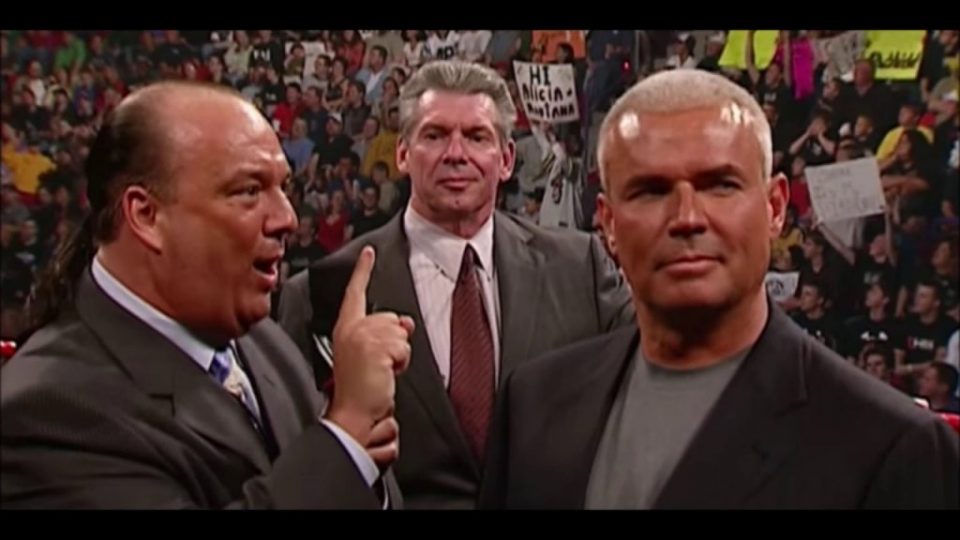 We're back again with WrestleTalk's Fact, Opinions, and Rumors.  In the world of wrestling, it's often hard to know what is fact and what is a rumor.  In this feature, we try to help you sort it all out and offer a bit of opinion, too.  So, here's what's going on in wrestling this week.
---
Balor's Vacation Club
Rumor:  Finn Balor has asked for some time off to recharge.
Rumor:  Dave Meltzer is reporting WWE is allowing Finn to take the time off after SummerSlam, where he will put over the returning Bray Wyatt.
Fact:  Bray Wyatt attacked Finn Balor on Raw on Monday.
Fact:  Finn Balor dropped the Intercontinental Title to Shinsuke Nakamura at Extreme Rules.
Opinion:  It's not surprising Balor is asking for time off.  He is probably pretty frustrated given he hasn't been a regular on TV for quite some time.  Well, at least, he quit showing up after he won the title.
It probably will do him some good.  Maybe he comes back and feels fresh again.  He spent a lot of time on Raw in the dreaded midcard vortex.  Finn Balor could be a major star on WWE TV.  Heyman seems more like the executive producer who could get the most out of Balor.  Eric Bischoff hasn't been known for pushing small guys beyond mid-card and cruiserweight titles.  Besides, it's not like Heyman has a Club or anything Balor could come back and join.
In terms of WWE, the timing works out pretty well.  In FOR: Volume 3, I wrote about the need for the right person for Bray Wyatt's return feud.  Balor has the Demon side.  Finn being involved with creepy, mystical character isn't out of left field.
Win-Win Situation
Also, he's also a tremendous seller in the ring. Bray is going to look like a million dollars because Finn will make sure he looks great in the ring.  Due to the fact he's leaving, you have a very easy story to tell.  Bray Wyatt destroyed Finn Balor and took him out of WWE, for now.
This looks to be a win-win for both parties.  Hopefully, WWE won't screw up what looks to be a softball storyline.  Bray should come out looking fantastic, and Balor should get the chance to recharge after going out on a solid angle.
---
Bischoff Can Clean The Slate
Rumor:  According to WrestleVotes, WWE has told Eric Bischoff and Paul Heyman they had the authority to wipe the slate clean and start fresh after Extreme Rules. Consequently, they could wipe out all previous storylines planned for SummerSlam.
Rumor:  There is some unhappiness backstage about Eric Bischoff not starting yet. Due to the late start, many are also concerned Smackdown Live will fall behind in the freshening up process.
Fact:  Eric Bischoff wasn't at Smackdown Live this week, as expected.
Opinion:  Smackdown was pretty decent this week.  At the very least, if the show wasn't great, then there are some potential bright spots coming out of it.  Kevin Owens is looking great. Aleister Black looked strong and is getting to wrestle on TV.  Buddy Murphy talked on television.  Liv Morgan wrestled Charlotte Flair and could be headed for a gimmick change of some sort.  Ali and Nakamura teased a match-up.  Bayley and Ember Moon are going to be feuding over the Smackdown Women's Championship.  The Kabuki Warriors finally were on TV again and appear to be in line for another shot at the Women's Tag Team Championships.
Maybe, we don't want Bischoff to show up after all.  However, in the virtual world we live in, it's possible he may have had some input on who he wants to face off next.  From the sound of things, this probably wasn't the case.  It seems as though he's had no input to this point.
Who will he push?
Bischoff has been know in the past for pushing established stars and, in some cases, stars who were well past their prime.  He's also been known to be similar to Vince McMahon in the featuring of big guys as major stars.  In WCW, he overlooked guys like Chris Jericho, Chris Benoit, Eddie Guerrero and Rey Mysterio in favor of guys like Goldberg, Hogan, Hall, and Nash.  In TNA, he did the same with guys like AJ Styles and Christopher Daniels.
Has he learned his lesson and caught up with the times?  Or will we see guys like Randy Orton, Baron Corbin, and Bobby Lashley as featured acts on Smackdown live.  Let's hope for the best in the short term.  Hopefully, we'll see these stories set up on Smackdown at least carried through to Summer Slam.
---
Reunited and It Feels So Good
Rumor:  The reason WWE is having a Raw Reunion is to be able to pop a rating to include in the numbers for an upcoming shareholder's meeting.
Rumor:  It was actually USA Network's idea.  USA felt it would pop a rating and potentially draw back in lapsed viewers.
Fact:  Whatever the reason, WWE is hosting a Raw Reunion next week with several advertised stars including D'Von Dudley.
Opinion:  For an old guy like me, I do like seeing the attitude era stars again.  However, I like seeing them on the WWE Network, not so much on the current product.  Think back to Raw 25.  Remember what happened to the Revival.  They were looked like buffoons at the hands of D-X.  What good is it to have a guy like Scott Hall to go over young guys like the Revival?
Someone on the Smackdown Review WrestleRamble had the idea of integrating the legends into the 24/7 Championship.  This seems like a great idea.  R-Truth interacting with guys like Hurricane Helms, Kurt Angle, Pat Patterson, Santino, or even The Boogeyman.
The main problem with these reunion shows are the amount of talking segments.  Consequently, the in-ring product is limited.  The last few weeks of shows have been trending upwards.  Hopefully, the Reunion show won't stall the progress being made.
---
Daniel Bryan's Changing the World
Rumor:  Daniel Bryan was originally slated to be a participant in the Number 1 Contender's Battle Royal. However, Sami Zayn was inserted due to a change in direction for Bryan.
Fact: Daniel Bryan announced he was going to make a career altering announcement on Smackdown Live.  He didn't make an announcement of any kind.
Opinion:  Daniel Bryan was pissed off on Smackdown Live.  He came out several times to confront the New Day.  However, he never said anything.   We've seen these non-speaking type of stories before.  If anyone can make it work, it's Daniel Bryan.
In his brief interview, he stated he tried to rise the tag division to the main event but didn't.  However, he also stated he needed to aim higher.  What's higher?  He didn't seem to be in the plans for the WWE Championship.  Due to being removed from the battle royal, he's probably not going after the Universal Title.  So, what's left?
EXCLUSIVE: "If I want to save the planet, I have to aim higher. I have to go where Daniel Bryan has not gone before." @WWEDanielBryan claims he knows exactly what he has to do after losing the SmackDown Tag Team Titles at #ExtremeRules pic.twitter.com/ekeblsJDJn

— WWE (@WWE) July 16, 2019
Could he try to raise an entire division to prominence?  With Eric Bischoff using cruiser weights so regularly on WCW Nitro, could Daniel Bryan be heading to 205 live and trying to get it to be a main event on Smackdown?  Could he be creating his own championship and defending it?  More likely, he's just going to try to rid Smackdown of the silliness in some sort of Right to Censor story.
---
MJF Injured or Is He?
Rumor:  MJF suffered a severe elbow injury at Fight for the Fallen.
Fact:  MJF was pulled from an indie appearance this Sunday.
BREAKING NEWS: AS THE ADDAGE GOES, "CARD SUBJECT TO CHANGE."

At approximately 4:07 this morning, INSPIRE PRO was delivered the unfortunate news that PURE PRESTIGE CHAMPION MAXWELL JACOB FRIEDMAN sustained a severe elbow injury at last night's FIGHT FOR THE FALLEN event.

— Inspire A.D. (@InspireADWres) July 14, 2019
Rumor:  The injury is a work.
Opinion:  MJF is one of the fastest rising stars in wrestling.  His heel work is fantastic and he's definitely one of the key players in AEW's mid card.  It would be extremely unfortunate timing for MJF to have a serious injury right as All Out and AEW's television is starting.
If it is a work, it would be great.  However, what would be the outcome storyline wise?  Maybe MJF fakes an injury and turns up during a Cody vs. Shawn Spears match.  He reveals he's not injured and takes out Spears.
I'm never a fan of pulling guys out of cards, especially when it's already been advertised.  The fans are the ones who wind up suffering.  However, AEW seems like the kind of company that would more than make up for it. I just hope those who bought tickets to see MJF are able to get back if he ever comes again.
---
That's it.  Those are some of the biggest rumors going on in wrestling right now.  Do you have additional rumors?  Feel free to share your opinion with us on Twitter.