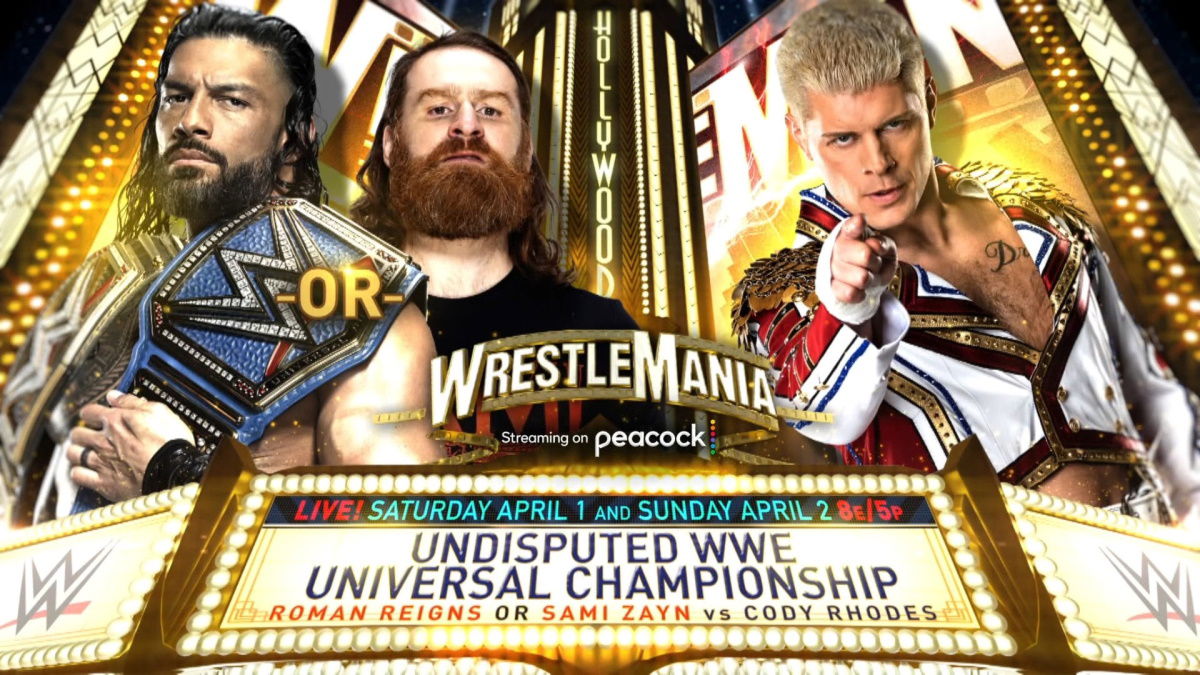 A look at WWE potentially changing plans for Sami Zayn, Cody Rhodes and Roman Reigns heading into WrestleMania 39.
It's nearly time for Elimination Chamber as the road to WrestleMania heats up, so let's take a look…
Sami Zayn Disrupting Current Plan For Roman Reigns Vs. Cody Rhodes
All signs for the past month, if not longer, have pointed to WWE planning a singles match between Roman Reigns and Cody Rhodes to main event WrestleMania 39.
However, one spanner in the works is the popularity of Sami Zayn, with many people believing the appropriate peak of his storyline with Reigns and the Bloodline would involve Zayn being involved in the aforementioned Mania main event.
This has left WWE in a bit of a pickle because the last thing they want to do is fumble the conclusion of what has been the best storyline in years, but there's also a reason those initial plans were in place and they might be hesitant to deviate from them.
Last night's episode of Raw with Zayn and Rhodes coming face-to-face in the ring only served to get people even more charged up about the possibility of Zayn beating Reigns at Elimination Chamber this Saturday.
It's a very delicate situation, and a huge test for head of creative Paul Levesque (Triple H) as he tries to find the right balance between doing what he thinks is right for the company in the big picture, and what the fans are begging for right now.
Will Triple H Change Plans?
If nothing changes, one would expect Reigns to beat Zayn at Chamber, and then Zayn would likely move on to teaming with Kevin Owens against the Usos for the tag team championships at Mania.
But is that enough? If Levesque goes that route, he needs to make sure people want to see the Usos get their comeuppance just as much Reigns.
They need to do something so heinous that fans are begging for Zayn and Owens to get revenge, so much so that they forget to complain about Zayn not being in a Mania match with Reigns because they're just happy to see him take out the Usos.
If Levesque does want to capitalize on the Zayn buzz more than just the tag team stuff, there are a couple of ways he could go about it.
You could easily add Zayn to Reigns vs Rhodes to make it a three-way, or you could do Reigns vs Zayn on one night of Mania, and Reigns vs Rhodes on the other.
There are plenty of options, and quite frankly, it's impossible right now to say what the right one is. Thankfully that's Levesque's job to figure out, not mine.
But this article would be a pointless if I ended it like that, so what I would probably do if I was in Levesque's shoes is stick to Reigns vs Rhodes, but have Zayn make an unannounced (but pre-teased) interference to help Rhodes win.
That way, you're getting Zayn involved in the main event, he's getting the ultimate revenge on Reigns by costing him the championships, and you end up with the champion you wanted all along.
Think you're a wrestling mastermind? Well you can prove it by taking quizzes in our brand new quiz section! Don't forget to tweet us your results!