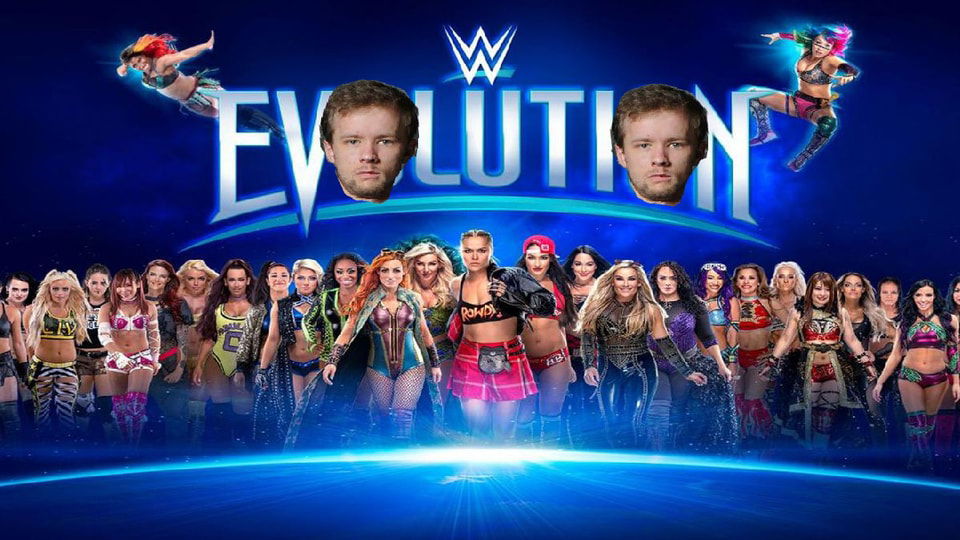 Who gives a monkey's armpit what I think? Well, unfortunately I've been shoved onto the WrestleRamble on Monday so I'm going to have to make some predictions about what I think will happen on Evolution.
Please don't murder me in the comments.
Battle Royal For Women's Title Match
Starting off strong with a match with lots of inconsequential people in. Because it's for a title shot that rules out 90% of the people in it, so I'm gonna go for Asuka, just because I think she'll turn heel and kill everyone.
Prediction: Asuka
The Riott Squad vs Natalya, Sasha Banks & Bayley
Who cares?
Prediction: Natalya, Sasha Banks & Bayley
Trish Stratus & Lita vs Mickie James & Alexa Bliss (Maybe Alicia Fox)
See above. Nostalgia reasons.
Prediction: Trish & Lita
Mae Young Classic Final – Io Shirai vs Toni Storm
Finally, something good. This match has all the ingredients to completely steal the show. Toni Storm and Io Shirai are two of the most talented female wrestlers in the world, and with enough time (which they should get given the card), this could be brilliant. Just because Io Shirai is sticking around in NXT, I'm going with her.
Prediction: Io Shirai
NXT Women's Championship – Kairi Sane (c) vs Shayna Baszler
Again, a match we can all look forward to. Both women are brilliant, but as Baszler is surely heading to the main roster any second now, it's got to Kairi Sane for me.
Prediction: Kairi Sane
SmackDown Women's Title – Becky Lynch (c) vs Charlotte Flair
The first ever last woman standing match that Vince McMahon has ever seen. This is going to be good…woo. Although a month ago I'd have said Charlotte Flair will win easily, I'm going to have to change my mind like an idiot. Becky is so over right now and Charlotte's baby face character has been so damaged by this that I'm going with Becky to hold on, probably through a double down.
Prediction: Becky Lynch
Raw Women's Title – Ronda Rousey (c) vs Nikki Bella
Ronda is obviously going to win this. The only reason Nikki is anywhere near this match is because of her mainstream media appeal. Nikki will go back to getting half naked and appearing on Total Bell***s and then we'll be fine.
Prediction: Ronda Rousey