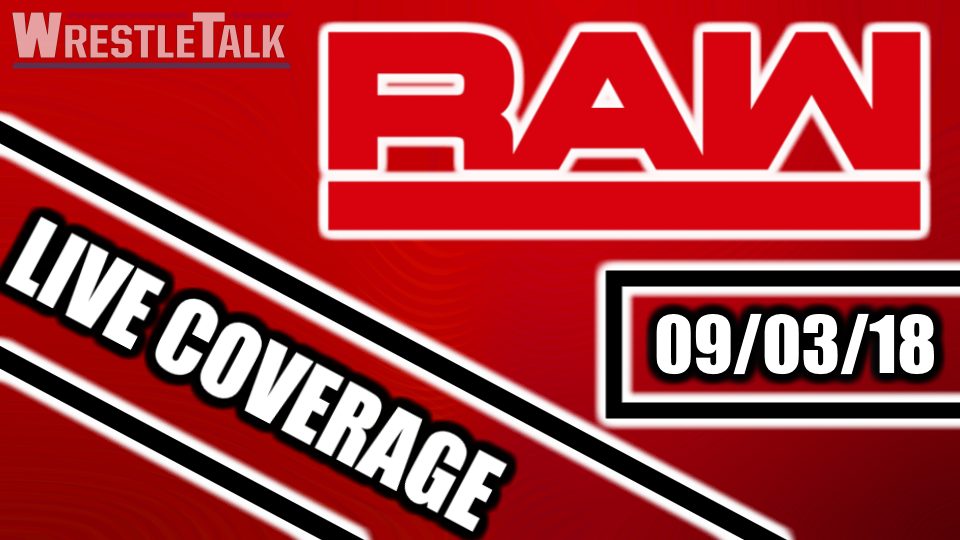 04:10am
For the first time in ages, that was actually a really good episode of Raw.
Surprising new Raw Tag Team Champions, an Undertaker return, and seemingly a huge war going on between the heels and babyfaces on the brand.
This really could kickstart a new dawn for Raw.
Thanks for following our live coverage of the show! If three hours of me just wasn't enough, feel free to follow me on Twitter, or join the WrestleTalk Discord server to share your views on the show!
04:08am
As Braun, Dolph and Drew continue to beatdown Bálor post-match, it seems the SHIELD have STOLEN A POLICE VAN and are back in the arena.
They look to confront the heels, but are ambushed from behind by all the Raw heels from the locker room. Kevin Owens, the Ascension, Mike Kanellis, they're all there. Even 205 Live's Drew Gulak for some reason.
This is a mass beatdown on the SHIELD.
This is chaos.
This is boss.
04:02am
Braun wins. Went pretty much exactly as you'd have expected, that one.
03:49am
Up next, it's main event time, as Finn Bálor takes on Braun Strowman!
03:40am
Well that was genuinely really funny.
Lashley and Mahal were "Shanti"-ing, before the 'Dominator' was attacked from behind by a returning Kevin Owens, who hit Lashley with an apron Powerbomb!
03:31am
Baron Corbin has ordered the world's smiliest man and sister-lover Bobby Lashley to attend in-ring peacefulness classes or something with the master of the "Shanti" Jinder Mahal.
OK THEN.
03:29am
Sasha wins with a roll-up because Titus and Apollo were arguing over something.
And now she's stormed off from both of them.
Scintillating.
03:27am
Dana just botched a tag.
Jesus H. Christ.
03:21am
It's the Boss 'N Hug Connection vs. Dana Brooke and… Ember Moon.
Right. Whatever.
03:20am
"It's Boss time."
Now I hate this show again.
Good job, Cole.
03:19am
We're not getting Corbin vs. Bálor! Get in there!
Corbin has instead substituted in Braun Strowman as Finn's opponent for the main event.
03:15am
Wow. That was great.
'HBK' claiming he stayed retired out of respect for the Undertaker, but the 'Deadman' calling it out as "fear."
Chilling stuff. Could we get a Triple Threat? Michaels as Special Referee? Maybe another 'Taker v 'HBK' match at some point?
Either way, wowzers.
03:04am
Shawn Michaels is very much in Triple H's camp for Super Show-Down and he's doing his best to plug the WWE Network but… GONG!
The Undertaker is here! For the first time since Greatest Royal Rumble, the Undertaker is present on WWE TV.
This is huge.
02:56am
Oh for God's sake the Bellas are back.
Make them go away please.
They just offered to train Ronda hahahahahaha.
02:53am
Shawn Michaels is up next to discuss Triple H's bout with the Undertaker at Super Show-Down.
Notice how I'm not referring to it as the "last time ever." I will never believe that. Even when they're both dead.
02:48am
Right so quite a bit is going on here.
Drake Maverick is now AOP's manager.
They're not called the Authors of Pain anymore, just 'AOP.' For some reason.
Drake is still 205 Live GM.
And now Akam and Rezar are killing some jobbers.
I'm confused but also intrigued.
02:43am
Erm…
What on earth?
02:40am
NEW RAW TAG TEAM CHAMPIONS!
McIntyre and Ziggler win a very good match, and are now atop of the tag team division.
Yeah, this is boss. The best thing to happen on Raw in absolutely ages.
This has genuinely made me happy. I don't know what to do.
02:30am
The match has apparently been officially sanctioned, and it will be Dolph Ziggler and Drew McIntyre challenging the B-Team for the Raw Tag Titles.
Unpredictability. I like it. This is genuinely good stuff.
02:26am
The B-Team look very happy for a pair of blokes who are about to die in a couple of minutes.
02:22am
McIntyre and Ziggler want a shot at the Raw Tag Titles tonight, despite the Revival already being advertised to challenge the B-Team.
Looks as though they might batter them so they can take Dash and Dawson's spots. Interesting. But poor Revival.
As I was typing that, that's exactly what happened.
Looks like we might be getting DolphIntyre vs. B-Team instead. Yeah, I'm down with this.
02:15am
There's still about two hours left everyone. Hooray.
02:14am
Bliss just won with an Armbar, but more importantly, Natalya screaming just made my ears bleed profusely.
02:11am
It is in fact Alexa taking on Natalya.
I'm sure this one won't be boring (I lied).
02:09am
Up next it's Natalya against… someone. I wasn't paying enough attention. Nor do I care.
02:06am
Reckon Alexa v Trish is going to be an Elias on a Pole match?
Wait, now Rousey's here to a chorus of boos. "What an ovation" says Cole. Shut up you utter spanner.
02:04am
Alicia Fox isn't wearing a forest on her head this week, which is disappointing. I thought she was supposed to be crazy?
Oh and now Alexa's heeling it up.
02:03am
Elias was being boss as usual, and hometown hero Alexa Bliss has just interrupted him.
She has Alicia Fox with her, for some reason. And Mickie James with her, for some reason.
01:54am
Elias is next.
The shining light in a giant heaping pile of feces.
01:53am
The story of that match was that Roode is a bit naff but Chad Gable's dead good and criminally underrated.
So, it was true to real life then.
01:50am
Why is this a competitive match?
The Ascension were absolutely massacred last week by a bloke who loves his sisters.
01:46am
Erm…
Bobby Roode and Chad Gable are a team now apparently.
Eh?
Can we just have Roode turn on Gable please, it's what we all want. They're taking on the Ascension. When was the last time Konnor and Viktor were on TV for two straight weeks?
01:39am
They're doing Corbin v Bálor in the main event.
Right, that's it, out the window I go.
01:38am
Bálor wants another rematch against Corbin.
Dear God please no.
01:36am
Brie just did the worst Suicide Dive I've ever seen in my life. It was like she just flopped through the ropes in slow motion.
Anyway, Nikki won with the Rack Attack 2.0 to pin Morgan.
Can they go away now please?
01:33am
If we all start watching Total Bellas, will they eventually just go away?
01:29am
This is dreadful so I've taken the opportunity to take a look at the results from Main Event.
Tyler Breeze beat Mike Kanellis, and Mojo Rawley beat Zack Ryder.
Well I was just about to flick back to Raw but she just did the "YES!" Kicks and shouted "BRIE MOOOODE!" so no can do, folks. Sorry.
Oh well, now there's MORE COMMERCIALS anyway.
01:25am
Liv Morgan just did the "You Can't See Me" gesture towards Nikki.
Damn, that's cold.
01:21am
More commercials approximately four seconds after the last ones finished.
The match is not yet underway. Or it might be but there are commercials so I DON'T KNOW.
01:20am
The SHIELD have just been arrested for wanting to wrestle on a wrestling show.
Oh God it's time for the Bellas. At least we're getting it out the way early.
01:17am
"Two legendary returns" are being promoted for tonight.
One of the is Shawn Michaels. Great. That's boss.
The other is the Bella Twins.
¯_(ツ)_/¯
01:14am
Acting Raw GM Baron Corbin is sending the locker room out to ringside to prevent a brawl between the three trios, but it's to no avail.
A massive pull apart brawl takes place (weird seeing one that doesn't involve Lesnar), and now we've gone to commercials in the middle of it. Fantastic.
That was a decent opening but was ruined by commercial break timing.
01:10am
This is just really strange.
It's a massive brute, a massive brute, and then there's just Dolph Ziggler stood there.
Either way, I think it's safe to say Braun is fully heel now.
They spend a bit of time badmouthing the SHIELD, but the Hounds are in the building!
01:04am
And the show opens with Braun Strowman, Dolph Ziggler and Drew McIntyre and RENEE'S BACK ON COMMENTARY YERRRRRRRRSSSSSSSEEEEE!
The crowd has no clue what to do with these three guys.
00:57am
A couple of last minute thoughts before the show starts.
If we see Finn Bálor vs. Baron Corbin again I will have an actual breakdown.
One thing that can salvage this show is Chad Gable answering one of the open challenges. Be it Intercontinental or even Universal, that would make me very, very happy.
00:30am
It's almost time for WWE Raw everyone.
Erm… yay?
If you're not already throbbing with adrenaline and passion, it's the in-ring return of the Bellas tonight! I can't contain my excitement.
Check out our preview for tonight before the show starts, but here's what we all have to look forward to:
The Bella Twins vs. The Riott Squad
The B-Team (c) vs. The Revival – Raw Tag Team Championships
Shawn Michaels to appear regarding Triple H vs. Undertaker at Super Show-Down
Probably other things
I'm going to need your help getting through this one SWAFT Nation, so make sure you join the WrestleTalk Discord server to chat with me, other WrestleTalk writers, and fellow fans about the night's proceedings!