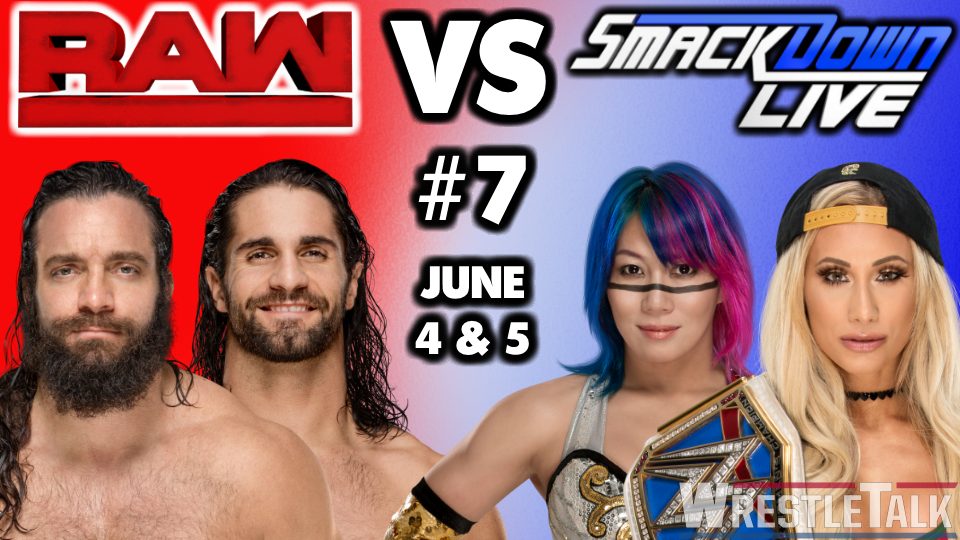 The penultimate shows before Money in the Bank are in the bag, and it's time to have a look at which brand performed better this week, in the seventh edition of 'Raw vs. SmackDown'.
As always, we do this by sectioning each show into three categories, those being the 'Quality of Matches', the 'Storyline Progression/Pay-per-view Build', and any 'Fun' moments that made us feel all happy inside because that's what it's all about.
Quality of Matches
In this section, we only focus on what happens bell-to-bell, and in the interest of fairness, only on the quality of the matches, while trying not to account for the quantity.
Raw
Elias and Jinder Mahal defeated Roman Reigns and Seth Rollins
This match started with the heels repeatedly tagging out in an attempt to avoid their respective Money in the Bank opponents. After the former Shield members grew tired of this, Elias and Mahal managed to gain the upper hand, working over the WWE Intercontinental Champion. A Roman Reigns 'hot tag' was cut short by Sunil Singh however, and the 'Sinister Songsmith' and 'Modern Day Maharaja' maintained their control. The roles were reversed and it was Reigns that was the legal victim, and just like with the 'Big Dog' earlier, Rollins' 'hot tag' was interrupted.
The 'Kingslayer' pulled a steel chair from under the ring, but this was to his detriment as Elias hit a DDT on said chair, which the referee thought was absolutely fine, for some reason. This allowed the 'Drifter' to land the Drift Away and pin the man he will challenge for the 'Workhorse Championship' in Chicago on June 17.
This was a solid match, with Rollins selling his wounds quite well by not digging too deep into his move-set, although this did affect the quality of the match and restrict what the 'Architect' could bring to the table.
James Harden defeated Curt Hawkins via Disqualification
James Harden is a student at Booker T's Reality of Wrestling promotion, and Curt Hawkins decided he would end his 200-match losing streak by defeating the Houston-based hometown hero. Hawkins did look to have the upper hand, but that was until Baron Corbin came out. The 'Lone Wolf' hit Harden with the End of Days, thus meaning Hawkins suffered a DQ loss.
Nia Jax defeated Natalya
As expected, Jax dominated in the early stages of this one. Natalya's attempts to launch a comeback were thwarted when she tweaked her knee, allowing the WWE Raw Women's Champion to capitalize with a Samoan Drop and pick up a relatively easy win.
Braun Strowman defeated Bobby Roode
The story of this one was the strength of Strowman vs. the speed of Roode. (Or according to my notes, "Speed vs. Quickness". I don't even know). This is despite the fact that Strowman is probably quicker than Roode anyway. The 'Glorious One' pulled a ladder from under the ring and made a bridge from the apron to the barricade. He lured the 'Monster Among Men' to the outside and ran away, thinking a ladder would prevent Strowman from catching him. Never fear, the big man just split it in half with his bare hands, so no bother. Shortly after, Strowman landed a Running Powerslam for the win. A slightly entertaining way of doing what was essentially a squash match, with Roode showing some hints of heel tendencies. Which is very, very good indeed. But it was just a squash match at the end of the day.
The B-Team win WWE Raw Tag Team Championships Number One Contender's Battle Royal
This was just a mess so here's a list of what happened:
Tyler Breeze eliminated Dolph Ziggler – Drew McIntyre and Dolph Ziggler eliminated.
McIntyre and Ziggler then attacked everyone else. This could be the starting point for McIntyre's inevitable turn on his partner.
The Revival eliminated Titus O'Neil – Titus Worldwide (Titus O'Neil and Apollo Crews) eliminated.
The Revival eliminated Viktor – The Ascension (Konnor and Viktor) eliminated.
The Revival eliminated Fandango – Breezango (Tyler Breeze and Fandango) eliminated.
Rhyno eliminated Dash Wilder – The Revival (Dash Wilder and Scott Dawson) eliminated.
Bo Dallas eliminated Rhyno – Rhyno and Heath Slater eliminated.
Slater had Dallas in a Powerslam, but spun around and inadvertently knocked Rhyno off the apron with Dallas' legs.
The B-Team (Bo Dallas and Curtis Axel) win.
The Riott Squad (Ruby Riott, Liv Morgan & Sarah Logan) defeated Alexa Bliss, Ember Moon & Sasha Banks via Disqualification
Where do we start with this one? Bliss walked out within the first couple of minutes feigning an injury, I assume in an intelligent attempt to save herself for Money in the Bank. The highlight of this match was Ember Moon's sell of Sarah Logan's catapult headbutt. It looked like the Riott Squad were on their way to victory, until Bayley came out and tagged in, picking up the win. Why is she helping Banks when they were destroying each other backstage only a few weeks ago? Why did the referee allow this? What is even going on anymore? More on this later, but the match was just a bit of a mess.
Finn Bálor defeated Kevin Owens via Disqualification
"For the first time ever in WWE." Not one mention of their multiple NXT Championship matches. We all know the potential these two guys have to put on an absolute barnstormer, but instead, we got a formulaic, slow, heel-works-over-the-babyface-with-rest-holds style match. Bálor got in absolutely zero offense, and the match ended prematurely when Owens didn't break the referee's five-count in the corner. A huge, huge, disappointment.
Match of the Show
This one was quite an easy decision. Not because it was a great match, just because all the others were absolutely dreadful. I did appreciate Rollins not going too mental so as to sell his injuries and fatigue.
SmackDown Live
Asuka defeated Mandy Rose and Sonya Deville – One-on-Two Handicap Match
Asuka started this one on top, but the former Absolution members turned it around. An Asuka comeback was interrupted by Carmella who was on commentary. There was a really nice spot where Asuka and Deville both simultaneously struck each other with Roundhouse kicks. Deville was really evenly matched with the 'Empress of Tomorrow' until an Asuka Lock ended the match. This was a quite fine bout for what it was.
Karl Anderson defeated Harper
Harper dominated for a bit but Karl Anderson won with a roll-up.
Jimmy Uso and Naomi defeated Aiden English and Lana – Mixed Tag Team Match
After a fast opening, Lana gained control over Naomi. Uso came in off the tag but his pinfall attempt on English was broken up by the 'Ravishing Russian', who then proceeded to slap the former WWE SmackDown Tag Team Champion. Towards the end of the contest, English looked to be going for the Usos' Corner Running Hip Attack, but Naomi flew off the top rope and landed a Crossbody. This allowed her husband to strike with a Superkick and pick up the win. This was quite a fun match.
Becky Lynch defeated Charlotte Flair
Yes, you read that right. The match started evenly with both women showing how well they know each other's offense. There was an awful spot where they both caught each other's legs, counted to three, and gently placed them back down. Shortly after, Flair went for the Figure-Eight, but the 'Irish Lass Kicker' countered it into a Dis-Arm-Her for the victory.
The New Day (Big E, Kofi Kingston & Xavier Woods) defeated The Miz, Samoa Joe & Rusev
Following a period of heel dominance, this one descended into absolute chaos with bodies flying all over the place. New Day went for the Midnight Hour, but Joe pulled Woods off the apron and locked in the Coquina Clutch. Kingston tried to help his partner, but he was greeted by a Machka Kick from Rusev. This left Big E in a three-on-one situation, and Miz thought it would be a great idea to throw some pancakes at him. So he tried, but accidentally hit Rusev and Joe, who responded by absolutely crushing him. This allowed New Day to hit the Midnight Hour and pick up the win. This match didn't go as long as I would have liked and wasn't as good as last week's New Day match against The Miz and the Bar.
Match of the Show
I probably wouldn't have expected this match to be the best looking at the lineup, but I thought Naomi put in a fantastic shift here.
The Verdict
As I mentioned, other than the opener, every single match on Raw was very poor indeed. SmackDown Live didn't exactly set the world on fire, but they were all acceptable for what they were. A convincing win for 'Team Blue'.