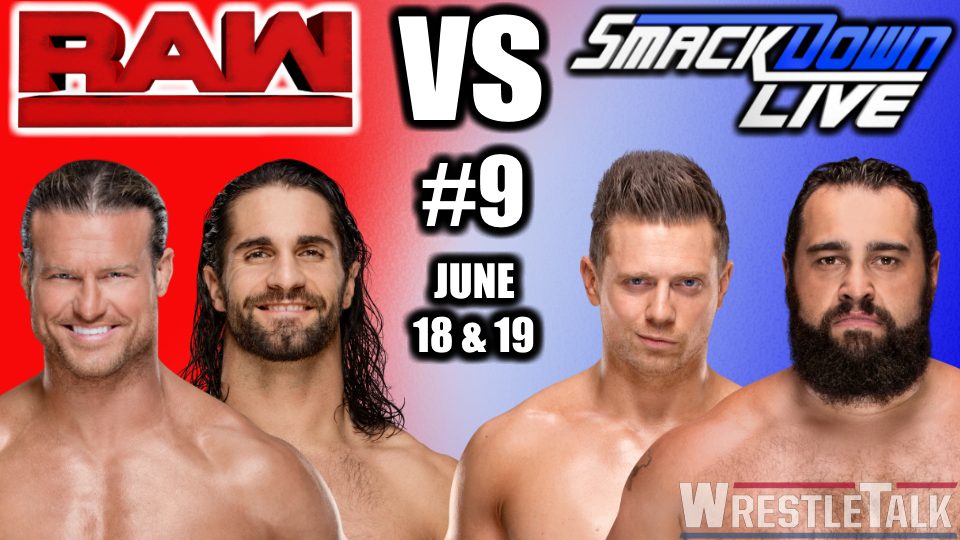 Well, it's been a pretty mental few days in the world of WWE, for reasons I'm sure we'll get to, but following on from Money in the Bank this past Sunday, this week marked the start of the road to WWE Extreme Rules 2018 next month.
With that said, it's time to see which brand kicked off its four-week build better: Raw or SmackDown?
As always, we do this by sectioning each show into three categories, those being the 'Quality of Matches', the 'Storyline Progression/Pay-per-view Build', and any 'Fun' moments that made us feel all happy inside because, as always, that's what it's all about.
Quality of Matches
This section is pretty self explanatory, we're gonna review each match and decide which show did better overall.
Also note that in this section, we only account for what happens bell-to-bell, not considering pre-match or post-match beatdowns and the like.
Raw
Dolph Ziggler defeated Seth Rollins (c) – WWE Intercontinental Championship
Aside from going to a commercial break about 10 seconds after the match got underway, I enjoyed this one. I wouldn't say it was anywhere near what either of these guys are capable of, but as far as opening matches go, it was excellent. Drew McIntyre looked very Undertaker-y on the outside, and didn't get involved until the finish.
The match's best spot, rather infuriatingly, came during a commercial, when a Suplex attempt from Ziggler ended up catapulting both men to the outside.
As we've become accustomed to with the WWE formula, the 'Showoff' was in control for most of this one, building to a comeback attempt from Rollins.
Rollins defeated Elias at Money in the Bank with a handful of tights, and the 'Architect' got a taste of his own medicine when a McIntyre distraction allowed Ziggler to escape with the win, and the WWE Intercontinental Championship.
Bobby Roode defeated Curt Hawkins
Yeah, whatever.
The Deleters of Worlds (Matt Hardy and Bray Wyatt) defeated Rhyno and Heath Slater
Hardy and Wyatt did their spots and got a pretty quick win. The same match we see every single week from the WWE Raw Tag Team Champions.
Jinder Mahal defeated Chad Gable
Gable got a little bit of offense in, but a dominating win for Mahal.
The Riott Squad (Liv Morgan and Sarah Logan) defeated Sasha Banks and Bayley
Banks and Bayley spent the match arguing and blind-tagging each other, except when Bayley confusingly saved the 'Boss' from a pin attempt. Eventually their bickering got the better of them and the Riott Squad won.
Roman Reigns and Bobby Lashley defeated The Revival (Dash Wilder and Scott Dawson)
I'm not sure what to make of this. I'm glad the Revival got a decent showing against a couple of main-eventers, but I don't see why you would have a competitive match between a couple of guys who are lining up for a WWE Universal Championship opportunity at SummerSlam, and a team that has been treated as a joke for a number of months.
Anyway, the match concluded when Reigns was setting up for a Spear, but Lashley tagged himself in, and hit the Spear himself for the victory.
Mojo Rawley defeated No Way Jose
Jose had most of the offense, but an explosive finish from Rawley got the job done with a Hype Driver. I didn't care about this match, but Rawley getting TV time and wins is only a good thing. He's been excellent as a heel thus far.
Kevin Owens and Constable Baron Corbin defeated Braun Strowman and Finn Bálor
The heels had the upper hand on Bálor for what seemed like forever, before Strowman lobbed Bálor into their corner to tag himself in. 'Mr. Monster in the Bank' went on a bit of a rampage, but was halted by a flying clothesline off the apron by the Constable.
Bálor then tagged himself in, allowing the 'Monster Among Men' to kill Kevin Owens through a barricade, but Corbin managed to dodge a Coup de Grâce, and land the End of Days for the win.
A solid match with a very intriguing conclusion.
Match of the Show
Dolph Ziggler defeated Seth Rollins (c) – WWE Intercontinental Championship
As I mentioned, these guys are capable of much more, but for a mid-card title match, and the opening bout on Raw, this was very good indeed.