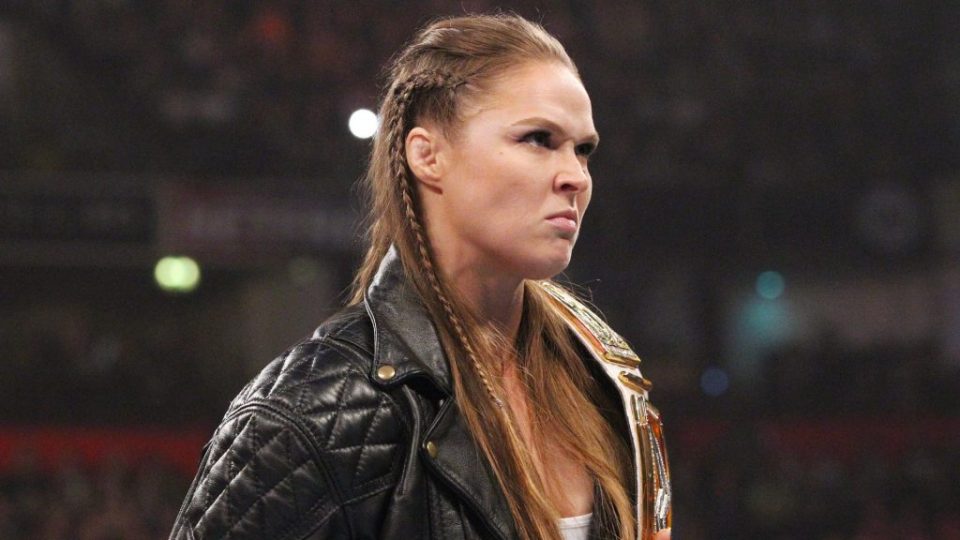 It's January, you know what that means. Though Luke Harper has been running this gimmick on Twitter all year and I don't know what he's on about. So maybe you don't.
January means a few things. One: Laurie's birthday, two: Pete's birthday 31 times and three: the Royal Rumble.
Which means 60 opportunities to be surprised, 60 potential massive pops and 60 opportunities where you might go, "oh not that guy, I hate that guy".
But who is that guy, where is that girl? Is she coming back? And whomst faces whomst in matches that ultimately are kind of just filler because it's WrestleMania in three months?
These are the questions that can be answered now that we have compiled our list of rumours for the 2020 Royal Rumble event.
Roman Reigns to Win Men's Royal Rumble
What was once the joke rumour: that Roman Reigns would win everything, has come back round again.
Only this time I think fan reaction is leaning the other way for him. Whereas before WWE's insistence on shoving The Big Dog down our throats had people booing him big time.
After he returned from his leukaemia treatment, made the leap to Smackdown and started this programme with King Corbin – which I'm not saying has been great, lest we forget the dog mascot and the dog food and the dog noises, rrrrr-ubbish, but it has elicited the right response from the crowd, actual cheers for Reigns. Now would be a good time to have him pick up a Rumble victory.
The bookies are backing it too as he's currently the favourite in their eyes to win the 30-man match in January and earn a coveted opportunity to point at that big WrestleMania sign, in all its pirate themed glory and say 'yaaar'll be there'.
He's also won it before back in 2015 to set up his infamous match with Brock Lesnar where Seth Rollins cashed in the Money in the Bank briefcase and stole the WWE Championship away.
Whatever happens it'd be nice to see Reigns back in a Rumble match after he missed last year's while undergoing his treatment.
Ronda Rousey to Win Women's Royal Rumble
There's a lovely sort of symmetry to this – because it was Becky Lynch who limped through last year's match to earn a shot against Ronda Rousey at Mania.
And since then it's been Men's hour on WWE TV and we haven't heard hide nor hair of Ms. Rousey – who reportedly left to start a family and enjoy the simple life up on her ranch.
According to betting odds she is the favourite to win the match with Shayna Baszler, her MMA horsewoman running buddy, close behind but photo-finishing second.
Now, the question of whether Ronda freaking Rousey really needs to win the Rumble to set up a title match is a little moot, because she could stomp through the door, mean face on and anime point at the Mania sign and the management would be falling over themselves to book that main event.
And while Baszler isn't exactly the sort of "new star" that could benefit from a big Rumble win, she has been the face of NXT's Women's division for some time, so this could be a good signalling of her main roster call-up being imminent and the start of the reported 'big plans" WWE has for her on Raw or Smackdown.
If you want my opinion on who should win it though that would be Rhea Ripley. She had a heck of a November and got over like a legitimate star with important wins over the biggest names on the women's roster.
Becky Lynch vs. Asuka
In a surprising turn of events, winning both the SmackDown and Raw Women's Championships at WrestleMania 35 actually stopped a lot of the momentum Becky Lynch had built up at the beginning of 2019.
Because once she captured the Raw title Ronda Rousey left the company and WWE made far less effort with the women's division overall. 
Becky was "Becky 2 belts" for a while, but that didn't last very long and following feuds with Lacey Evans and Sasha Banks, Becky finds herself in the women's tag division, despite being the Raw women's champion.
Other than Charlotte, the last person to defeat Becky clean in a singles match was Asuka, who tapped her out at Royal Rumble 2019. Asuka would go on to lose the Smackdown Women's Championship to Charlotte, but she still has that important win over Becky which could build into a storyline. 
Add to that the recent Raw storyline of the Kabuki Warriors tormenting Lynch and Flair, and the victory over them at TLC, which ended with an image of Asuka atop a ladder victorious… for about a second because look, look Roman Reigns is doing a spear in the crowd!
So with all that said and done Dave Meltzer on Wrestling Observer Radio is reckoning, Lynch vs. Asuka is the likely direction for them to go for the Rumble.
What this means is that Becky will likely get the win back to make sure no-one remembers that Asuka won clean last year, and will then go on to feud with either Charlotte or a returning Ronda Rousey for WrestleMania season.
It would be very easy for her to win, say "there's no-one left to beat" and then for Ronda to come out and challenge her.
The Fiend vs. Daniel Bryan
Daniel Bryan vs. The Fiend is a feud that's been bubbling away nicely since before Survivor Series, which frankly D-Bry did not survive, he then survived even less when the Fiend attacked on Smackdown, dragged him through the ring mat to… seemingly a barber shop.
This ongoing razor war even raged at TLC, where Bray Wyatt easily dispatched the Miz, but the match itself was really designed to further the story of Bray and Daniel as post-match Bryan returns with a who's your daddy busaiku knee strike.
He's had a close trim, looks like American Dragon Bryan and has brought back the Yes Movement too.
Wyatt himself also said in a Firefly Fun House promo that he isn't finished with Bryan just yet, which teased that we could be in for another match between the two.
This makes more sense than starting another filler-feud for Rumble season because the groundwork had been laid and Daniel Bryan did something Seth Rollins didn't manage in his Fiend matches: he got cheered. Which is important, because popular as the Fiend is, he's meant to be a monster.
The theory then is that it will be Roman Reigns vs. The Fiend at WrestleMania. 
NXT Championship on the Line
At Survivor Series 2019, the NXT Championship was on the line for the first time ever on a main roster PPV, when Adam Cole defended against former United Kingdom Champion Pete Dunne.
It was easily match of the night, and with WWE looking to do anything to give NXT a push over AEW, it would make sense to have more NXT matches on big main roster PPV cards to funnel viewers over to USA on Wednesday for the black and gold brand's TV show.
NXT dominated Survivor Series, and the Wednesday Night Wars figures are closer than ever before, so you could imagine Vince McMahon would give the NXT Championship a prominent spot on one of his big four PPV shows to cement those sort of numbers. 
There were plenty of WWE fans talking during the Survivor Series match saying they had only watched the 'main roster' stuff before but they really enjoyed NXT's style of wrestling, which goes to show if you feature it more, you may convert more of the Raw and Smackdown faithful to it.
John Morrison to Return
It was announced in early December that Johnny Morrison Mundo Impact Hennigan III Sr. had signed with WWE for the first time since leaving the company in 2011. While we know that he's signed on the dotted line, there are few clues as to when he's actually going to make his return.
The Royal Rumble is famous for bringing back old stars and re-debuts, and it would seem like the obvious choice for Morrison, particularly given his particular set of skills in the ring. 
As with many stars who leave WWE, Morrison has made a much bigger name for himself wrestling for the likes of Lucha Underground and IMPACT, and comes back to WWE as a potential main event star, something he struggled to do while under Vince McMahon's burying umbrella. A sort of shovel umbrella.
Although he's now 8 years older than he was when he left WWE, he's lost none of his speed or high-flying ability, and will be welcomed back with excitement by fans. Giving him a good spot in the Rumble will remind fans what he's capable of and show new fans what they can expect from John Morrison going forward. But will he bring Melina back with him?
Nia Jax Return
Nia Jax fell victim to every wrestler's worst nightmare in April 2019, when she managed to tear her ACL in both knees. It's an injury suffered by the likes of Seth Rollins, Dominick Dijackovic, Tegan Nox and many others in WWE and wrestling promotions the world over.
The initial diagnosis was that she would likely require around 9 months of rehab, and you know what comes 9 months after April? That's right, it's either January or December depending on whether you started counting at April or May.
That means with any luck she'll be ready to make her comeback any time now, and with there being no real rush to bring her back, it would sense to wait for a big monster Royal Rumble spot.
She could comfortably return and win the whole match if WWE wanted to go in that direction with her. She's proved that she can get over as a heel and a baby-face, and although she's definitely more suited to a heel, fans will be happy to see her back in the ring either way.
There's also the possibility that she returns in the men's Rumble match. She appeared in last year's one to great effect and even though we don't have a Dean Ambrose to embarrass on his way out of the company this time, I'm sure they can find someone to be her fall guy.
Who do you want to see win the WWE Royal Rumble matches? Let us know on Twitter or on Discord!