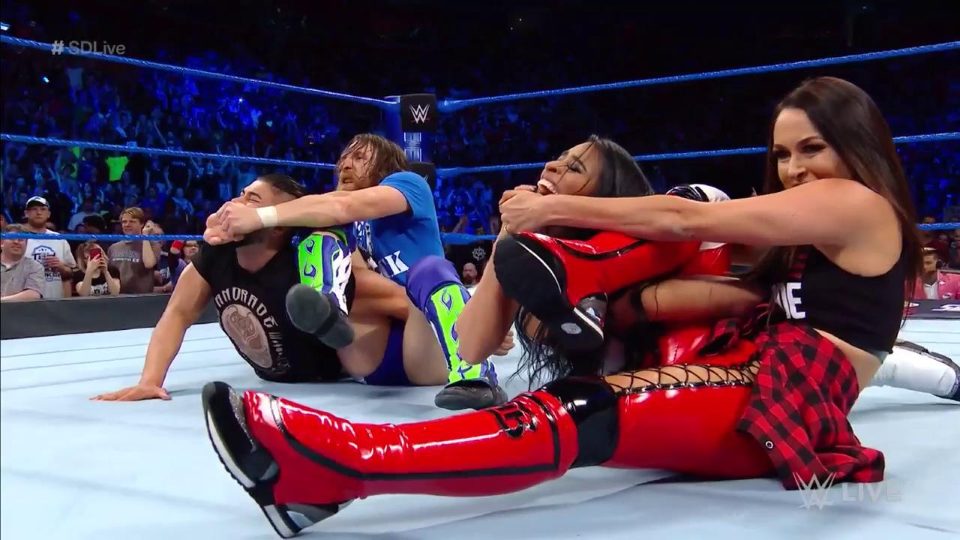 03:06am
And that wraps up a pretty darn good episode of SmackDown Live.
A Women's Title match confirmed for Hell in a Cell, a very happy Rusev Day, and R-Truth winning a main event in 2018.
Boss.
No it's time for me to see what on earth is going on with Drake Maverick.
Thanks for following our live coverage of the show! If two hours of me just wasn't enough, feel free to follow me on Twitter, or join the WrestleTalk Discord server to share your views on the show!
03:02am
That was a very, very entertaining match.
The conclusion came with Daniel Bryan and Brie Bella making their entrance, which distracted Miz allowing Truth to win via a roll-up. Again – it's 2018.
The Danielsons attack the Mizanins, but it's not long before Andrade Almas and Zelina Vega also come out to join the fray. Brie and Bryan get the better of them though, and show Miz and Maryse what could be in store for them at Hell in a Cell.
02:48am
Carmella is singing along to What's Up. What a world we live in.
02:39am
It's main event time and, believe it or not, Carmella has agreed to be in R-Truth's corner for his bout against former tag team partner The Miz.
02:35am
It is a very happy Rusev Day!
Rusev and English pick up the win in a fun match, and will take on the Bar next week, to determine New Day's Hell in a Cell challengers!
02:17am
Another boss promo/vignette is shown, this time from Randy Orton's point of view, regarding his upcoming Hell in a Cell match against Jeff Hardy.
02:16am
The main event has been confirmed, as The Miz will, in fact, take on R-Truth! It's 2018.
But the big question here is whether Carmella will accompany Truth to ringside.
02:13am
Up next, it's Triple Threat tag team action, as it's Rusev Day vs. The Usos vs. SAnitY.
The winners will go on to face the Bar to determine the number one contenders for the WWE SmackDown Tag Team Championships at Hell in a Cell.
02:11am
R-Truth is still looking for Carmella.
Turns out she's right in front of him.
Truth tries to convince 'Mella to accompany him to ringside to take on Miz and "the other Carmella."
The man is amazing.
02:09am
Joe continues to threaten the Styles family, before AJ, who unbeknownst to Joe was actually at the arena, runs to the ring and the two come to blows.
The pair have to be restrained by referees and SmackDown GM Paige.
Dan Engler even took half of a springboard Crossbody, the little hero.
Styles comes out on top, but this rivalry is getting hotter and hotter week by week.
02:01am
Well, Samoa Joe's here, which means he isn't at AJ Styles' house.
Let's see what he has to say.
02:00am
R-Truth is now getting Maryse confused with Carmella. I love him so much.
01:54am
Miz and Maryse are back in the building, but Paige gives them an ultimatum.
Either Miz has a match tonight against whoever fancies it, or if they leave, they're not allowed back.
Hmmmmmm….
01:52am
A really good promo/vignette is shown of Jeff Hardy hyping up his Hell in a Cell match against Randy Orton that takes place at the September pay-per-view.
01:48am
Naomi wins in about two minutes before the IIconics attack her from behind.
Oh yay. Scintillating.
Wait… it's Asuka. Remember her? She's back and she destroys the IIconics!
I'd love to pretend I care. But I don't. Sozz.
01:41am
It's official! Becky Lynch will challenge Charlotte Flair for the SmackDown Women's Championship at Hell in a Cell!
Up next, it's Naomi vs. Peyton Royce. Again.
01:37am
There is now a split screen interview with Charlotte and Becky Lynch, where they are moaning at each other about not being friends anymore.
Becky is, of course, getting cheered.
01:35am
Continuing their disgusting heel ways, Brie and Bryan are now threatening to visit the restaurant that Miz and Maryse are eating at.
Hot take here, I bet we see a food fight.
01:29am
Miz and Maryse appear on the titantron live from a restaurant somewhere.
They must have gone to quite bit of trouble to do that…
Anyway, they essentially tell the stars of Total Whatever They're Plugging This Week that they will have to wait until Hell in a Cell to get their hands on the 'A-Listers.'
01:26am
Bryan picks up the win in a very decent match to open the show.
Brie then attacks Zelina Vega for no reason whatsoever. That's not nice.
01:11am
Almas said something. I have literally no idea what.
But from what I understand, the first match of the night will be a rematch of last week, and 'El Idoló' will take on Daniel Bryan.
01:09am
Replays are shown of last week and earlier in the night when the arena was empty, showing Miz and Maryse challenging Birdie's parents.
Brie and Bryan are now challenging Miz and Maryse to join them in the ring, reversing the roles, only in front of everyone this time.
Renee Young however, informs us that the 'It Couple' are no longer in the building, and instead Andrade Almas and Zelina Vega make their way onto the stage, after Almas took on Bryan last week.
01:03am
SmackDown opens with "BRIE MODE" so now I'm off to bed.
Tarrah.
00:30am
After what I though was a great episode of Raw last night – though seemingly everyone disagreed with me – it's almost time for the show we all prefer, WWE SmackDown Live.
Before the show, be sure to check out our preview, but, in brief, here's what's on the agenda for tonight's show:
The Usos vs. SAnitY vs. Rusev Day

Winners to face the Bar to decide who will challenge the New Day for the SmackDown Tag Titles at Hell in a Cell

Samoa Joe is apparently going to go to AJ Styles' house

Probably not to help WEEENNNDDDYYYY with the dishes

Brie Bella will probably botch some more Suicide Dives, this time with Daniel Bryan watching her while dreaming of being at All In 2
Becky Lynch might say some naughty words to Charlotte again
Randy Orton will likely pull Jeff Hardy's earhole again the disgusting AWFUL CREEP
Other things
Make sure you have your say by joining the WrestleTalk Discord server, where you can chat to your favorite WrestleTalk personalities and fellow SWAFT Nation members about tonight's show and beyond.