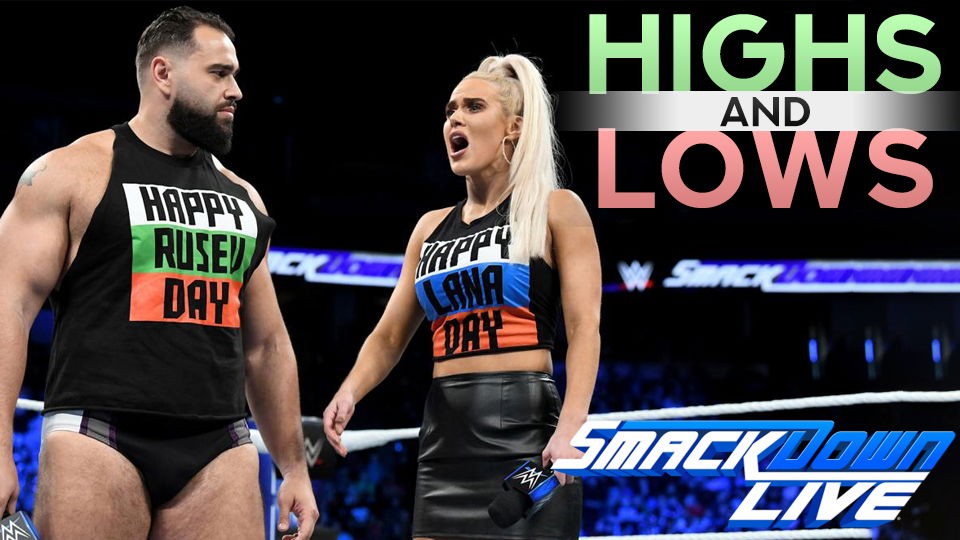 In the this regular feature, we attempt to take an objective, balanced look at the big shows, looking at the High and Low points in equal measure.
As ever, this is purely opinion. Feel free to let us know your own Highs and Lows. Share your opinion in the comments below, on Twitter or via our Discord chat room!
---
High: What happened in Milwaukee?
Following on from the intriguing show-long storyline on Raw teasing possible turns for Drew McIntyre and Dean Ambrose, WWE pulled another angle out of the bag the next night.
Aiden English addressed why he attacked Rusev last week, blaming Lana for coming between them. It's the age old Yoko Ono angle that has been done a million times in the past but has not been seen on WWE TV for a while.
English questioned Lana's loyalty to Rusev when he asked her, "Are you going to tell him about Milwaukee?"
Oh, it was all kicking off!
What happened in Milwaukee, Aiden? Don't leave us hanging like that!
The intrigue built throughout the show but English revealed no further details other than promising video evidence next week.
I do like a good mystery angle. Let's hope the payoff turns out better than the "who attacked Breezango" story.
Low: Iiconics do commentary
The addition of a female voice to the Raw commentary desk in the form of Renee Young has definitely been a positive move from WWE. However, not every woman in the company can just step into the announce booth and enjoy as much success, as became clear when the Iiconics donned the headsets.
The intentionally-irritating Aussie duo made the Asuka and Naomi vs. Don't-Call-Them-Absolution tag match a chore to endure.
I get that they are suppose to be annoying, it's their entire act, but that doesn't make it any better. After all, who wants to be annoyed while they are being entertained?
Thankfully the match was short enough that their screeching tones did not do any long-lasting damage to my eardrums.