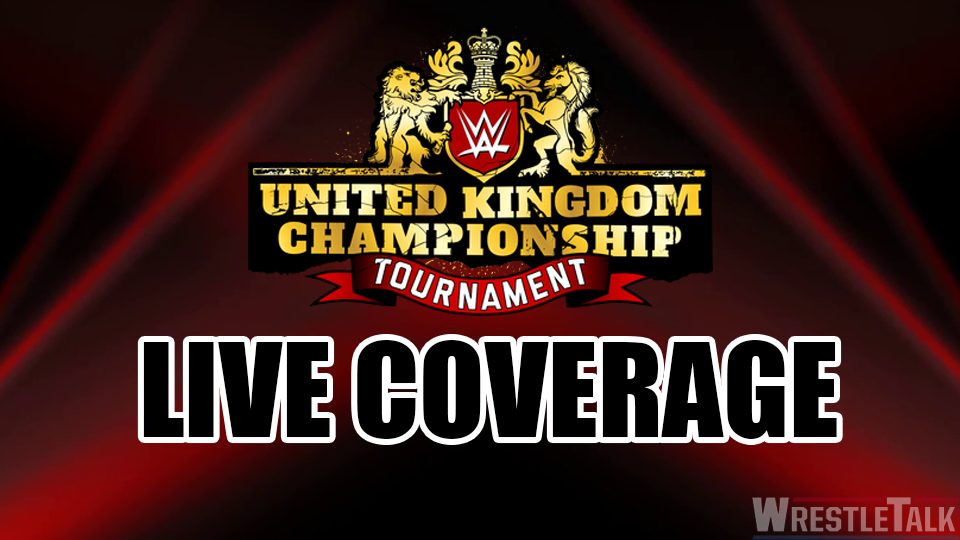 BED TIME
What a show. New NXT Tag Champions, and lots of simply wonderful wrestling.
I'm sure I'll be saying the same after SmackDown Live later…join me for that on wrestletalk.com and on Twitter.

10.24pm
PETE DUNNE RETAINS THE WWE UNITED KINGDOM CHAMPIONSHIP
Great match. Feel for Zack Gibson, he put everything into that match, and clearly a WWE star of the future after being given this spot.
But Pete Dunne. What a man. The distance he has come from being runner-up in the same tournament last year is incredible. Very much deserved.
Great showing for UK wrestling.

10.20pm
This match has really picked up. Some great near falls…
I spoke too soon.

10.18pm
Dunne hitting Gibson like I used to hit my brother at age 4. Mauro Ranallo claims the gumshield Dunne wears is protection against knockout.
That's not how it works, Mauro.

10.14pm
I was sad to see Gibson's twin brother Oney Lorcan injured himself.
Gibson on top at the moment.

10.13pm
I think I could grow a better beard than Pete Dunne.
Great match though, just a stupid beard.

10.07pm
Birmingham vs Liverpool.
The battle of the sexy accents.

10.03pm
It's time for out Maaaaaaiiiiiiiinnnnn event.
Despite Gibson's lame entrance music, this should be one hell of a match. Pete Dunne is a legend and Gibson oozes…maybe not charisma, but something wonderful like Nutella.
Not a fan of Dunne's beard.

9.59pm
Shayna Baszler retains.
A match that took a while to get going but when it got going, it really got going.
Storm fails to beat a 10 count to get back into the ring, but a really valiant effort.
Anyone else really irritated by Baszler's voice? Sorry Shayna.

9.55pm
Storm showing real grit here. Really hopes she can become a constant fixture in NXT.

9.50pm
A lot of ground wrestling in this one. Not the most thrilling spectacle in the world but that's Shayna Baszler for you. Great heel work. Literally.

9.44pm
Next up we have Shayna Baszler vs Toni Storm for the NXT Women's Championship.
Again, will be shocked to see the title change hands but you never know, Storm is one of the best wrestlers on the planet.

9.38pm
Aleister Black and Ricochet pick up the victory. Velveteen Dream walks out on EC3, leaving him stranded and open to the Black Mass kick.
Ricochet goes to hand the title to Black, but pauses…looks like we have the next NXT Title feud. Yum.

9.32pm
There's so much charisma in this match. Really nice exchanges between all four men, they really know how to work a crowd. Dream and EC3 on top.

9.30pm
Velveteen Dream is fast becoming my favourite wrestler on the planet. What a man.

9.24pm
A chant of 'this is awesome' has started one no-one has touched each other yet. You can tell this is historic.

9.14pm
Time for a dream match…get it? Because Velveteen Dream is in it. Hahahaha…
Aleister Black and Ricochet vs Velveteen Dream and EC3. Add that to the list of matches I never knew I wanted to see.

9.10pm
Adam Cole retains the North American Championship.
Really good match, Wolfgang put in a really good showing, but a shining wizard to the back of the head to Wolfgang gives Cole the victory.

9.08pm
Really good match so far. What a wonderful moonsault by Wolfgang, just a shame he completely missed.

9.03pm
Wolfgang has a good angry face.
But he's being booed. Probably because he's Scottish – and therefore deserves it.

8.57pm
Time for the WWE North America title match between scotsman Wolfgang and champion Adam Cole.
Could Wolfgang add to Cole's misery after UE lost the tag titles? Probably not, but let's see!

8.53pm
Noam Dar is the new number one contender for the WWE United Kingdom Championship.
Joe and Mark Coffey charge the ring after the final bell, which seems a bit mean. Anyway, this looks to be the start of a story line, which I am absolutely okay with.

8.48pm
Very fast paced stuff so far. Chants of NXT. This is wrestling everyone – WWE take note.

8.43pm
It's not time for a "four-man, fatal match" according to Johnny Saint. Noam Dar is the surprise entrant into this match after returning from a long time out on the sidelines.

8.39pm
Now it's a triple threat for a triple threat match to decide the number one contender for the United Kingdom Championship.
Wales' Mark Andrews, New Zealand's Travis Banks, and England's Flash Morgan Webster. Keep it in the colonies, lads.
Should be good.

8.36pm
Charlie Morgan picks up the win. Not the most convincing display in the world from either but they're both young with plenty of potential!

8.32pm
Apparently Killer Kelly is making Cristiano Ronaldo proud.
Ronaldo interference confirmed.

8.27pm
Next up: Killer Kelly vs Charlie Morgan.

8.24pm
Short but sweet. It's amazing what talented people can do with limited ring time. Less than 15 minutes, but still one of the best tag matches in a long time.
Trent Seven and Tyler Bate are the new NXT Tag Team Champions and they 100% deserve it.

8.23pm
TYLER BATE AND TRENT SEVEN WIN THE NXT TAG TEAM TITLES!

8.21pm
Did you see the ref leaf to get to that count?? What a move!

8.18pm
Wow. What a suplex from Tyler Bate. The strength of that man who is depressingly younger than me is unbelievable.

8.15pm
Loving Trent's dad body, makes me think I might be able to make it as a wrestler one day. All I have to do it start wrestling.
Great stuff so far…

8.07pm
We kick off the night with the NXT Tag Team Title match between Roderick Strong and Kyle O'Reilly from the Undisputed Era and their challengers Tyler Bate and Trent Seven, collectively shown as Moustache Mountain.
This should be amazing.
Welcome to our live coverage of the second night of the WWE United Kingdom Tournament.
Among other great matches, we'll see who comes out on top between Pete Dunne and Zack Gibson in a UK Title match, and who out of NXT Women's Champion Shayna Baszler and Toni Storm will take home the title.
We'll be with you every step of the way, so stay tuned for news, views and insight into the night's events.
ENJOY!