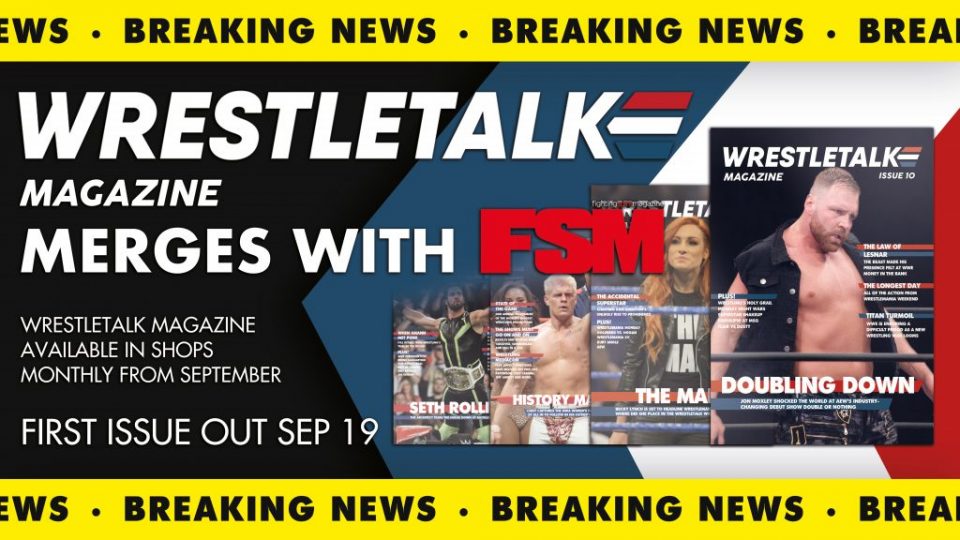 As revealed last week, WrestleTalk Magazine and FSM will be merging and WrestleTalk Magazine will be available every month in UK high street stores as of September 19.
To celebrate we are doing a one-month-only special offer where you can buy EVERY back issue of WrestleTalk Magazine (from 1-10) for the incredible price of just £15 (plus postage).
We are also offering each individual issue for the incredibly low price of just £2 (plus postage).
Hurry and take advantage of this while stocks last. This offer ends on September 18.
Naturally, the merger and change from bi-monthly to monthly has led to many questions from existing readers of both and potential new readers, so we have put together this handy guide of the things we have been asked the most, which should hopefully answer any questions.
---
I am an existing subscriber to WrestleTalk Magazine, what will happen to my subscription? Do I need to do anything?
You don't need to do anything. You will continue to receive issues of WrestleTalk Magazine through the post. The only difference is you will now receive an issue every month rather than every two months or so.
I am an existing subscriber to FSM. What happens to my subscription?
WrestleTalk Magazine will be honouring existing FSM subscriptions. So if you already subscribe to FSM you will now receive WrestleTalk Magazine in the post for the duration of your existing subscription.
What if I have subscriptions to both?
There are various options. Please email james@wrestletalk.com to discuss.
Will you be offering different subscription packages now the magazine is going monthly?
Yes. We will still offer a six-month option (six issues) which for UK customers will remain at the same price of £30. For the rest of the world the price will be £40, which is £10 less than before.
What about a one year option?
Yes. For the first time we will be offering one year (12 issue) subscriptions. For the UK these will be £50 and for the rest of the world they will be £60.
What shops will WrestleTalk Magazine be available in?
We will be available in larger branches of: ASDA, Easons (Ireland), Martin McCols, Morrisons, Sainsbury, Tesco, WHSmith and all good independents. If your newsagent does not have it, ask for it!
What about overseas readers?
Overseas customers can either subscribe or continue to purchase individual issues from WrestleTalk.BigCartel.com
How much will each issue cost now that the magazine is going monthly?
The new cover price will be £4.99, which is £1 cheaper than before.
Does that mean the magazine is getting smaller?
Nope. We will continue to offer 48 full-colour pages jam packed with exclusive content, our groundbreaking QR codes giving access to audio versions of articles and bonus content, and several new exciting features.
Will the magazine look and feel the same?
Pretty much but as noted above we are introducing some exciting new features and giving some existing features a refresh.
Who will be writing for the magazine?
Our existing writers will still be here. Those include Editor James Dixon (Titan Trilogy and WrestleTalk.com), Greg Lambert and Findlay Martin (PowerSlam), Patrick Lennon (Daily Star) and Nick Holicki (WrestleTalk.com). FSM editor Brian Elliot will also be coming on board with a new monthly column.
What about Oli, Luke, Laurie, Randy and Pete?
They will be involved too! They will give their monthly thoughts on a key issue in wrestling, be it a major news story, angle or PPV in one of our exciting new features.
Will digital download versions still be available?
Yes. We will have more details on how we offer digital downloads of the magazine available shortly.
Remind me again when the magazine will be in the shops?
September 19, with subscribers receiving it a few days prior to that.