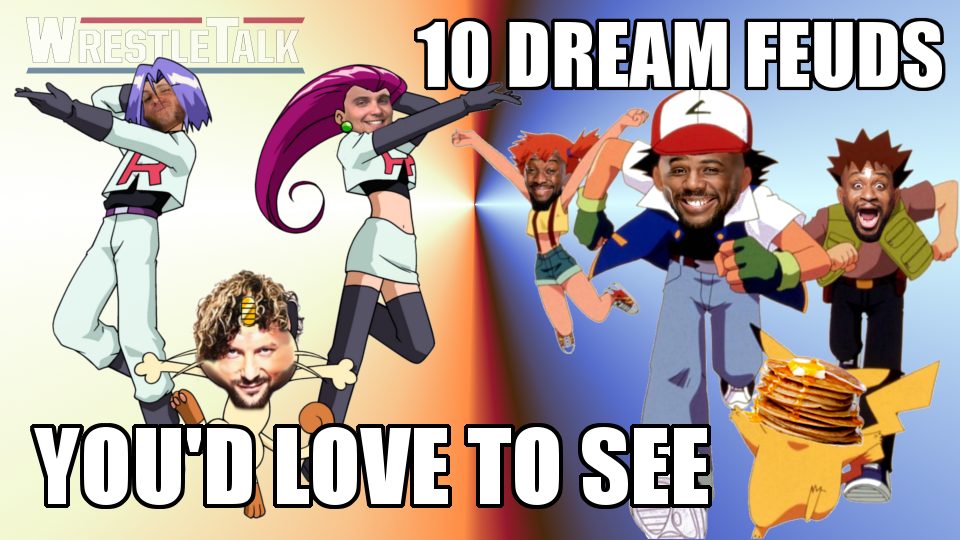 Every wrestling fan across the world is guilty of fantasy booking every now and again. No matter if it's a Roman Reigns heel turn, how to call up that beloved NXT star correctly (and not have them end up like Cien Almas), or even down to dream match-ups and rivalries that would make even the most cynical of fans go "Oh, that's a pretty good idea."
Within this list contains 10 of those Dream matchups that I have been storing away in the back of my mind just waiting for that perfect opportunity to share with the world. So without further ado and in no particular order, here is my list of 10 Dream Feuds you'd would love to see:
The Elite vs New Day
While this may have already occurred in the exciting world of video gaming, in a wrestling ring it has yet to become a reality (and quite frankly probably never will). We got a small snifter of what these 6 men could offer us at the E3 gaming convention. The back and forth between Xavier Woods and Kenny Omega was simply beautiful. The pair are clearly good friends and have continued this low key rivalry for the best part of 3 years. With the Bucks even producing t-shirts that were a clear rib to the New Day Booty O's gimmick, I would have no doubt they would put on a great show. Especially if the New Day dropped the silly pancake shenanigans and gave The Elite the same intensity and fire they gave the Usos at the tail end of 2017.
From pancakes to peppers, relive the legendary match between The New Day vs. The Elite, which took place at #E32018!

?‍♂️ Watch now: https://t.co/XMjRoPd8ey pic.twitter.com/CCe0miKnqX

— Street Fighter (@StreetFighter) June 19, 2018
Pete Dunne vs Daniel Bryan
When the news broke that Daniel Bryan was finally cleared by WWE medical staff, the Wrestling world rejoiced, and the possible rivalries that we once thought were lost became a possibility. Bryan vs. Styles, vs. Rollins, vs. Pete Dunne?
While he and the other British lads may have a little while to wait until there big main roster call-up (if ever) you'd have to admit Bryan vs Dunne does sound very intriguing. The brash, hard-fought, finger biting Bruiserweight, clashing with one of the best technical wrestlers that has ever graced a wrestling ring. These two would beautifully complement each other inside a squared circle and could be the shoulder rub Dunne needs to place him as a top heel in the company.