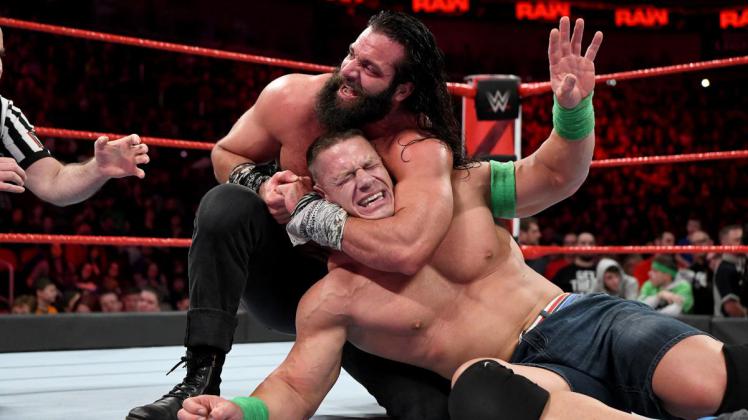 Because there's currently more wrestling podcasts on iTunes than there are GRAINS OF SAND IN A DESERT, it's hard to keep track of all the best stories and breaking news.
So here's a handy breakdown of the week in pro wrestling podcasts, highlighting some of the more fascinating details from the mouths of wrestling's stars, executives, and insiders…
4. In a war, Road Dogg will fight anybody – even family (Something to Wrestle)
The D-Generation X "invasion" of WCW (complete with helmets, fatigues, and military transport) proved to be an artistic success, but posed very real risks. There existed the possibility that police could be called (which happened in a couple of instances). There was also the chance that WCW personnel could provide a current of resistance – what if, at the Norfolk Scope, a horde of prideful WCW wrestlers came out to confront DX?
Bruce Prichard, who was on hand producing the invasion bits, would laud the D-Generation X members for their fearlessness, and their willingness to do whatever necessary to flex the WWE muscle up against WCW's face. In regards to the possibility of WCW wrestlers coming outside to confront DX, Prichard recalls Road Dogg in particular boasting, "I hope my brother's there – I'll kick his ass!" It wasn't clear whether he was referring to either Brad or Scott Armstrong, but the sentiment in Road Dogg's militant attitude resonates regardless.
3. Don't wanna "Cross the Boss"? Hit 'em with all you've got. (The Steve Austin Show)
No "evil boss" storyline will ever match the brilliance of Austin vs. McMahon. The give-and-take between the cold-hearted, darkly-heroic Steve Austin and sneering, transparently-evil Vince McMahon was executed to sheer perfection, and all subsequent imitators are just that – imitators.
One of the qualities that made the lengthy feud so special was McMahon's willingness to taking a beating, as long as the crowd ate it up. Austin related that trait this week when he looked back on his and McMahon's steel cage match at the 1999 St. Valentine's Day Massacre pay-per-view. Specifically, Austin noted that McMahon, "would be pissed off at you," if you didn't stiff him with your strikes. Austin affirmed that if you work against Vince, you, "Always (had to) lay your s–t in," as a means of holding up your end.
2. Will Ospreay turned down WWE (Talk is Jericho)
At a time in which it seems WWE gobbles up any and every unsigned talent imaginable, Will Ospreay has not been one of them. And based on the way he tells it, that doesn't appear to be changing any time soon.
In a conversation with Chris Jericho, Ospreay revealed that WWE attempted to open negotiations with him, only for the aerialist to turn them down flat. Ospreay expressed a dislike of the hectic WWE schedule, noting he's not a big traveler as it is. What seemed to irk him most was the idea of having to work on Christmas day, which WWE performers did in 2017. Ospreay says doing something like that would have "killed (him)", as he enjoys spending the holidays with his family.
https://www.youtube.com/watch?v=q2PPDQI1OW0
1. "Walk With Elias" was encouraged by a major WWE star (E&C's Pod of Awesomeness)
It's a bit staggering to see just how far Elias has come in less than one year on the main WWE roster. His confident delivery and natural heel instincts have him positioned as a main eventer for future days, something most NXT revelers would not have guessed. Elias is a breakout star in every sense of the term.
One of his hooks has been the phrase, "Who wants to walk….with Elias?" The crooning villain recently revealed to Edge and Christian that he tried that phrase out to John Cena backstage, whose mind was apparently blown at how well the phrase synced up with the letters "WWE." Cena encouraged Elias to make that part of his spiel, to ask fans what WWE truly stands for, making the catchphrase more of his own. Can't say it hasn't worked.