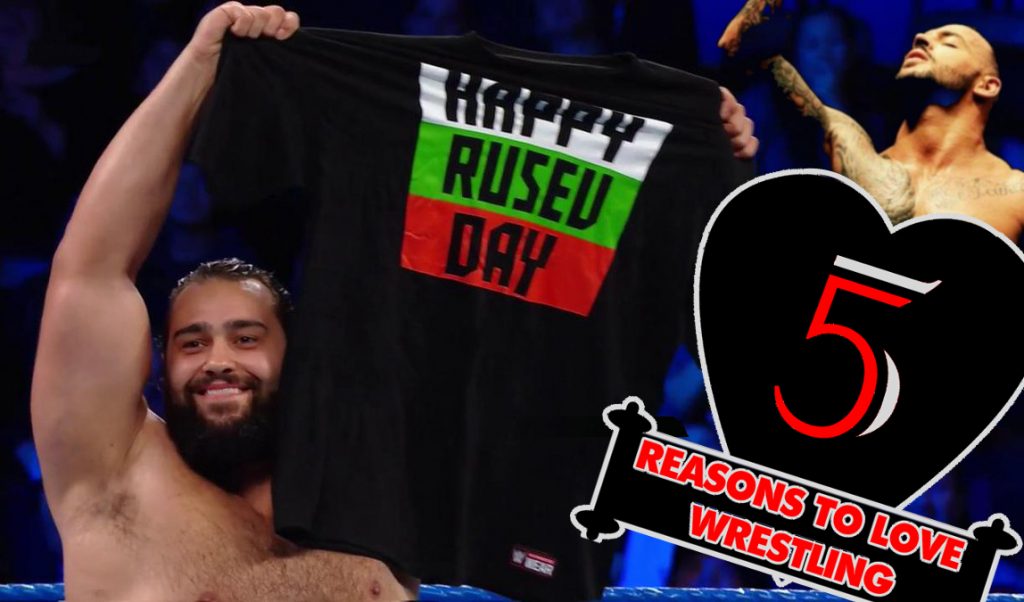 Welcome! Welcome to the Love In. We're back again this week with 5 more reasons to love and celebrate this sport we call entertainment: wrestling.
So when I was eight years old, a typical Saturday night would be playing WWF WrestleMania: Steel Cage Challenge on the Nintendo Entertainment System (NES for those of us in the know) and then putting on face paint and going to the living room to wrestle my best friend. We'd put the couch cushions on the floor and pretend we were the Road Warrior Hawk & Animal. We had one of those Hulk Hogan Wrestle Buddies and it ate more pin-falls than the real Hogan would ever allow.
Wrestling is in all of us and we love it, dammit. (Sorry, I had a Jim Ross moment there. And now suddenly I'm craving BBQ.) As Alex "The Gold Standard" Gold recently said, "It's a never ending saga that continues to evolve. Wrestling is a world that exists within a world."
Man he sure talk pretty, don't he? That's why he's the Gold Standard. So with that lovely introduction, let's get into the 5 reasons to love wrestling this week.
5. It's Vader Time…. Again
Ok, we covered this last week, with all the recoveries happening in the WWE. However, this week we finally got a definitive answer from Big Van Vader that he's recovering from his surgery.
5 days since my surgery & it has been some the worst pain I have ever endured. The Hospital staff has been excellent and my surgeon was fantastic. I am greatful for the life I've had & the opportunitny to continue to live. THANK YOU JESUS. https://t.co/vA6VyYDrHZ

— Big Van Vader (@itsvadertime) March 31, 2018
My Heart continues beat , Thanku For All The Well Wishes And Prayers The Surgery lasted nearly 7 Hrs ..My pain is inmeasurable.THERE WERE 10 CLOGGED ARTERIES .Im so grateful to be alive. God Bless U ALL

— Big Van Vader (@itsvadertime) April 1, 2018
Not only is he grateful, but we're grateful. Think for a second on the wrestlers we've lost way too early due to the stress they put on their bodies. It's a miracle we still have Jake Roberts and Terry Funk all things considered — and, for now, we've still got Big Van Vader with us. The man endured a hellish surgery and had 10 clogged arteries. Seriously, what are they serving at those Tables for 3?
4. I Came to Playskool
From a new lease on life, to a whole new life all together. The Miz welcomed his first child into the world this week, a beautiful baby girl. If she's anything like her parents she'll scream her head of until she can speak and then her first words will be, "I demand respect . . . and a teething ring." For all of his championships, if you ask The Miz, I'll bet he'll say this was his greatest accomplishment.
https://twitter.com/mikethemiz/status/979116751513206785
I hear some of you moan that this isn't wrestling, but it is a chance to cheer for a wrestler we all love dearly. We've watched The Miz grow from a frat douche with a stupid fohawk into one of the best entertainers/wrestlers working today. And now we get to celebrate his greatest achievement being a father. We've been so lucky to watch The Miz grow — now, we're fortunate enough to watch him take the next step in his life.
Also, remember, this is a guy we love to hate. Think about how far we've come as wrestling fans that we can put aside a character to celebrate the victories of a man who has given so much. I know Jim Cornette would bemoan the death of kayfabe, but this instance I'm glad the curtain is drawn back. Congratulations Miz and Maryse, and welcome to the world Monroe Sky Mizanin.
3. Indy Darling Makes His Debut
This week saw the in-ring debut of Ricochet in NXT. For many wrestling fans his mere appearance in the promotion is something to love: Ricochet has long been one of the most celebrated indy wrestlers in North America and has racked up innumerable championships in several big promotions such as New Japan Pro Wrestling and Dragon Gate. Ricochet also wrestled as Prince Puma in Lucha Underground, where he was their inaugural champion.
Ricochet's signing is a promising look at things to come. We've already seen many indy darlings take center stage in the WWE over the last few years. True, the 50/50 booking compared to how Braun is pushed shows Vince doesn't understand them like he does the big men. However, with more and more independent talent flooding the WWE, the future is looking brighter. That future is also in the hands of Triple H who can even make 205 Live interesting, so you know we're on the right track.
2. Rusev DAAAAAAAYYYYY!!!!
It would be a damn shame if Rusev wasn't at WrestleMania, I mean it's on Rusev Day! The Rusev chants have gone largely ignored at live event, despite our best efforts, but you guys figured out the secret. It's a secret my high school economics teacher taught me: a dollar bill is a vote. When you buy something, you're voting for that product to stay around.
Do you want to know why they keep pushing Roman Reigns and John Cena? Merch sales. This is a kids' show and kids (or their parents) buy the most merchandise. Look in any WWE audience and you'll see a kid decked out in John Cena or Roman Reigns clothing. If you want Vince McMahon to pay attention you have to vote with your money, chants man nothing to them.
So, as Dave Meltzer reported, the reason Rusev was added to the U.S. Title match is because of his merchandise sales. That means you all bought so many Rusev Day t-shirts that Vinny Mac could no longer stifle the cries of millions screaming for the Bulgarian Brute. The lesson here is that we can move mountains if we want, it just takes money and not chanting.
Happy Rusev Day!
1.Bittersweet Memories
So we're doing something a little different this week. I've got a big announcement to make. Ladies and gentlemen my name is Cody Brooks and I am now the advocate for the newest signing on 5 Reasons to Love Wrestling.
Next week, we'll be introducing a new segment and new superstar to the 5RtLW. Each week, in addition to 5 Reasons to Love Wrestling we'll be including a Reason to Love Wrestling History, brought to you by my new client. Now, my client, a conqueror here on this site, has asked me to humbly make his presentation this week. I'll do my best to do this historical segment justice as you anxiously await his glorious arrival.
This week saw the 10th Anniversary of one of the greatest moments in wrestling history: WrestleMania 24. This week marked the anniversary of Ric Flair's retirement match against Shawn Michaels. Ric Flair is THE wrestler. I mean he IS wrestling in so many ways. I've already waxed poetically about this event but it truly was one of the most moving moment in sports history, let alone wrestling.
The build to the fight was great as Shawn said he was gonna put the old dog out of his misery. Flair then showed what an old dog can do in one of the most memorable WrestleMania moments of all time. Go back and watch Shawn in he corner before he puts Flair away. He didn't want to end it, none of us did, but the time had come. Flair was an inspiration to so many wrestlers and fans.
Let's take a minute to reflect on what he gave us and the spectacular way we said goodbye to the greatest wrestling career of all time.
What do you think of these 5 reasons for loving wrestling this week? As always, leave your comments below or on our official Twitter page.