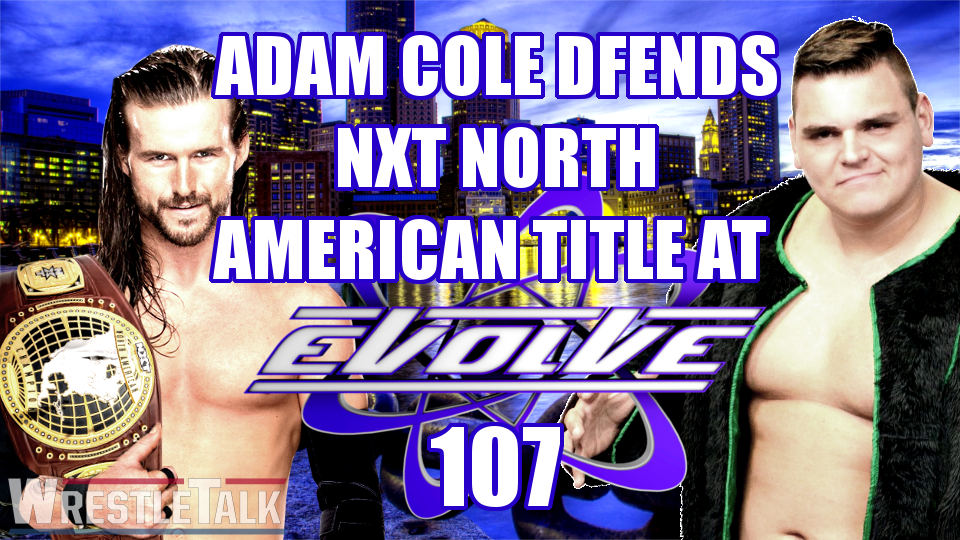 Adam Cole is proving himself to be a real fighting champ.
He's defended his NXT North American Championship in the UK against Wolfgang, and only days later appeared at last night's EVOLVE 107 to face-off against WALTER in a dark main event. Cole retained the title against the Austrian big man despite being brutalized for most of the match. WALTER outweighs Cole by 100lbs and has 4″ on the man. Cole would counter WALTER's attacks only for the big brute's chops to put the champ down.
Eventually, Cole tricked WALTER into chopping the ring post, and soon went to work on the challenger's hand. WALTER attempted to protect the hand the rest of the match, but, despite dominating most of the match, Cole was able to hit several superkicks and shining wizards to secure the victory and retain his title.  This is just the beginning for Cole; who wants to continue to build the prestige of the new NXT title by defending it all over the world.
EVOLVE has had working relationship with the WWE since their previous working partner, Dragon's Gate USA, closed in 2015. Similar to what they had with ECW previously, this relationship allows the WWE to scout for potential talent, and gives EVOLVE moments like this for their fans. By all reports the crowd was on fire for the main event and Adam Cole made WALTER look like force to be reckoned with. This match made the NXT champ look good, made the EVOLVE challenger look good, and it raised the status of the fledgling title. Flawless BAY-BAY.