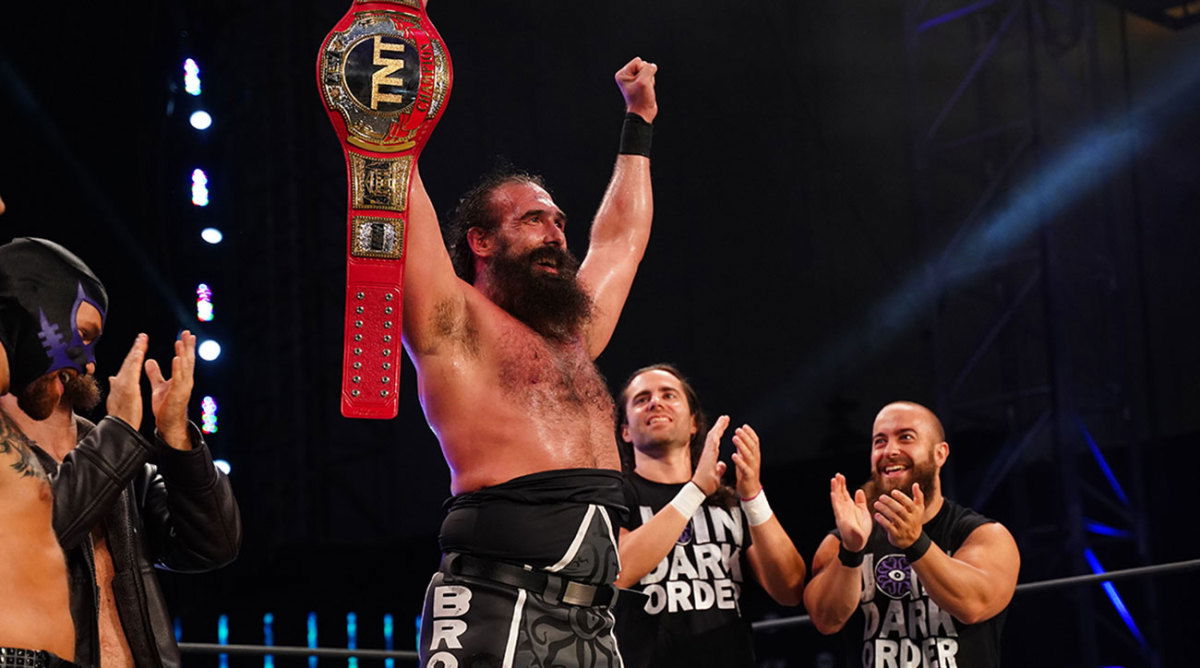 Upon his untimely passing on December 26, 2020, the profound impact of Jon Huber (Brodie Lee/Luke Harper) on the wrestling industry became abundantly apparent.
Across both WWE and AEW, the love and admiration for Huber has been incredibly evident, and his memory continues to live on two and a half years on from his death.
With many of the current AEW roster previously sharing a locker room with Huber, many got to know and work with him on a weekly basis, however, for Anna Jay, she would form an even closer relationship with the former TNT Champion serving as the only female member of Brodie Lee's Dark Order faction.
Speaking to Under The Ring, Jay reflected on her early beginnings in the Dark Order and her experience working with Brodie prior to his passing.
"How I ended up there that was pretty much the first thing that I was part of obviously. I think once I got signed, their idea was for me to join, I didn't really understand how I was gonna fit in especially with the character I came to AEW with. Obviously that would all change and it ended up being the best thing ever.
"His influence, yeah, his influence on me (was) incredible. I'm so thankful for the time that I did have with him and all of our guys. He was great. I say this all the time. He would always watch my stuff as well and give me feedback and help me.
"He was super kind and the influence he had on the group as well was just great and it was really like a comfortable energy that he had and a comfortable energy with the whole group and it just – everything fits. And we had really just the most fun together to be honest. And I think everyone could see that on BTE. So yeah, I'm super thankful for those times. And those guys are always like family."
Upon joining the group Lee would bestow Jay the Dark Order's number 99, a number she would not originally realise the significance of.
Jay revealed:
"I think maybe Chris Jericho even asked me (about Gretzky's number). Like no, he (Brodie Lee) gave me the number and never really said anything and I just kind of went with it. I was like, you know, maybe there's no meaning to it. I don't know.
"Later, I found out that it was because of Wayne Gretzky's number and him being such a huge fan of hockey and then being the great one. I think I found that out maybe in an interview that Brodie Lee did. I never knew. Probably should have asked but I was so shy when I first got there and stuff. I just pretty much did what I was told and just went with it. But yeah it was super cool that I got that."
As for her current relationship with the Dark Order, Jay revealed that despite her jumping across to the Jericho Appreciation Society, she still thinks of the group as her "brothers", saying:
"Oh, 100%. Yeah, like me saying family, it really feels like that, like we really feel like they really are my brothers. We are great friends outside of it. You almost kind of have to be.
"It's hard to, you know, probably work with someone that you don't really want to laugh with and stuff. So that was even more so to the extreme. Like I couldn't look at them without laughing, so yeah, it was great."
With Jay now under the learning tree of 'the ocho' Chris Jericho, she would recently discuss the influence he has had on her already since joining the JAS, click here to find out more.
Transcript courtesy of SEScoops
If you want to stay fully updated on all the latest wrestling news, click the red bell in the bottom right of your screen to receive notifications from WrestleTalk.com straight to your device!