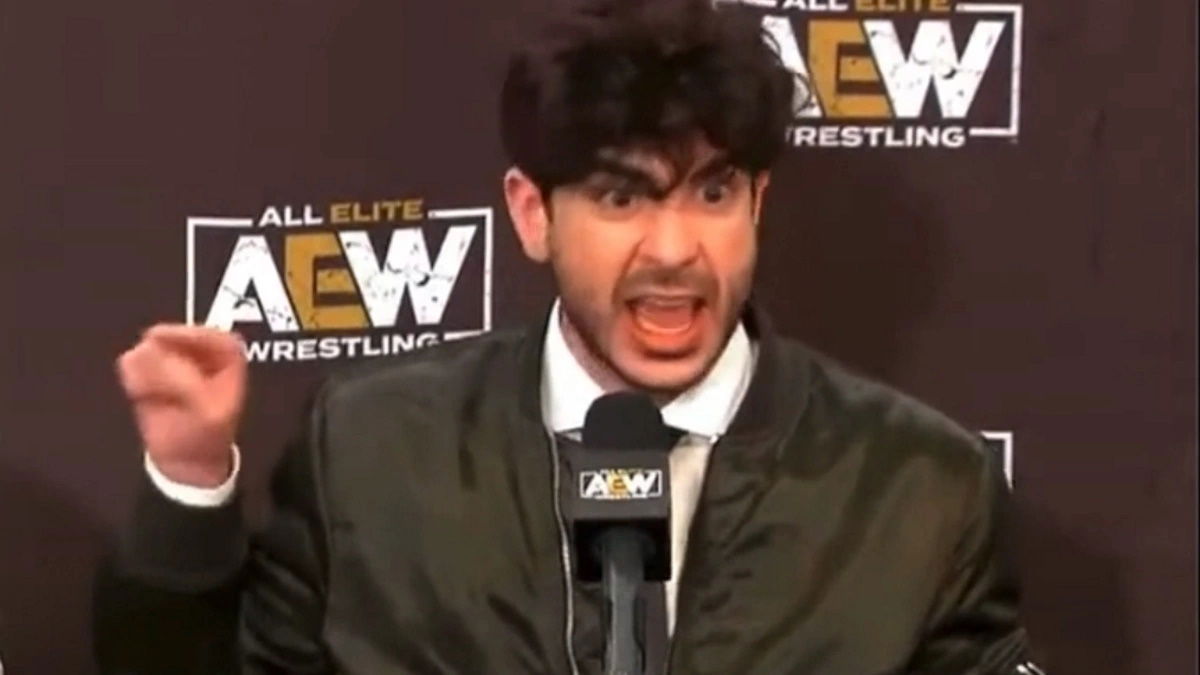 AEW star and coach Dustin Rhodes has responded to accusations aimed at him about his conduct and an incident backstage.
Over the weekend, indie wrestler LuFisto caused a stir online by tweeting about her experience working an AEW show in April 2022. She had tweeted:
It's cute how people blame booking for a bad women's division.
Talent with too much power; talent denigrating each other; talent trash-talking potential employees so they never get in as soon as they walk in…
It starts here.
– The one you called FN French Canadian asshole
In a new interview with Fightful, LuFisto clarified who she was referring to as having allegedly called her "FN French Canadian asshole", that being Dustin Rhodes.
LuFisto recalled a situation that happened before her match that night, saying:
"I go to the restroom. As I open the door, I hear, 'She something something.' I open the door and on the table, Ruby Soho is sitting with Dustin (Rhodes) and they just shut (up) and they look at me. 'Okay, they were talking about me, that's for sure.'
"(Ruby is) like, 'I have to go.' I go to Dustin and he goes, 'So, all French Canadian people are f**king assholes eh?' I'm like, 'Excuse me, what?' He was nice to me five minutes ago. He's like, 'Yeah, apparently that's the way it goes.'
"I have a very bad relationship with Jacques Rougeau. I can say he was even abusive to me, calling me to tell me I was fat and to lose weight. I'm like, 'maybe he had a bad experience with Jacques too?'
"He's looking at me differently and the funny thing is, (Evil Uno) walks by and he's like, 'Hey, Uno, that's true French Canadians are f**king assholes, right?' Uno is like, 'I'm French Canadian.' 'Oh, okay.' They talk a little bit. I'm there, but I just leave.
"I'm like, 'what the fuck just happened?' I love Dustin. I even wrote him messages, thanking him for the Keep Stepping thing, because it was very inspiring. I'm like, 'What the f**k just happened?'"
The match that night was a six-woman tag match with LuFisto teaming with The Bunny and Emi Sakura against Anna Jay, Skye Blue and Ruby Soho.
LuFisto went on to describe what happened before and during the match itself, saying:
"I have to get ready for my match now and I have to wrestle her (Ruby). One thing I notice is, Skye Blue is not saying a word. They tell her what to do. Anna Jay says, 'I can do this.' 'It will be your turn there.' I don't want to talk too much to put my input because I realize I'm the only one not signed in the match. Why am I there? At this point, I don't know.
"They told me I'm going to start with Skye Blue. 'What do you want to do? What are your moves?' It's like…either she's bland as a person or she's not allowed to talk. I don't know if she didn't understand why I was asking her for her stuff. I was weird.
"We do this, Ruby sets up the whole thing with Bunny, Emi is just following. I do a clothesline, 'I should probably go for a pin there.' 'No, don't do a pin. Just tag Emi.' Okay, cool. (Ruby says), 'The finish will be, we do something, Anna Jay is going to biff you guys on the apron, I'll come get you for the finish, 1, 2, 3.' 'Okay, that's fine. Do I go down, do I stay up?' 'Just stay there. The finish is coming.'
"We go do the match. It is what it is. It's not like a five star match, but for the four minutes we had, it is what it is. When we get to the finish, Anna Jay hits all of us. I stay there and wait, and nothing is happening. They keep going, they do something else on the other corner. I'm waiting. Go back in, finish, 1, 2, 3."
Then, LuFisto spoke about Rhodes' feedback after the match. She said:
"We go backstage and they all keep going. Dustin is right there and is like, 'What did you do?' 'What do you mean?' 'You made all those girls that are signed when you're not look really bad. It was terrible.'
"'Okay, details?' 'You should have bumped on everything they did.' I'm like, 'everything they planned was for me to sell to the next for the other to sell to the tag for me to give a clothesline, tag out, and only tag back in.' I have 40 seconds in there. 'Sir, can you please give me details on what I should have done better so I don't repeat it?'
"'When Anna Jay biffed you on the apron, you should have fallen outside.' Now I'm like, 'Thank you, sir. I see.' Of course, everyone else left. No one is there when he's giving me this criticism. Billy Gunn is nearby. I look around and am like, 'can someone else tell me that I suck this bad? I need another opinion.' He was looking at me like I was disgusting. Now I'm like, 'they told me to stay on the f**king apron.'"
In response to LuFisto's comments involving him, Dustin Rhodes tweeted:
"Hey @LuFisto, read your story and sometimes as a coach I have to be very honest and won't ever tell you a lie about how good or bad it was. Sometimes hard love comes out and wouldn't have it any other way.
I hope you find what you're looking for. #KeepSteppin ❤
Throughout the interview, LuFisto also spoke about the "chaotic" nature of the backstage environment, how there was "no unity", how people would "talk s**t" about each other, how she had issues getting paid, and how she never got to have a meeting she expected to have with Tony Khan about a potential role as a coach, which was the point of her being there to begin with.
She also spoke about issues she's had specifically with Ruby Soho. Since then, numerous wrestlers have posted messages of support for Soho on social media.
Tay Melo also jokingly posted a response to being referred to as just "Sammy Guevara's girlfriend" by LuFisto in the interview.
We encourage you to read and/or watch the interview in full via Fightful at this link.
When some time had passed after the interview was posted, LuFisto tweeted:
Had a one hour phone call with a current AEW talent.
The women who actually addressed the problems I did today were the ones sent home by Tony Khan.
There was a meeting to shoot on Thunder Rosa that Khan attended. Before leaving, he reminded them that their segments were the lowest.
When some girls arranged a meeting to talk about Baker's crew, one of them ran to Britt to let her know. The girls that wanted to address the problem were the ones punished.
Things didn't better. They got worst…
The legitimate wrestlers believe Tony doesn't give a damn about women's wrestling and feel like they are going back to the Divas era.
Ask me who the f**k am I. Tell me I'm irrelevant and that I'm doing this for attention. Call me a liar. Tell me to kill myself…
You keep on closing your eyes and supporting human beings with s**tty behaviour.
With the messages of support and especially this phone call I received from AEW employees…
This nobody did the right thing.
If you want to stay fully updated on all the latest wrestling news, click the red bell in the bottom right of your screen to receive notifications from WrestleTalk.com straight to your device!