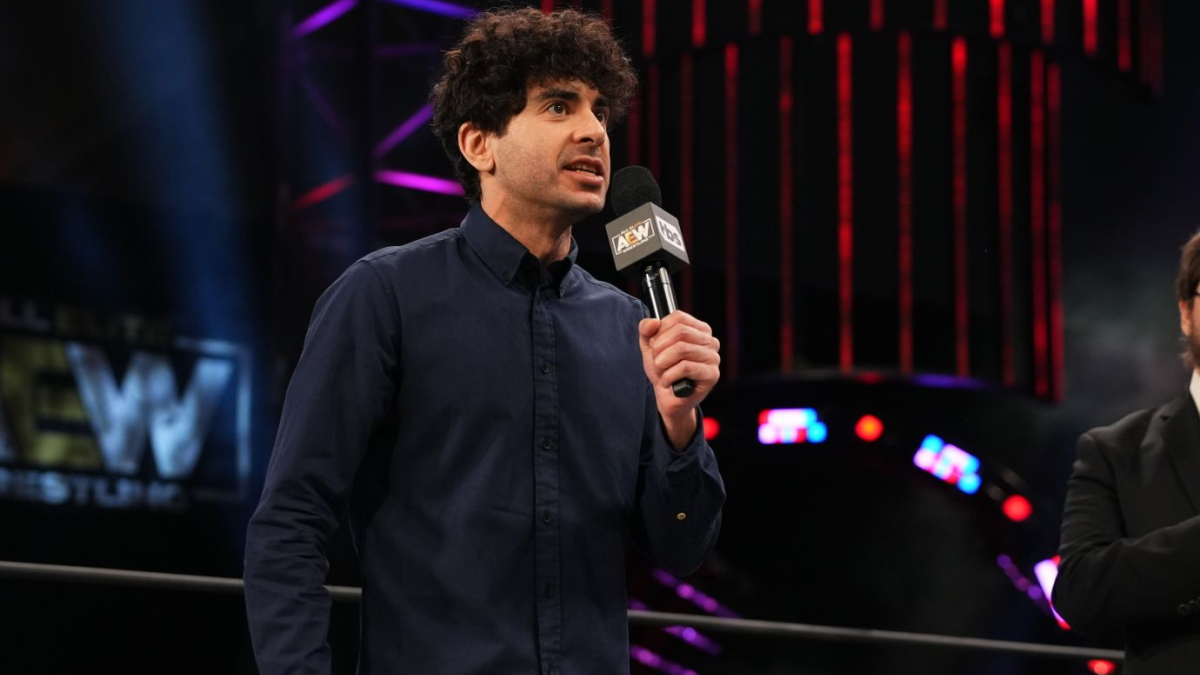 AEW is citing budget cuts as the reason for more departures as another company original isn't having his contract renewed, possible WrestleMania 38 spoilers have come to light, John Cena praises one of AEW's rising stars, and more.
We're now just two days out from WrestleMania and what better way to start the morning than getting caught up on all the latest wrestling news. I'm Liam Winnard for WrestleTalk.com, and this is our audio news bulletin for March 31, 2022.
Listen to this morning's round-up here:
AEW Star's Contract Not Renewed Due To Budget Cuts
AEW has informed another one of its original talents that the company will not be renewing his contract, that being Marko Stunt, who hasn't worked a match for AEW since September, which was six months ago.
According to Fightful Select, Stunt was informed by AEW Head of Talent Relations Christopher Daniels that the reasons for his contract not being renewed were budget cuts and the size of AEW's large roster.
The talks were said to have gone well and the split was amicable.
This isn't the first time AEW's budget has been a topic of conversation lately, with finances being one of the reasons for Cody Rhodes' departure, and MJF reportedly being frustrated with his pay because so many new stars are coming in and getting paid more than him.
In terms of other AEW departures, we already knew that Peter Avalon is no longer full-time with AEW but still performs on a pay-per-appearance basis, and Joey Janela is on his way out as well.
A lot of people have pointed out the irony of AEW now being the company with talent leaving due to budget cuts, but it's worth remembering these are all contract expirations and not releases, whereas with WWE, people were just being fired out of the blue.
Possible WrestleMania 38 Spoilers
Possible spoilers for WrestleMania 38, or perhaps moreso for plans after WrestleMania 38, have come to light.
WWE's house shows are largely just throwaway fun one-off shows, but they do sometimes give an insight into the company's future plans and are often used to test out matches and feuds before we see them hit our TV screens.
As such, the advertised matches for the first post-WrestleMania house show, which is in Erie, Pennsylvania on April 16, could give us an insight into what could be coming our way.
The first match advertised is Universal Champion Roman Reigns defending against Drew McIntyre and Seth Rollins in a three-way. A lot of people are predicting this weekend will finally be the time Reigns gets one up on Brock Lesnar at WrestleMania, and this match seems to back that theory.
It also seems to back the theory, which is something that has been teased by McIntyre himself, that he could be the first challenger for Reigns on the SmackDown brand after he becomes undisputed champion.
If we're theorising, Rollins being thrown in there could just be a way for WWE to not literally give away the Reigns vs McIntyre singles match if it is indeed planned to be a big deal down the line.
Another match being advertised is a three-way match for the Raw Women's Championship between Becky Lynch, Bianca Belair and Rhea Ripley. Of course, Lynch defends the title against Belair at Mania, so the main takeaway here seems to be Ripley potentially being elevated into the singles title picture.
And the third and only other match being advertised so far is Charlotte Flair defending the SmackDown Women's Championship against Aliyah. Now even if Flair does lose the title to Ronda Rousey at Mania, her being paired up with Aliyah could suggest WWE has plans for that feud going forward, even if it's not for the title.
After going through all that, it's important to mention – do keep in mind that cards for house shows are subject to change and most of what I just said is, as I mentioned throughout, just theorising rather than real spoilers, but it's always an interesting discussion nonetheless.
John Cena Praises AEW Star Max Caster
John Cena has been back in the news recently with comments about his WWE future, but one of the most interesting talking points was actually what he said about AEW's Max Caster.
Caster famously disses his opponent via a rap during his entrance before his matches, which has obviously drawn similarities to what John Cena used to do many years ago.
The comparisons were pointed out to Cena in an interview with Forbes, and he was extremely complimentary of Caster, basically saying he's a much better rapper than Cena was, admitting that Caster would beat him if the two were ever to have a rap battle.
Caster was in action on last night's AEW Dynamite, losing the opening match to CM Punk, and as usual, he caused quite the stir with his pre-match rhymes.
In terms of his comments about a WWE return, Cena said that he does miss wrestling full-time, but he has to be realistic and thinks if he was to return full-time at this point, it would quote "hit that point of diminishing returns".
Other Stuff
In other little bits of news…
Speaking of Max Caster, his tag team partner in the Acclaimed, Anthony Bowens, is out with a knee injury according to Tony Khan, and was expected to have been back by now, which has led to Khan having to adjust some plans.
John Cena praised AEW's Caster, and Paul Heyman also recently discussed AEW. In an interview with the Sports Media podcast, Heyman didn't really disparage AEW in any way, but did point out that if you base things off of WrestleMania, WWE is the only company that can put on an event of that grandure and that level of interest.
Heyman also spoke about Cody Rhodes' AEW departure, saying it's always surprising when a founding member leaves a company, but said when put into the perspective of Cody not having the level of input he thought he would to implement his vision, which is said to be one of the reasons he left, it becomes less surprising.
In the same interview, Heyman stated that he signed a long-term contract with WWE in 2021, saying that he was made an offer he would have been a fool not to accept.
Another WWE star who recently discussed AEW is Seth Rollins, who told Sports Illustrated that he believes AEW constantly mentioning and referencing WWE on TV quote "reeks of desperation". He said it's tacky, and it's not the same as his references to Jon Moxley, because that wasn't something he did as a way to diminish someone else.
Heyman made a rare appearance on this past Monday's Raw along with Roman Reigns and the Usos, and it seems like Roman Reigns' "needle mover" moniker isn't just a catchphrase. Viewership for that particular segment increased by over 200,000 viewers from the previous quarter-hour, and then the one after it went back down over 300,000, so there was a huge spike for Reigns' appearance.
It's unknown right now in what capacity he'll be involved, but PWInsider is reporting that Shane McMahon will be in Dallas with WWE for WrestleMania weekend, which has led to a lot of people kind of half-joking while knowing it is a possibility that he could end up being Seth Rollins' opponent and not Cody Rhodes.
PWInsider reported that WWE will be returning to Madison Square Garden on July 25 for a TV episode of Raw.
Days after the announcement of his in-ring retirement and opening up about his health, Triple H was spotted in Dallas at the latest WWE tryouts.
WWE's return to Saudi Arabia looks to be the TLC pay-per-view in September according to Andrew Zarian. He noted that the planned UK show on Labor Day weekend, which is early September, is also still planned.
AEW's Brian Cage said in an interview with GV Wire that Tony Khan prefers AEW talent not to work WrestleMania weekend shows because he basically doesn't want it to look like AEW is beneath WWE and leaching off WrestleMania weekend. Cage said he had stuff he could have done this weekend, but he isn't doing for that reason.
On last night's AEW Dynamite, Toni Storm made her debut with a win over The Bunny and has signed with the promotion. Fightful had reported beforehand that AEW was very interested in her, and also reported that there have at least been "light talks" between AEW and Ember Moon.
And in the other main bits of news from Dynamite, FTR continue to tease leaning towards being babyfaces and had some dissension with MJF, and the Undisputed ERA's official name in AEW is the Undisputed Elite.
Be sure to stay tuned to WrestleTalk.com throughout the day to keep up with all the news from the world of pro-wrestling, and I'll see you tomorrow morning for another round-up.