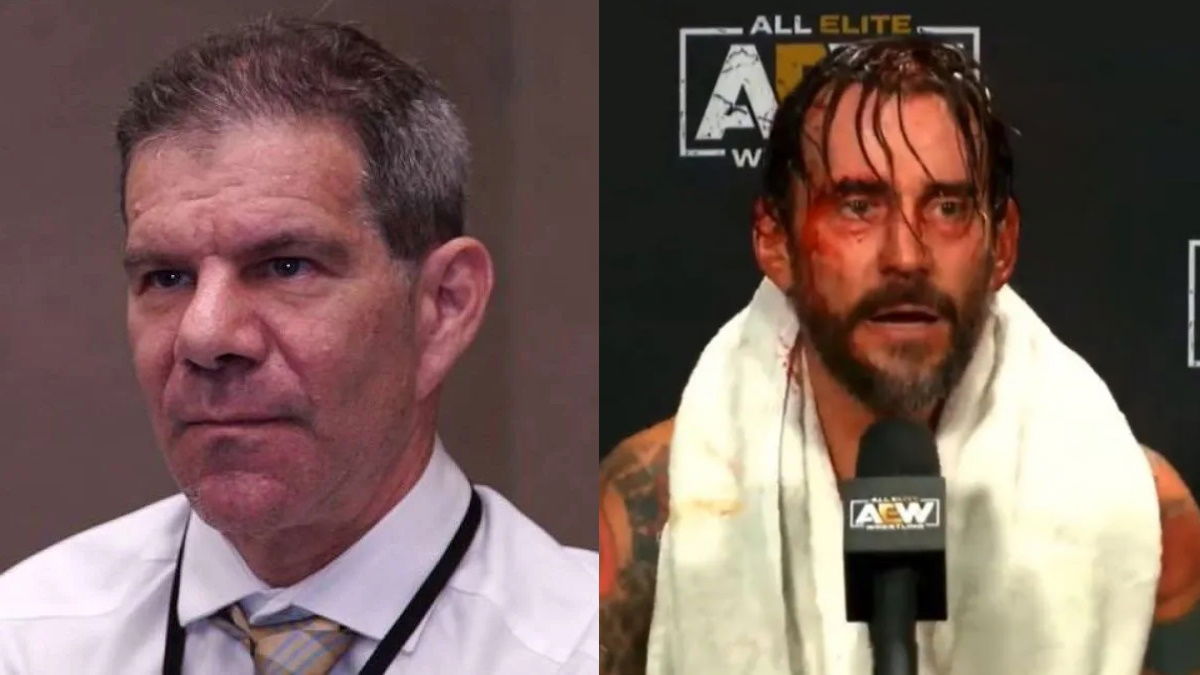 CM Punk continues to be a talking point, despite his absence from AEW television since the events after All Out in September 2022.
After a quiet few days without much going on in the CM Punk/AEW story, Punk teased a possible return after being out of action with a triceps injury.
This would be followed by an Instagram story in which Punk would blast a number of AEW names, including Tony Khan and Chris Jericho.
The storm from this saw responses from across the mainstream political spectrum, including from Jericho and Booker T.
Dave Meltzer was also named in Punk's post and called a "liar" after a message board post he had written earlier that day, which was as follows:
Do you know why they didn't advertise Punk vs. Moxley longer and why it had a short build? Because Punk agreed to it, then AEW got a legal letter saying he wasn't down with it and wasn't doing it and they didn't know if he'd come until Tony put his foot down. There are a lot of nice things I can say about him, and you can absolutely argue his position on Moxley was correct, but you can't argue he willingly did what he was asked in that scenario.
Punk's Instagram post was as follows:
SIGH. I wasn't cleared to come back to wrestle yet. Then plan was to wrestle at the ppv. I sat and listened to moxleys Rocky three idea. I explained how I'd never seen a Rocky movie.I and thought the idea sucked but if the boss wanted to do it whatever. He said he wouldn't lose to me. I'd never experienced someone refusing to lose to me. I just laughed. I asked Tony if this was what he wanted. He said yes. He's the boss so I said okay but I'd need to be cleared first. They kept saying it could just be a squash se l didn't need to be cleared. I scoffed at that. My health i more important. Dave Meltzer is a liar. Jericho is a liar and a stooge. There were plans but plans always change but I'll never put a company above my health ever again.
Now, Meltzer has provided an update on the latest in the ongoing CM Punk controversy on Wrestling Observer Radio, saying:
"This is twice that I went through a freakin' guilt trip. The first time, if you recall, was when he did the quote on Sports Illustrated and he was like, 'the Young Bucks called Dave Meltzer and blah blah blah about whatever'. Which was a couple of weeks before the big blowup. And then everything happened there, and you all know that I thought, 'Man, I should have just told him that the Young Bucks had nothing to do with it'.
"Now do I really believe anything would have happened differently? Probably not, but you just don't know, and I kind of feel like I was – it wasn't my job to do it, but it kind of was. Not 'job', but I just felt really bad and real guilty, I should have just said, 'These guys had nothing to do with this'. But whatever.
"So then this time, I did a message board post, that I really wish I never did because so much has happened since then in so many destructive ways. Not just him. It was somebody just going, 'One thing we can say was it was all smooth as far the match that he lost to Moxley, the real quick match before he beat him for the title'. And I just kind of said, 'It really wasn't that smooth' because it really wasn't, there was a lot going on. There was drama and everything.
"When I said it, it wasn't writing a news story or anything like that, but when I said it, I never said a lot of it had to do with his injury. And it did. In his defense, he was coming back from a broken foot, and it was a serious injury. And, that played into it as far as when he was gonna be ready. Whatever you think of the angle, the way the angle was, and the whole Rocky 3 thing, if you had more time, the angle would have been better if you had more time. But because of the injury, you didn't have more time. There's things they could have done. But the whole point is a message board post that I didn't need to make and I didn't mention the fact that the injury was part of it in the fact that there was drama, which there was. So it's just like, there was. I feel really bad about it."
If you use this transcription or any portion of it please credit WrestleTalk.com and link to this page.
Meltzer would then turn his attention to the aftermath of his message board post, stating:
"And then he goes and… it's not like him saying, 'Dave Meltzer's a liar'. I hear stuff like that on a daily basis and I try never to do that, but, it's like, whatever, I felt like, 'You know what, I wasn't really thinking, I didn't really tell the whole story', and then everything happens from there. And again it's almost the same thing because it's like… it's funny how different people take what I call the 'shrapnel', because I remember one time somebody was mad at me, and I go, 'What are you mad at?', and then they said, 'Well Bryan said blah blah blah'. And it's like, 'I'm not Bryan', and by the way, I wasn't fair to what you (Bryan) said either, but whatever, that has nothing to do with it.
"And so then it's like, he kind of blasted Moxley too a bit, and certainly blasted Jericho, and this was at the time when everyone is trying to… see if you can make up, and make this thing work, and do the best thing for the company. And then this happens which just… how it's gonna turn out, who the hell knows, but it certainly is never a good time to do that. And Jericho had absolutely nothing to do with this message (board) post. Nor did Moxley. And now it's like, 'Ah, god'. I just didn't like this.
"I'm just really sad that it happened this way. I want the best thing for the business, both companies. I'm happy WWE's doing great, and, shoot, I was really happy watching Wednesday and seeing AEW get the good rating and the good rating pattern which was a really good story. The match (Kenny Omega vs El Hijo Del Vikingo) worked, you kinda made a star in one night, we talked about that was a phenomenal match. So everything was kinda looking… there's always ups and downs but that was like a real up. And now, who the hell knows what's going on."
If you use this transcription or any portion of it please credit WrestleTalk.com and link to this page.
Meltzer would conclude by looking at the impact of the various statements swirling around the story, saying:
"Usually when something like this happens it means nothing, but when it actually negatively affects the business of wrestling, and this could… I don't know. There's so many different things I could say about it but I don't wanna say more other than, there are people who live for this. And push this stuff. And in a lot of cases, I think that some of the guys may be what they are, and some of the guys may be manipulated by people into thinking, 'Those guys hate you, those guys hate you', and just making it that they start believing it. But I'll always hear from almost everyone in wrestling at some point like, 'He doesn't like me', and it's like, 'Why would I not like anyone?'. It's not a personal thing.
"Every single situation is different, I've done a million analogies… the Punk thing we've talked about for months since September and now it's come to fruition because the one thing was is that he got hurt. Which meant that there was gonna be no issues… I mean there were issues, but no public… you can't bring him back until he's healed so it wasn't any decision that had to be made.
"Well now we're at the point where it's something, and look, the guy's a draw, or he was a draw, and he may, look he's the biggest draw in the history of the company, so the guy's a draw. Historically, is the promoter gonna try to bring him in? Yes. But this situation is unique because things have happened and not everyone's gonna be happy with it and you've gotta get people on the same page, which I always said, they've got to get everyone on the same page, if he comes in and everyone is just furious and doesn't want it, it's gonna create a lot of unrest in the company, and you don't want.
"People go like, 'Oh, screw the wrestlers, it's up to people to make money'. A messed up dressing room is just gonna end up being destructive and people are gonna quit, and there'll be more issues that've happened there that we've already seen. So you want the best dressing room.
"Anyway, I have no idea how this is gonna turn out, but it was probably, I don't know, if I had anything to do with it, I'm really sorry that I didn't… you know it's funny because it makes no difference probably, but if I had just said, 'This is the story, he was just coming off of an injury and the injury played a part in this in the timing of everything and how it went down'. And if he got mad and said I was a liar at that point, okay, it's fine. It wasn't me, but when he said that about the other guys, it was like, that's not gonna be great for the dressing room. And I sense that a lot. Will they just laugh it off? I don't know. It's just something that it's just sad to me how it all went down."
If you use this transcription or any portion of it please credit WrestleTalk.com and link to this page.
WrestleTalk readers can follow all the latest CM Punk news right here.
We will continue to update the news as it emerges.
If you use this transcription or any portion of it please credit WrestleTalk.com and link to this page.
Think you're a wrestling mastermind? Well you can prove it by taking quizzes in our brand new quiz section! Don't forget to tweet us your results!