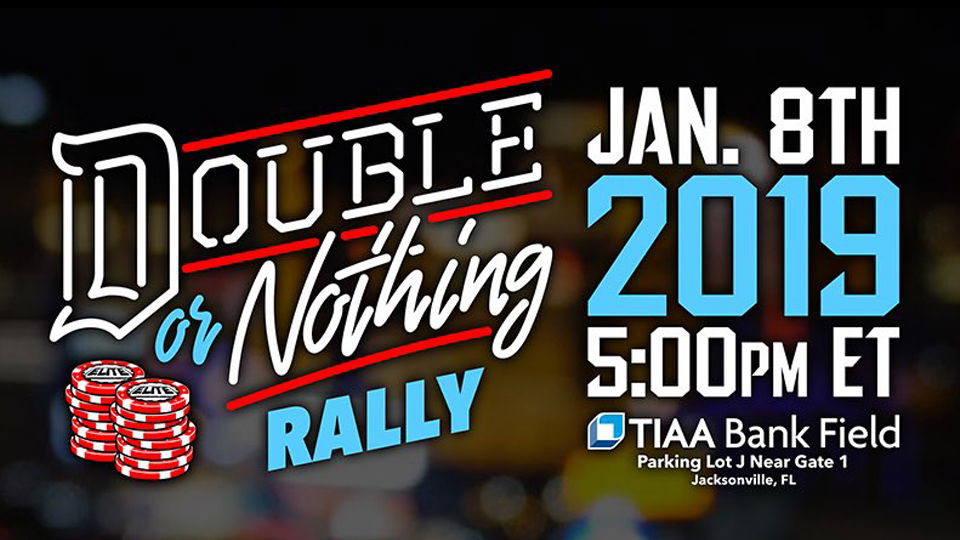 Welcome to live coverage of the highly-anticipated AEW Double Or Nothing rally at TIAA Bank Field, home of the Jacksonville Jaguars. What are you hoping for tonight? New names? Venues? Confirmation of a TV deal? CM Punk? Let's wait and see.
Conrad Thompson: "It's great to be a wrestling fan again. Wrestling history is going to be made today. The internet is going to melt soon." Well said sir, well said.
It's getting full!
Its already getting crowded here. #AEW #DoubleOrNothing pic.twitter.com/m6a2v7wqEB

— Ross W Berman IV (@RossWBermanIV) January 8, 2019
Thompson talks about "rumour and innuendo" about new contracts signed today and speculates that some of the new talent is here.
Aaaaaand the stream has crashed. On various platforms. Let's hope they get this sorted quickly.
It's back, with fireworks!
Thompson brings out SoCal Uncensored – Christopher Daniels, Frankie Kazarian and Scorpio Sky – as the first guests to the stage. Their signings had already been widely reported.
Scorpio Sky buries Nashville, Tennessee (because, reasons) and Christopher Daniels promotes the group's t-shirt, which is available on Pro Wrestling Tees. Of course. Daniels then confirms officially that SCU are part of AEW. Kazarian, a man of few words, doesn't say anything. The trio close out their segment by celebrating with Jacksonville Jaguars cheerleaders.
AEW EVP Cody takes to the stage next, looking dapper as always.
Cody says he wants to keep the fire going that was started at all in. He reminds fans of The Elite phrase "change the world" and says you have to change the world you live in. He says wrestlers are underpaid and AEW will change that. "You can offer people opportunities but opportunities don't pay the bills". That's a dig at Vince, for sure. Cody then says that in AEW, wins and losses will matter like they have never mattered before. GOOD!
The Young Bucks take to the stage, with pyro, as the fans chant "All Elite, All All Elite". Matt Jackson talks about achieving their goal by putting 10,000 into the building for All In. He says the Khan family approached them and asked if they really wanted to change the world. They said they did, and the Khans said they could help.
"We don't care about race, gender, sex or religion. If you are an elite athlete, we want you. Our doors are open to all". – Matt Jackson
Jackson puts over some talent he has seen in the OWE promotion (CIMA's group) from China, called the Good Hearts. Matt says they will be featured on AEW and fans might not know who they are but they are going to love them.
MAJOR ANNOUNCEMENT: Double Or Nothing will take place on May 25 at the MGM Grand Garden Arena in Las Vegas. Wow. That's UFC's building. It holds over 17,000 people. If they can sell that out – which they will – that will be an incredible feat.
We are promised more announcements later, including one we will "really like".
Brandi Rhodes is up next.
Brandi confirms AEW will have a women's division. We pretty much knew that anyway as they signed Britt Baker last week. Brandi says the division will feature women from all over the world, mentioning Japan, Australia and the UK. She says there is no sliding scale in AEW for pay and all the women will be paid equally. That should ruffle some feathers in Stamford!
Dr. Britt Baker, who appeared in the four-way women's match at All In and was confirmed as having signed last week, is next to the stage.
Baker says that her being one of AEW's first signings shows that the promotion means what it says about prioritising women's wrestling then she confirms she has officially signed with the group. Nothing we didn't already know here.
Maxwell Jacob Friedman (MJF) cuts off Conrad Thompson as he is hyping up the crowd, cutting a Miz-esque heel promo on him. He says he was excited to be at the rally . . . until he learned that it was in Jacksonville.
MJF is interrupted by that bear mascot the Elite hang out with then blindsided by Joey Janela, who smacks him with a crutch. Janela introduces Penelope Ford and says in 2018 they were All In but in 2019 they are All Elite. When he returns from injury, that is.
So for those keeping track, we have CIMA's OWE crew, MJF, Joey Janela and Penelope Ford confirmed as signed thus far. MJF and Janela were both expected.
We are told that 100,000 people are tuned into the live stream across the various platforms. That's good for a random rally on a Tuesday night but they will need considerably more for a TV show.
Hangman Page is up next. He says the fans are now his boss and that will inspire him to work harder. He says he will be the first AEW champion. Then he is interrupted by PAC! Oh my.
It looks like PAC vs. Hangman Page at Double Or Nothing. Either way, Conrad confirms that PAC is All Elite. I suspect he will juggle Dragon Gate and his indy bookings elsewhere with AEW.
Time for another big announcement: AEW's second show will be in Jacksonville, Florida and a large portion of the gate will go to benefit victims of gun violence. Make your own comments on the differences between WWE and AEW . . .
JERICHO IS HERE! Just as we were wrapping up.
"I'm Chris Jericho and I am All In with All Elite Wrestling."
Jericho says he is not here for the money – he doesn't need the money – he is here because he believes in doing something different and something new. This is a major coup for AEW. It was expected, but for them to pull it off is a massive statement of intent. Jericho confirms he will be at Double Or Nothing.
No Kenny Omega yet, but he cannot be there until February due to his New Japan contract. Even still, this is some roster they are assembling considering the promotion has only existed for a week.
The roster so far:
Cody
The Young Bucks
Hangman Page
Christopher Daniels
Frankie Kazarian
Scorpio Sky
MJF
Joey Janela
PAC
Chris Jericho
Brandi Rhodes
Britt Baker
Penelope Ford
Blimey, that's that then! What did you make of the rally? Are you excited about the new names confirmed? Let us know in the comments below.