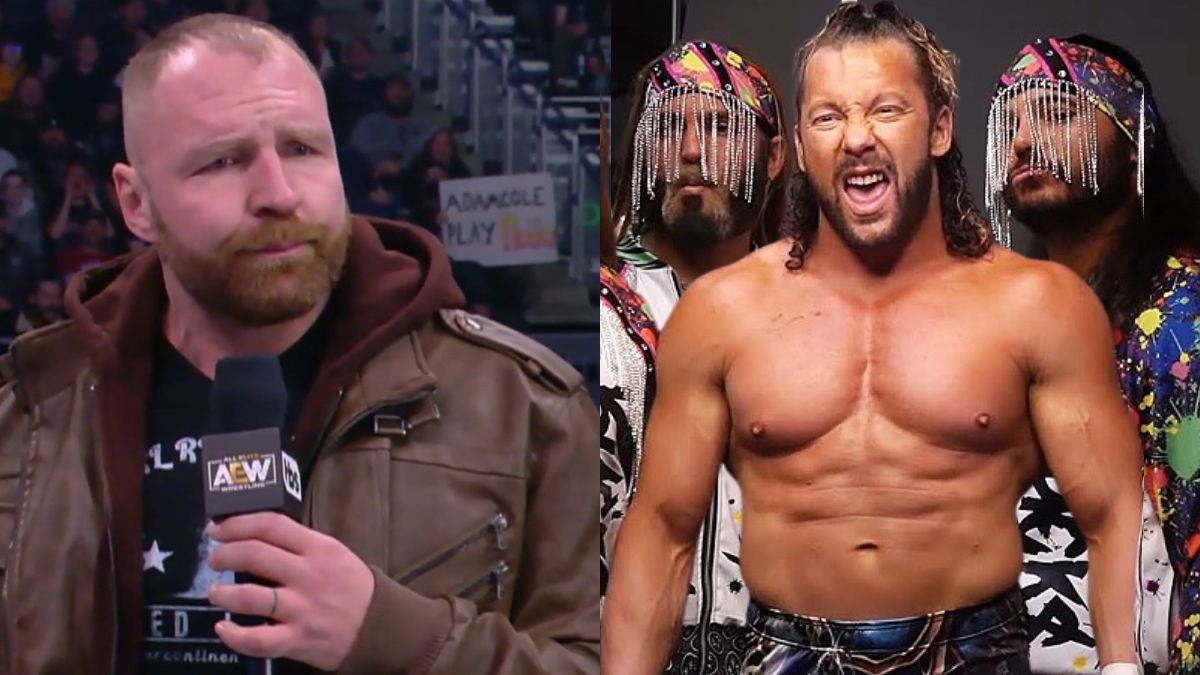 Jon Moxley doubled down on a hot take about Kenny Omega and the Young Bucks as he shared more about their collective 'us against the universe' attitude.
Jon Moxley does not mince words in a recent chat with Sports Illustrated where after his massive steel cage match with Kenny Omega on AEW Dynamite (May 10) he had plenty more to say.
Speaking to Sports Illustrated, Moxley echoed past sentiment about the Young Bucks and Kenny Omega that he had shared on wife Renee Paquette's podcast.
Moxley said:
"This rivalry between us is the cutting edge of the business. You might be more into something else, but look at who is involved here.
"Kenny Omega may be the greatest wrestler that ever lived. Bryan Danielson may be the greatest wrestler that ever lived. Claudio Castagnoli may be the most absolute alien pretending to be a human Superman f—ing freak wrestler to ever live. The Young Bucks may be the greatest tag team of all time. Even if you think I f—ing suck, you still have all these greats."
"A lot of people out there hate on the Young Bucks and Kenny Omega. We're obviously attacking them and have our issues with them, but we are not old-ass f—ing bitter dudes with podcasts talking about how the business used to be. We are not that.
"A lot of people hate Kenny Omega and the Young Bucks, and that's because they hate themselves. It's sad. There are plenty of people who hate me. I don't give a f—. I don't care what challenges you put in front of me or what s— befalls me. I'm very pissed off. I will shove it up everybody's flying ass.
"After last year, I have that attitude. Kenny and the Young Bucks have that attitude. It's us against the universe. That attitude is AEW at its core."
Going a step further, Moxley reminded fans that this combination has quite literally proven themselves over and over again but that folks are still welcome to doubt, saying:
"Keep betting against Kenny Omega and the Young Bucks, and see what happens. Historically, that's not a smart play. Keep betting against me or Bryan Danielson or Claudio. I've eaten so much f—ing s— in this business, notwithstanding. I almost died multiple times. I've been as dragged through the mud as I can in this business. I'm bulletproof. I don't give a f—.
"That's the message of the day. Doubt any of the six of us and see how that works out."
Pretty solid message of the day! Speaking of things like messages, letters and numbers of the day, Jon Moxley's wife Renee Paquette shared the most adorable gruesome post-match photos of Mox you've ever seen. You can click here to read more about that.
You can keep up with all the latest AEW news by clicking this link. 
If you want to stay fully updated on all the latest wrestling news, click the red bell in the bottom right of your screen to receive notifications from WrestleTalk.com straight to your device!