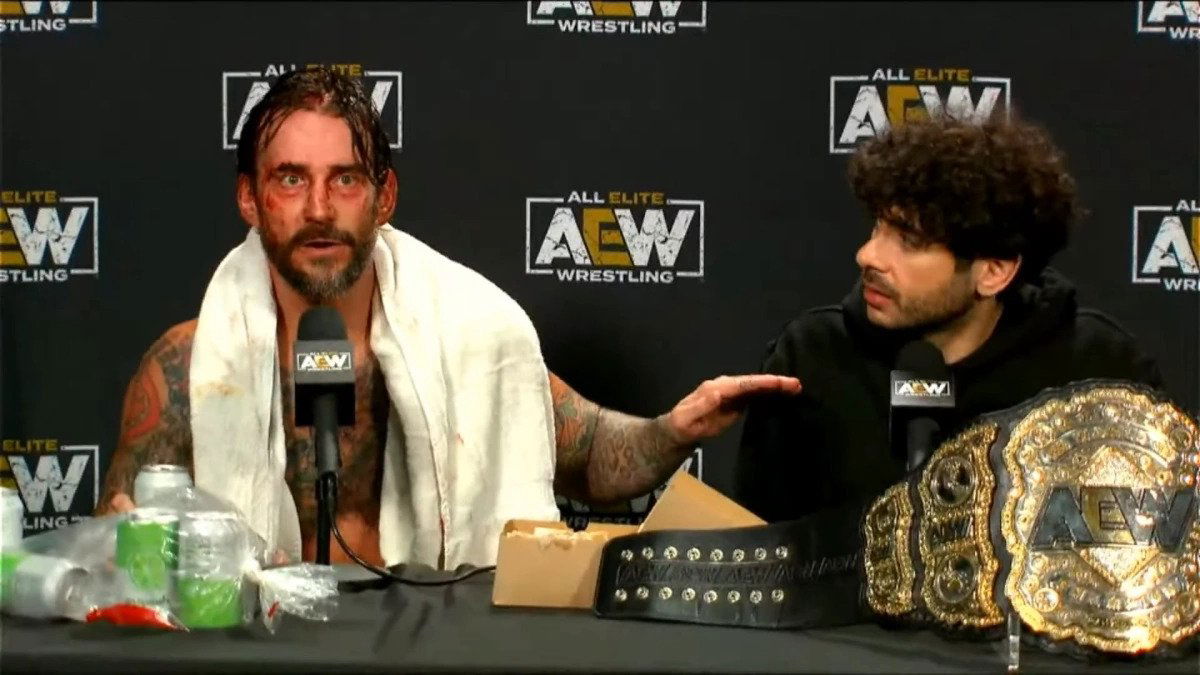 CM Punk's AEW return is reportedly being slated for June 17 in the United Center, in what is rumoured to be the first episode of a new AEW Saturday show titled 'Collision'.
Collision will act as a second brand for AEW, with CM Punk, FTR and other names set to appear on that show, while the Elite and the Blackpool Combat Club remain on Dynamite.
This comes after the now infamous All Out media scrum, where Punk was suspended by the company following a backstage altercation with the Elite.
Tony Khan held a meeting between Punk and Chris Jericho, who is serving as the middle man between the two sides, with the two parties being separated by a brand split being Khan's solution to the problem.
Speaking on his Grilling JR podcast, WWE Hall of Famer and current AEW announcer Jim Ross discussed the situation, and how he would have handled the situation if it happened while he was head of talent relations in WWE.
He said:
"My protocol would be to get all the involved parties into a room and settle it and settle it as quickly as soon after it happened as you possibly could and communicate. That's hard to do. Sometimes, guys have their feelings hurt, or they're angry, or they feel like they have an issue. I'd say, you know, getting the crew together that's involved in this atrocity is what I would try to accomplish and talk it out. Talk it out and keep cooler heads should prevail, and communicate. As simple as that. Boils down to that, quite frankly, at the end of the day, how well do we communicate on this matter?
"You want to do it while it's still hot. You want to do it while it's still fresh in everybody's mind and let people express themselves in a civil and professional way. Because, you know, [Bill Watts] told me years ago, there's more than one right way to do a wrestling angle or storyline, and I believe that. So, you know, everybody's got their cause. Everybody's got their reasons for doing what they did. Whether the results are right on the money or not, or what have you, I don't know. It's the individual who's looking at it.
"You got to communicate, you got to get everybody together and communicate, and when you leave, hopefully, you'll have a resolve. Hopefully, you'll have people prioritizing the company first. If any of these issues occur that don't promote the company and make it better for the company, then you're on the wrong road. The company has to come first. I said this many times to talents. We have to take care of the goose because this goose that we have access to lays golden eggs that we deposit in the bank. So to me, that's the bottom line. Communication is the key thing, and doing so in a timely basis is also important."
Punk was the topic of a lot more discourse when he appeared backstage at this week's WWE Raw show in Chicago, reportedly speaking with Triple H and The Miz before being asked to leave at the request of Vince McMahon.
transcription via Fightful
If you want to stay fully updated on all the latest wrestling news, click the red bell in the bottom right of your screen to receive notifications from WrestleTalk.com straight to your device!