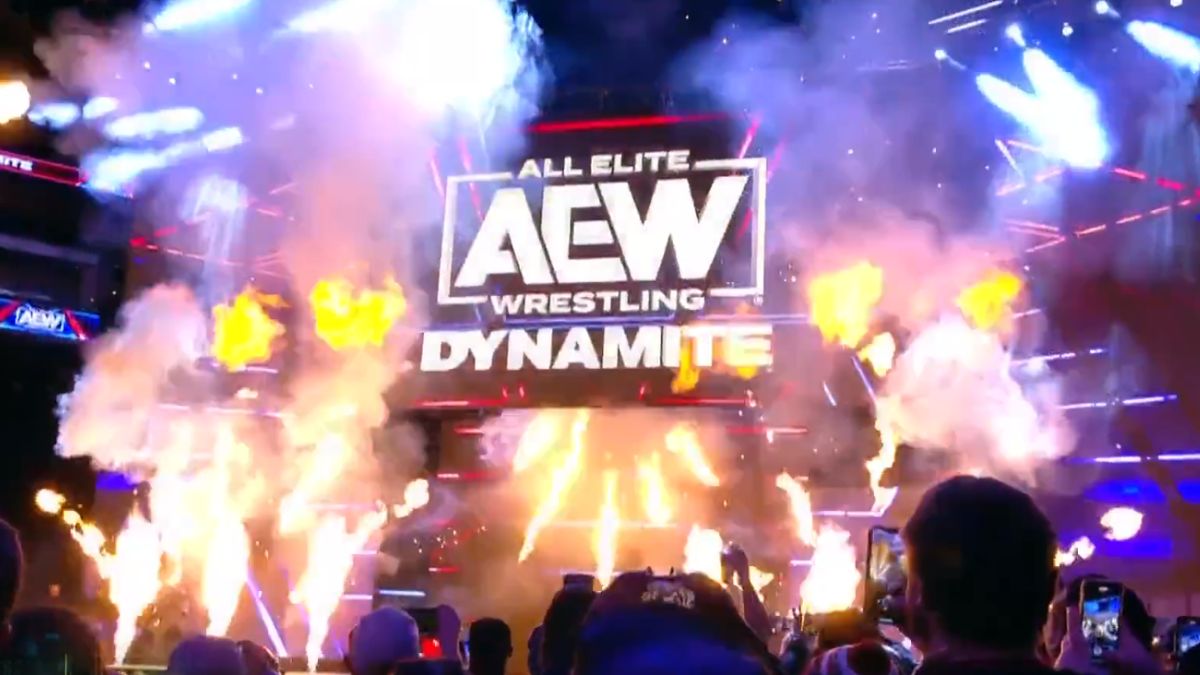 AEW's Saraya has been at the forefront of the women's division since making her debut with the company back in September 2022.
Herself and other former WWE stars Toni Storm and Ruby Soho are currently warring with AEW originals such as Jamie Hayter and Britt Baker, with Saraya's faction now known officially as 'The Outcasts'.
While the group are out to antagonise the homegrown AEW roster, Saraya herself went a bit too far in riling up the live crowd for AEW's liking on the March 15 AEW Dynamite.
During an in-ring promo segment Saraya would refer to the fans as 'neck-beard stinky twats' while also flipping off the live crowd.
This incident would see Saraya get fined by AEW, however in an interview on Superstar Crossover, Saraya would reveal that the heat for the incident was more from AEW's network Warner Bros Discovery than AEW itself.
Saraya would explain what the reaction was like following the segment:
"I think this is the first time I've really cussed on TV. You know what's really crazy is that even 'twat' is a very British thing to say… I'm not trying to drop the C-bomb but twat is a very common word in the U.K. but it's not part of my vocabulary so I don't even know why I said it.
After I cussed, I was like, I'm out. So they have to chase me down for this fine. So I'm getting texts from Toni Storm, Ruby (Soho), Pat Buck, I'm getting texts from the lawyers and stuff and they were just like, 'We have to call you. You have to stop running away' so I'm like, 'I'm already gone. Catch me if you can.'"
As well as her use of language, Saraya would find herself in trouble for body-shaming and flipping off the live crowd, something that wasn't appreciated by AEW's network. She added:
 '"Okay, there's three things you did wrong here' and I was like, 'What are those?' He was like, 'Well, when you walked down the ramp, you flipped everybody off, right? That's a no' and I was like, 'Okay.'
'Second thing, you body shamed everybody. That's also a no' and I'm like, 'Alright' and then he's like, 'And then you called everyone neckbearded twats and that's also not okay' and they were like, 'Not from our side but the network is gonna be a little upset if you keep doing those things… He was like, 'Just try not to body shame people.' I was like, 'Well, they do it to me all the time so, suck it,' right? 
But to be fair to me, they did send out a list of cusswords you cannot say and twat wasn't on it and they're like, 'We didn't think we had to put it on there' and I'm like, 'But from a British standpoint, you have to always put it on there.'"
Saraya would also reveal that the money from her fine was given to charity following the incident.
Transcript courtesy of POST Wrestling.
If you want to stay fully updated on all the latest wrestling news, click the red bell in the bottom right of your screen to receive notifications from WrestleTalk.com straight to your device!