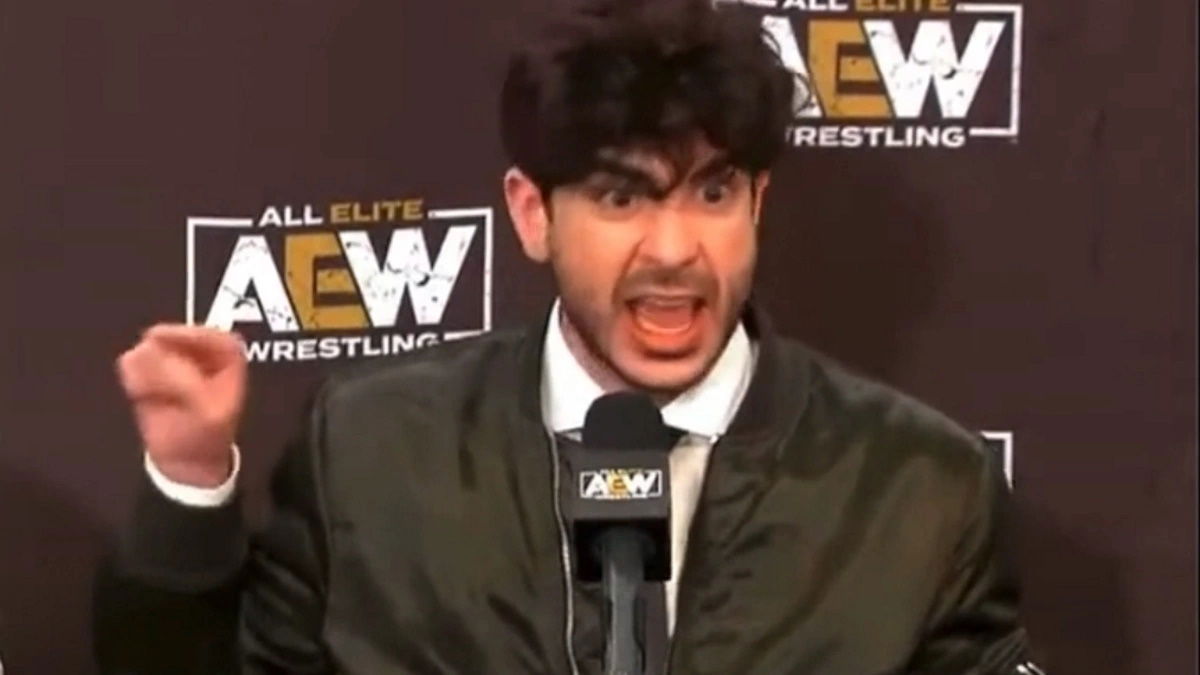 UPDATE: Sports Illustrated has confirmed CM Punk and Jack Perry have been suspended by AEW – more at this link.
Two AEW stars are believed to be suspended after a backstage altercation at AEW All In at London's Wembley Stadium yesterday.
During the show, news broke that there had been an incident between CM Punk and Jack Perry.
It's believed the issue between the two stems from a situation weeks ago where Perry wanted to use real glass for a segment that required glass to be smashed, and Punk advised him not to.
At All In, Jack Perry had a match against HOOK, during which Perry slammed HOOK onto a car windscreen before looking at the camera and saying: "Real glass. Go cry me a river".
The match after that was CM Punk vs Samoa Joe, and Perry and Punk reportedly came across each other backstage before Punk made his entrance.
It's important to mention before continuing that with all these situations, there are always two sides to what actually happened.
With that said, Fightful Select is reporting "at least one side of the story" is that Perry approached Punk backstage, "stepped in his face" and "bumped him", but then "got choked" by Punk.
PWInsider also reported that the aforementioned version of the story is the "prevailing" one that has been "most shared", despite some claiming that Punk actually punched Perry.
There are, however, people "adamant" that there was no punch thrown despite what others are saying.
Haus of Wrestling reported that they were told Punk got Perry in a choke because he didn't want to fight Perry and it was a way of neutralizing the situation.
PWInsider later added: "It's been back and forth as to who the blame was being placed on depending on who was telling the tale".
Fightful also added later on that despite initial claims pointing to it being Perry who initiated things, others have claimed it was Punk.
So ultimately, both sides of the story are being told and there's no real answer right now.
PWInsider also mentioned that Punk stayed backstage until about an hour after his match, but Perry was ordered to leave right after the incident.
According to Haus of Wrestling, Punk left to his hotel of his own accord, and ordered Nandos for some of the talent who he met up with after the show.
During the post-show media scrum, Tony Khan didn't name any names, but did confirm there was an "incident" backstage.
He said:
"Yes there was an incident backstage before we went live on tonight's show. We are investigating it and before I learn more about what happened, I can't really address it at this time, so I can't comment, but I did want to be honest with you and tell you that it is the case."
If you use this transcription please credit WrestleTalk.com and link to this page
Now, Bryan Alvarez of the Wrestling Observer is reporting:
"The belief within AEW is that Punk and Jack are both suspended pending the results of an investigation, which would mean neither will work All Out."
This week's Dynamite, Collision and All Out are all taking place in Punk's hometown of Chicago.
We'll keep you posted with any further details that emerge.
Think you know the most about wrestling? Join our Wrestle League predictions competition for free, and be in with the chance of winning $250 of Amazon vouchers. Make sure you subscribe to email notifications to make sure you never miss a show.