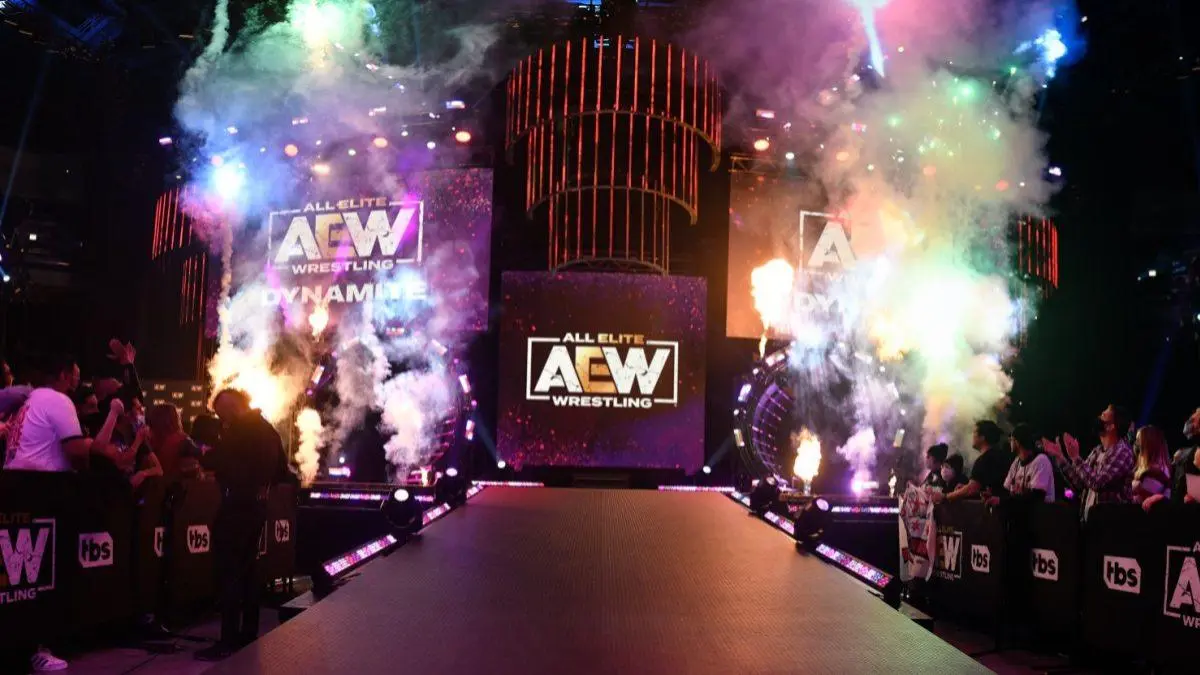 Two AEW stars are believed to have had a falling out backstage, there is said to be heat on a WWE veteran after an incident this past weekend, a botched major heel turn in NXT, and more.
It's Wednesday morning, and what better way to start the day than getting caught up on all the latest wrestling news – I'm Liam Winnard for WrestleTalk.com, and this is our audio news bulletin for July 13, 2022.
Listen to this morning's round-up here:
Santana & Ortiz Backstage Falling Out
There was some speculation recently, and that's all it was – speculation – that AEW's Santana and Ortiz weren't on the same page.
People pointed to the fact they haven't had a tag match together since February, Santana has been taking indie bookings on his own, and they haven't even been standing near each other in segments together.
It seems there may be some fuel to the fire, because Konnan, who obviously knows both Santana and Ortiz very well, recently took to his podcast to discuss the rumors.
Konnan did say that the duo are not on good terms right now. Obviously it's important to point out that this is still just Konnan's word so take it for whatever you think it's worth.
During the Blood & Guts match two weeks ago, Santana suffered a knee injury that Tony Khan said could be severe and keep him on the shelf for a long time.
In the video package for that match, Eddie Kingston said he was close friends with Jon Moxley and Ortiz, but didn't mention Santana, which seems like something that also ties into the real-life issues.
Santana has also been posting tweets recently that are seemingly counting down to the expiration of his AEW contract.
Backstage Heat On Natalya
Speaking of backstage issues, there is said to be some backstage heat on Natalya after an incident at a house show this past weekend.
At the end of a three-way match with Liv Morgan and Ronda Rousey, Natalya took the pinfall from Morgan after Morgan's finisher, but then immediately stood up, pointed her finger at Morgan and said something to her, then left, basically no-selling Morgan's finisher.
This obviously led to a lot of fairly reckless speculation about what had happened, but Dave Meltzer of Wrestling Observer Radio cleared some of that up.
Meltzer said that there was an issue, but it wasn't anything to do with Liv Morgan. Despite it looking like Natalya was telling Morgan off at the end of the match, that's not what happened.
Furthermore, Meltzer said that Natalya is "getting heat" over the incident, and he even said Liv Morgan might be getting some as well.
It's still not clear exactly what happened, but it wasn't that there was an issue between Natalya and Morgan, and whatever issue it was, was sorted out pretty much immediately backstage.
Natalya reacted to people talking about the incident on social media by calling it a quote "slow news day".
Botched Major Heel Turn In NXT
Last night's NXT 2.0 played host to a major heel turn as Cora Jade ambushed her tag team champion partner Roxanne Perez, costing Perez her NXT Women's Championship match against Mandy Rose.
At the very start of the show, they showed footage of Perez down in the parking lot with Jade checking on her, but it wasn't clear who had attacked her.
Then, during the main event, Jade used one of their NXT Women's Tag Team Title belts to strike Perez from behind, allowing Rose to retain her title.
After the match, Jade called Perez selfish and proceeded to viciously attack Perez in the ring with her skateboard.
Well… actually she attacked her with half of the skateboard.
The board was gimmicked so that it would split in half when Jade struck Perez with it. However, Jade's backswing was so strong that the skateboard actually broke in her hands before she'd even hit Perez with it.
There was a split second of hesitation, but Jade did recover well and just used the half of the skateboard that was still in her hand to beat down Perez instead.
It was pretty funny but it did take away a little bit from what was supposed to be quite an emotional angle to close the show.
Other Stuff
In other little bits of news…
Bianca Belair pitched the idea of doing a Last Woman Standing match against Charlotte Flair in Saudi Arabia.
Logan Paul said he decided to sign with WWE because it fits his three criteria – passion, business and media.
Mick Foley has signed a new legends contract with WWE that means WWE has exclusive rights to his merch, so he's had to take down his Pro Wrestling Tees store.
Vince McMahon's plans to travel to Vancouver to meet with John Cena, potentially to figure out a plan for a WrestleMania 39 match, have been delayed until this coming weekend, after he'd originally planned to do it this past weekend.
Dave Meltzer stated that Io Shirai is "pretty much gone" from WWE and has one foot out the door, but Shirai seemingly reacted on Twitter by posting quote "rumors" with a puke emoji.
Nancy Benoit's sister said she was "heartbroken" because Jordynne Grace didn't contact her to follow up about her recent comments about Chris Benoit, after Grace said she'd talked to Chavo Guerrero, Chris Jericho and Chris' son David.
Dave Meltzer said that WWE is putting Dolph Ziggler in a feud with Theory with the idea that Ziggler is a veteran and is one of the best guys for Theory to learn from at this point.
And Meltzer also said that there's a plan to put the NXT Women's Championship on Nikkita Lyons, but it might be a little while until it actually happens.
Be sure to stay tuned to WrestleTalk.com throughout the day to keep up with all the news from the world of pro-wrestling, and I'll see you tomorrow morning for another round-up.
To make sure you stay updated with all the latest wrestling news, add WrestleTalk.com to your Google Discover feed and follow us on Twitter!