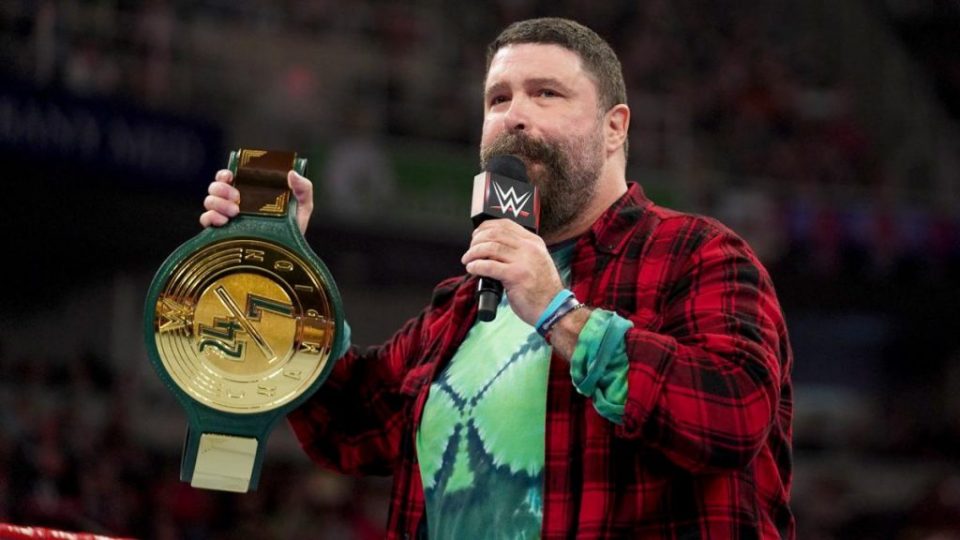 Those watching Raw on Monday night where left scratching their heads wondering what on earth WWE was thinking when Mick Foley introduced the 24/7 Championship.
Some have said the idea, which actually came from the USA Network, will help make the five hours of WWE TV each week more interesting, while others have claimed it is nothing more than a comedy belt for lower-card talent.
However, one thing that most people have agreed upon is that the design of WWE's newest championship leaves a lot to be desired… During the Starrcast II convention, the Young Bucks and Cody Rhodes were asked during their Q&A to give their thoughts on the 24/7 Championship, and Rhodes went on to slam his former employers for their new belt:
"Let's be fair we all love Mick Foley, everyone loves MickFoley what a bad… I felt so bad… he's standing out there. He's a living legend… what the f*ck was he holding? Like no thought — no thought went into that like 'what is it?' — 'oh, it's 24/7' — 'so what do you put on it? 24/7' Like no thought."
Nick Jackson then chimed in and said that the new AEW Championships look considerably better than WWE's design that nearly made him "throw up":
"Here's another thing our titles are gonna lookgood. Good lord. I saw a graphic of that new title and I almost threw up."
Speaking of the AEW World Championship, the match in which the inaugural champion will be crowned was revealed this past week by British comedian Jack Whitehall. It has been teased that the championship could be unveiled tonight at AEW's Double or Nothing show tonight. You can watch live on www.itvboxoffice.com in the UK and make sure you follow them on @ITVWrestling on Twitter for all updates
Thanks to NoDQ for the transcription.