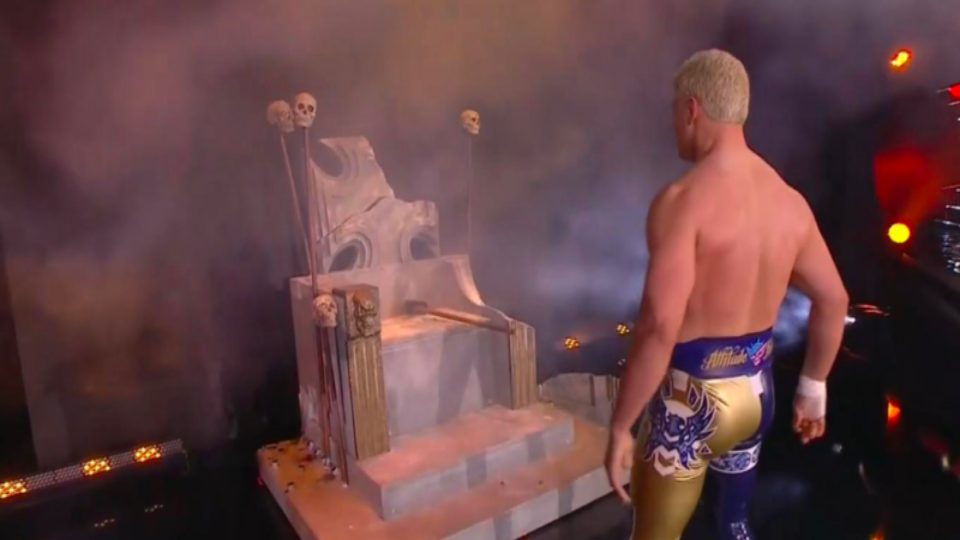 At the WWE Hall of Fame ceremony the night before WrestleMania 35, Triple H took shots at All Elite Wrestling, referring to them as a "piss-ant" company. Although the event was nearly two months ago now, Cody Rhodes has not forgotten and seemingly fired back at "The Game" during his entrance at Double or Nothing last night.
For those who haven't seen it, Cody walked down to the ring with a Triple H-like throne behind him. As he got to the ring, his wife Brandi handed him a sledgehammer (Triple H's weapon of choice), and the former WWE star proceeded to strike the throne. Many people saw this as a not-so-subtle jab at Triple H and WWE.
Massive shots fired to Triple H tonight by @CodyRhodes at #AEWDoN. Cody makes his entrance, Brandi hands him a sledgehammer which he then uses to smash up a throne, complete with skulls, at the entrance way!! ? pic.twitter.com/cqxQ4opArz

— Gorilla Position (@WWEGP) May 26, 2019
However, Cody spoke to the media after Double or Nothing, and revealed that whilst his entrance was symbolic, it was not a shot at Triple H, nor his former employers:
"Okay, so, I had a literal dream about this type of entrance. I loved when Triple H came out at WrestleMania 30 and he was kind of like Shao Kahn and it was really cool. The throne kind of symbolized his reign, and, man, I want to play ball. I know we don't say 'competition' but it stands for itself. I also want people to know this role, this Executive Vice President role, which I love and I'm excited about, I want to be a wrestler first. And that's great, we were able to do that tonight. Tony Khan sat in Gorilla and timed the show. That takes years how to learn. Gerald Brisco, he was like the only guy who could do it for a long time. Tony did it tonight on his first try.

"So they don't always need us there in those executive roles. We were able to go out there and be wrestlers. And that, more than anything… not so much a shot at Triple H, more a shot at I'm not ready to dive into that role and lean into it. I want to be a wrestler first and foremost. I'm not done. I know that people think Kenny (Omega) is the best, and I know that people think Chris (Jericho) is the best, and now Jon Moxley is the best — I'm always going to be wondering 'what can I do? What's the step?"
While Cody might try and say that his entrance was not a shot at WWE, it will be hard for him to defend the below image of him and Jon Moxley, both former WWE stars, sticking their middle fingers up to the camera.
— Jon Moxley (@JonMoxley) May 26, 2019
Thanks to Cageside Seats for the transcription.