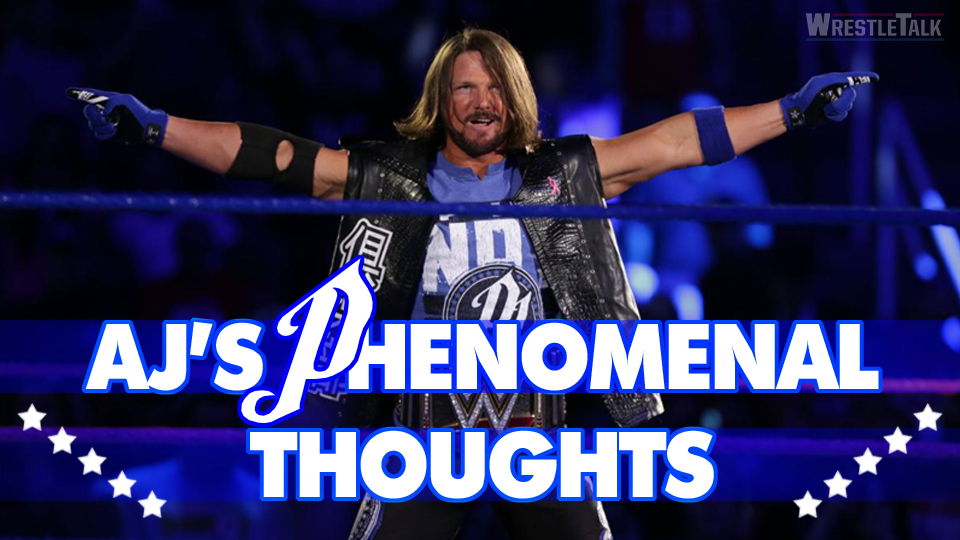 During Wrestlemania weekend, AJ Styles sat down with Sam Roberts to discuss Video Games, Daniel Bryan, his run in the WWE, and changing his in-ring style since leaving the independents. 
Here are some of the highlights:
Would facing Daniel Bryan in WWE be considered a dream match?
"Well here's the thing. I heard someone say 'It's not a Dream match if it's already happened.' It hasn't happened in WWE. First of all, WWE is the biggest [promotion] and some people fail to see how big it is. So, it is a dream match for a lot more people than you think. We've been in the ring together before, more than once. It's still a dream match"
On Daniel Bryan getting cleared.
"Selfishly, I was hoping someway he would get cleared. Did I expect him to be cleared? No. But the fact that he did is awesome."
Does he feel accomplished in the WWE?
"I would have been happy in my career even if I hadn't come to WWE. I have accomplished so much, but sometimes you need a little bit of help to get to the next level. So, the fact that I was able to accomplish as much as I did without WWE I believe is a big deal. It sure is a relief that I got here and am able to do well. If you can do well in WWE, you have accomplished something."
Why he's changed his ring style:
"On the independent shows, these guys were doing crazy dives, so I thought, 'what am I going to do?' I did a simple dive but made it look pretty and graceful and it got the same response as if I would have done a crazy dive. I then thought, 'wait a minute, so you have to make stuff look effortless, and smooth and the way you do it rather than what you do'. But at the same time when it needs to look rugged, it looks rugged, you got to have both of those and know where they fit. But the only way you get to know that is with experience.  A lot of people just think 'Oh he's older so he's slowing down.' You don't understand, it doesn't fit, that's why it's not there anymore."
I think we can all agree, this is the best run in Styles' career.  There is no slowing the Phenomenal one down as he continues on his path to Backlash this Sunday. And after getting that little taste of what AJ Styles Vs Daniel Bryan could potentially deliver in a WWE ring on that Smackdown after WrestleMania 34, I'm certainly hungry to see more.
What do you think about AJ Styles WWE run? Let us know in the comments section below or on Twitter.