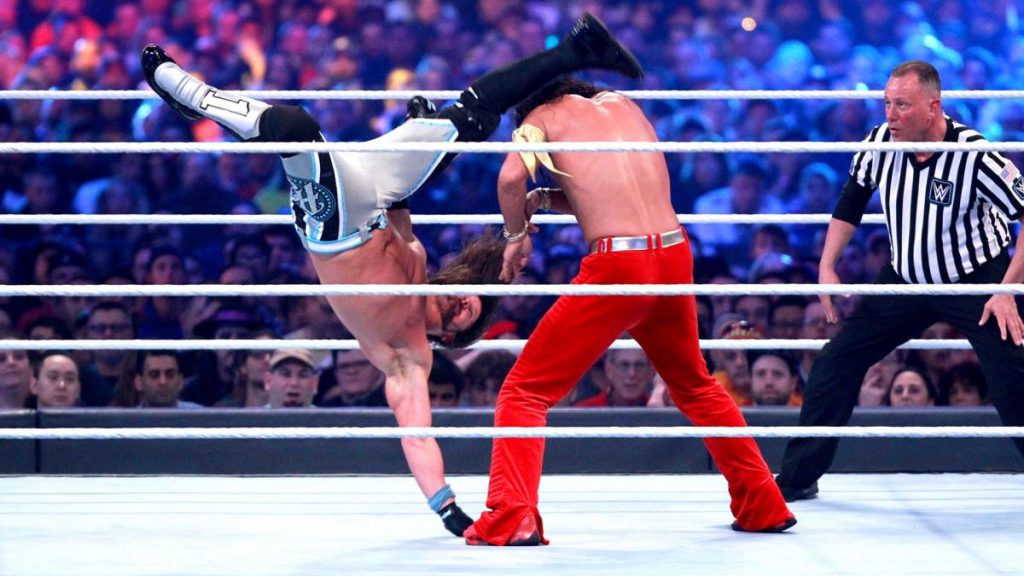 When Shinsuke Nakamura won the 2018 Royal Rumble, fans began to get very excited about the prospect of Nakamura going one-on-one with WWE Champion and long-time rival AJ Styles in a WWE ring. The pair had a few brilliant matches in NJPW, but this would be the first inside a WWE ring on the WrestleMania stage.
While the match was still very good, it didn't live up to the "best WWE match ever" that many fans expected, and was certainly not at the same level as their awesome clash at WrestleKindgom 10 in January 2016.
Speaking to Corey Graves on the After the Bell podcast, AJ Styles explained that he and Nakamura both felt that expectations were "too high" going into their WrestleMania 34 WWE Championship match:
"Expectations are way too high. I felt that going in. I know Nakamura felt that too. No matter what we would have done in that match, the expectations were way too high. Here's what a lot of people don't understand. Fans are everything. They set the tone on what is a great match. It's how they respond to it. In Japan, they are so respectful and when they do respond, it's huge. 'Wow, it's such an amazing match.' Had that same match been done in a WWE ring without that same response, it's not going to be declared as that great of a match. Fans are everything, they dictate a great match. It's the reality and the truth and something a lot of people don't understand. The expectation were so high because of what we did at Wrestle Kingdom. I was like, 'Oh man.' I still think [WrestleMania] was a great match."
As Styles states, his match with Shinsuke at WrestleMania was still pretty darn good, but it probably didn't live up to the incredibly lofty and unrealistic expectations that fans set on it.
Shinsuke and AJ shared the ring just a few weeks ago on SmackDown in a cracking TV match in the Intercontinental Championship tournament. The final of the tournament will see Styles take on Daniel Bryan in a match that has already been taped and is said to have been brilliant.