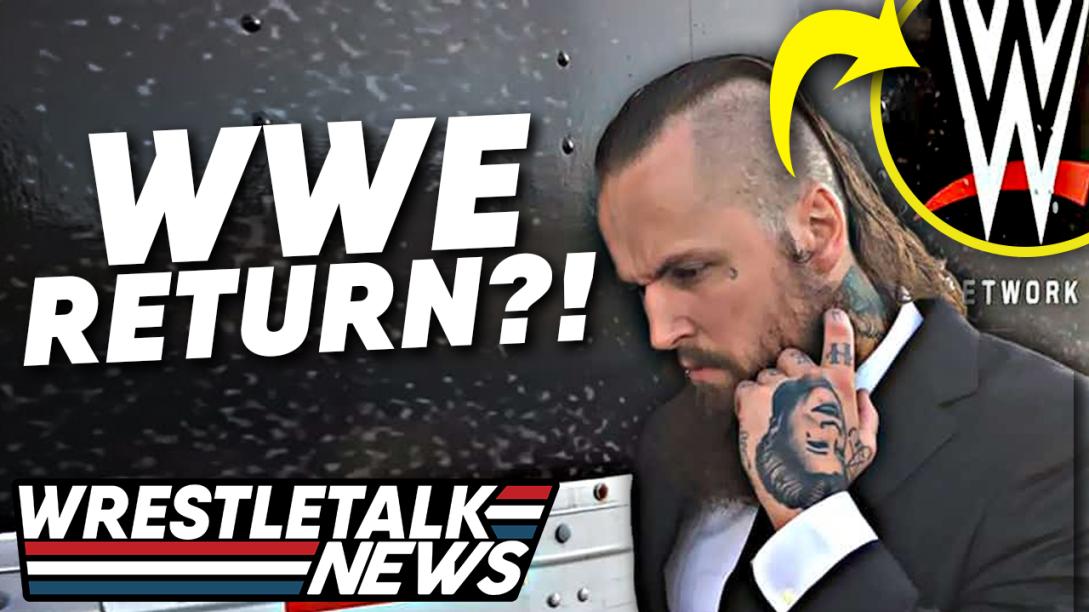 Coming up in this WrestleTalk News, Aleister Black returning to WWE, have AOP retired, SummerSlam being the new WrestleMania and more. 
Superkick the subscribe and thumbs up buttons right in the face for daily wrestling news as it really helps us out. 
WWE Re-Signing Aleister Black?
After spending several years of his WWE career locked in a cupboard asking people to knock on his door. He just wanted someone to hang out with! Aleister Black, now going by his indie name Tommy End, has given numerous shoot interviews on his Twitch channel and Renee Paquette's Oral Sessions… oral… in the week since he was released last Wednesday.
Meanwhile, Talk Is Jericho's there like: dude, this is not how it works. You turn up on my show first.
One other tidbit from his interview with Renee is how Paul Heyman reacted to news of End's release. End was reportedly a hand-picked Paul Heyman guy while Heyman was booking Raw from 2019 to 2020.
"He reached out to me on the day that it happened. It was very sad. Paul has always said to me, 'Tom, I think that you're five years ahead of the business. As brilliant as I think you are, I think that sometimes, that's your biggest issue. You're so far ahead mentally that people have to catch up to it… I still believe you're going to do great things.' I am absolutely far from being done."
Well if PWInsider's latest report is to be believed, WWE might have finally caught up with the times.
Mike Johnson writes "in certain corners of the company, there's been some talk that Aleister Black was cut prematurely and a push that the company should bring him back in." Apparently of all those shock releases last Wednesday, the general feeling is that End was "cut too soon" and was more of a victim of WWE's start-stop pushes than anything he did himself. Black was only two weeks into his return feud with Big E on SmackDown when he was let go last week.
Do you think Tommy End should return to WWE as Aleister Black? Or do you want to see him actually wrestle in company's that appreciate him? Tell me that's a pretty loaded question, Oli, in the comments down below, because I'll be replying to people for the first 30 minutes after this video goes live FROM OUTTA NOWHERE. 
Murphy & Braun Strowman Updates
Black was one of six wrestlers fired by WWE last Wednesday, and PWInsider also has updates on two of his Released Class of June 2021 alumni.
While there's a lot of interest from independent promoters in all of those released, Buddy Murphy is said to be the top name on most of their lists, "as there's a feeling he could have a ton of 'dream match' bouts with top indy stars."
Braun Strowman, meanwhile, is apparently asking for booking fees in the "five figure range". Thanks to his Monster Among Contracts deal he had with WWE – which is reportedly one of the reasons the company got rid of him – he's "pretty set financially and doesn't need to immediately run out and do bookings". However, if a promoter manages to met that five figure fee, he might as well do it.
Murphy and Strowman appear to occupy two extreme sides of the released WWE star condition. One, taken by Murphy, is I love wrestling, I want to do my style of wrestling, book me in every indie promotion so I can slap my leg a lot. The other, seemingly represented by Strowman, is 'Give me money, lots of it.'
There is nothing wrong with knowing your worth. But historically, the wrestlers who have left WWE with the love of wrestling mentality – Drew McIntyre, Jon Moxley, PAC – have fared better than those who have taken the short-term business strategy. Like Ryback. 
But what about two released names from last year?
AOP Retired?
AOP's Akam and Rezar were released last September after being in and out due to injury for most of their main roster run. It was just another example of an excellent NXT act, one of the more dominant tag team champions in the promotion's history, still getting ruined by Raw. 
Can we all stop pretending that Vince McMahon knows how to book big guys? He just likes big guys, there's a difference!
Fightful Select have asked around about their current plans, as they've not taken any bookings or done any podcast interviews since leaving WWE. The door was said to be 'left open' for something in AEW – further proof that company never shuts anything. Or, as my dad would say, does AEW live in a barn? – and their names were brought up in New Japan, but the company didn't have the budget to bring them over at the time. Leaving Akam and Rezar to work "regular jobs."
After posting that report, a promoter reached out to Fightful saying when he tried to book AOP, he was told "both men had 'retired'" from wrestling. Rezar is 26, and Akam is 28. 
Which Akam took issue with, tweeting:
"Ain't Done Yet Bitches…." – interestingly tagging in not only Rezar, but also their NXT manager Paul Ellering, with a photo of them all together. Rezar also shared the same image and text.
Where do you want to see AOP return to? Let me know in the comments.
And now, a public service announcement from the Undertaker.
But there is hope with Doc! Doc Gallows. 
The Good Brother was on Wrestling Daily yesterday, so make sure to give the episode a watch using the link in the video description below. And subscribe to Wrestling Daily for our live wrestling news podcast show every weekday!
Major WWE Plans For SummerSlam
We've had WrestleMania, we've had WrestleMania Backlash. Now, get ready, for WrestleMania SummerSlam!
WrestleVotes have tweeted:
"After speaking to a few sources on the topic, I've learned that WWE is 100% attempting to make SummerSlam this year's WrestleMania. "All resources will be tapped into" is how it was explained to me. I do believe they want Reigns v Cena to headline. Not sure if they've decided."
Jon Alba has also reported that Reigns vs Cena is "the targeted main event" for WrestleMania SummerSlam. WrestleSlam. SummerMania. Where you'd think Reigns would be the heel and Cena would be the face.
I'm pitching Cena return as a commuist sympathiser with his new catchphrase 'You can't CCP me.'
Dave Meltzer has previously reported on Cena returning to WWE soon, with the last discussed date being the first show back in front of live fans, the 16th July episode of SmackDown – which is also the go-home episode for Money in the Bank.
Which, shockingly, Brock Lesnar isn't favoured to win whether he's in the match or not.
Andrew Zarian of the Mat Men Pro Wrestling Podcast, who's had a really good track record as of late, reported that Lesnar's name was in early plans for the SummerSlam card. Speculation ramped up last week when both Bobby Lashley and Drew McIntyre referenced the Beast in promos on last week's Raw – which could be foreshadowing for Brock to return and squash one of them to win the WWE title.
But Meltzer has reported Lesnar vs Lashley isn't in WWE's plans right now, but that could all change with Vince just ringing Brock up and saying the word 'money?'
However, Meltzer has also said there's a contingent backstage in WWE, probably called Paul Heyman, that doesn't want Lesnar to return until its a feud with Reigns heading into next year's WrestleMania. 
Brock to AEW confirmed.
When do you want to see Lesnar back? Let me know in the comments.
Going by the latest Wall Street Bets craziness though, WWE certainly has the funds to tempt Brock back.
WWE To The Moon
If you think wrestling's been crazy the last year, boy howdy should you check out hobby investing. The economy. 
While WrestleTalk here always advises you to invest in low-cost index funds that track the market for steady gains over time that outperform 99.9% of hedge fund companies – any advice on past results is not a guide to future performance – the now infamous subReddit WallStreetBets has created meme stock phenomena, finding undervalued/near defunct companies and encouraging the whole community to put their money in to inflate the price. 
Because in lockdown, there's only so much masturbation you can do.
And the answer is 7 a day.
The most recent benefactor of being a meme is WWE, which saw their share price rise over 10%, seeing trades up nine times more than normal, hitting its highest price over the last year. The very smart Brandon Thruston called it "one of the most bizarre things I've seen since I've been following WWE business."
I'm guessing he didn't watch Monday's Raw.
Sticking with numbers because it's my show and I'll talk about boring stuff if I find it interesting segway…
AEW & SmackDown Crossover
Ratings data!
On Tuesday I covered the looming problem facing AEW. They've been bumped off their usual Wednesday night timeslot onto Friday nights the last two weeks and for the rest of June because of the NBA Playoffs – unfortunately derailing their viewership and Double or Nothing momentum, recording the two lowest ratings in the show's history.
Which sucks a lot for Dynamite in June. But it sucks even more for AEW and TNT's big plan for their 2nd weekly show – which they plan to be as big as their version of SmackDown to Dynamite's Raw – Rampage, set to air on Friday nights.
The theory is that there will already be a wrestling audience sitting around watching wrestling with SmackDown on Fox. So once that's finished, they'll all just switch over to watch Rampage on TNT. 
Turns out not. 
As Dynamite's performance these last two weeks have shown, Friday at 10pm isn't a good slot, and it's seemingly getting worse. And now Dave Meltzer has dived deeper into the numbers, discovering that only 14% of the people who watched SmackDown for at least one minute also watched at least one minute of Dynamite. 
Granted, only two weeks is a very small data pool to draw any conclusions from. But personally, and anecdotally, I can tell you people don't want to watch three hours of wrestling back-to-back on a weekly basis. As it's called Raw.
Which inexplicably didn't lose any viewers despite being on one of its worst creative runs in the show's history. Arguably the worst. Monday's episode did 1.64 million viewers, which stayed remarkably consistent for the whole three hours. My only assumption is that this is the rock bottom of fans who will watch Raw no matter what because they're either used to it or hate themselves. So all of us.
What are your thoughts on the above story? Let us know in the comments on Twitter or Facebook.