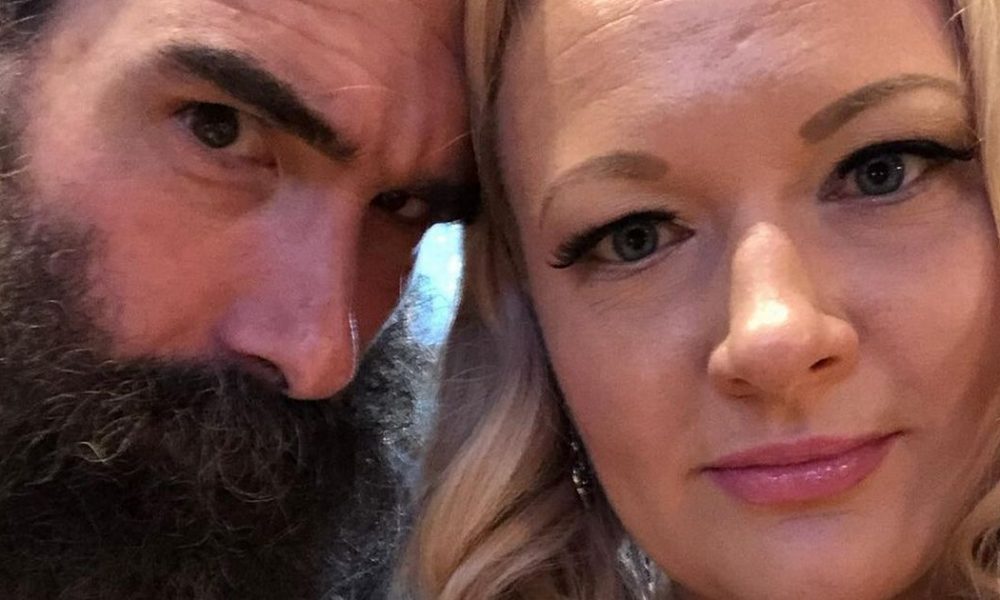 Amanda Huber penned a heartfelt message to her late husband Jon Huber (Brodie Lee)  in the Players Tribune today (December 13).
Amanda's post details the story of her love life with the late AEW star, including her earliest wrestling memories before she met Jon.
Here are a few excerpts from the piece, the full thing can be read here.
Before I fell in love with Jon, I fell in love with wrestling.

I grew up in Rochester, New York, in the early '90s — this was before the wrestling boom, before the Attitude Era. Wrestling wasn't "cool" yet but I didn't care. I wanted to be Ric Flair so bad. "Not Miss Elizabeth," I'd have to correct people. I didn't want to wear fancy dresses. I loved wrestling. I was so proud of these wrestler-themed folders I had in second grade: Ultimate Warrior, Macho Man Randy Savage, Jake the Snake Roberts, the whole deal. Kids in class would make fun of me for them. "Why do you have those???" Stuff like that. I remember coming home one afternoon, in tears, and telling my mom what had happened. She asked me if I wanted to get new folders.

I said no way.

My first boyfriend was a wrestler. I went to an all-girls Catholic high school, so boys hadn't really been a part of my life growing up. But then one of my classmates, before our senior year, she'd met this guy at summer school, Anthony, who wrestled in the local indie scene. And he'd been bugging her ever since then to go to one of his shows. Knowing I was a wrestling fan, she asked me to come with. We had a great time….. and eventually Anthony and I started dating.

Hanging out with Anthony, pretty soon I became friends with a bunch of other people in the Rochester wrestling community. It was a tight circle, the kind where everyone knows everyone. One of the wrestlers I'd see around a lot was this crazy-tall guy — I mean crazy-tall, like a legit 6′ 7″ — who played this character (or at least I thought it was a character) where he was basically the most arrogant dickhead you've ever met. He went by "Huberboy #2" (his older brother had taken "Huberboy #1"). I called him "Huber." His real name was Jon.

Eventually, Jon and I got to know each other the old-fashioned way: using AOL Instant Messenger. I think I'd mentioned to him once where I'd gone to school — and then, from there, all these things we had in common just came tumbling out. For example, Jon had gone to an all-boys Jesuit high school. He'd grown up pretty much down the street from me. We'd literally been baptized by the same priest. It's like our lives had been intersecting for years, only without us realizing it. And it wasn't anything more at that point — I was still with Anthony. But it was something, you know?? It was like, Whoa….. what IS this.

Then one night, after a wrestling show, my brother Adam and I needed a ride home. It was out of the way from where Anthony was heading, but since Jon lived nearby, he offered us a ride. When we pulled up to the house, before getting out of the car, Adam (for reasons I'll seriously never understand) blurted out, "Hey, Jon — you wanna meet our cat?" Jon said sure. He came inside, sat on my parents' couch, met Rabbit (our cat)…… and then he and I just spent the rest of the night talking. And talking….. and talking.…. and talking. We must have sat on that couch and talked from 10 until 6 the next morning. Nothing happened, although I'd never wanted to kiss someone so bad in my life. When Jon left, I just remember thinking to myself, like, Oh — NO. But in a good way. It's like I already knew there was no going back.
The full tribute is truly beautiful and heartwarming, it can be read here.
To make sure you stay updated with all the latest wrestling news, add WrestleTalk.com to your Google Discover feed and follow us on Twitter!