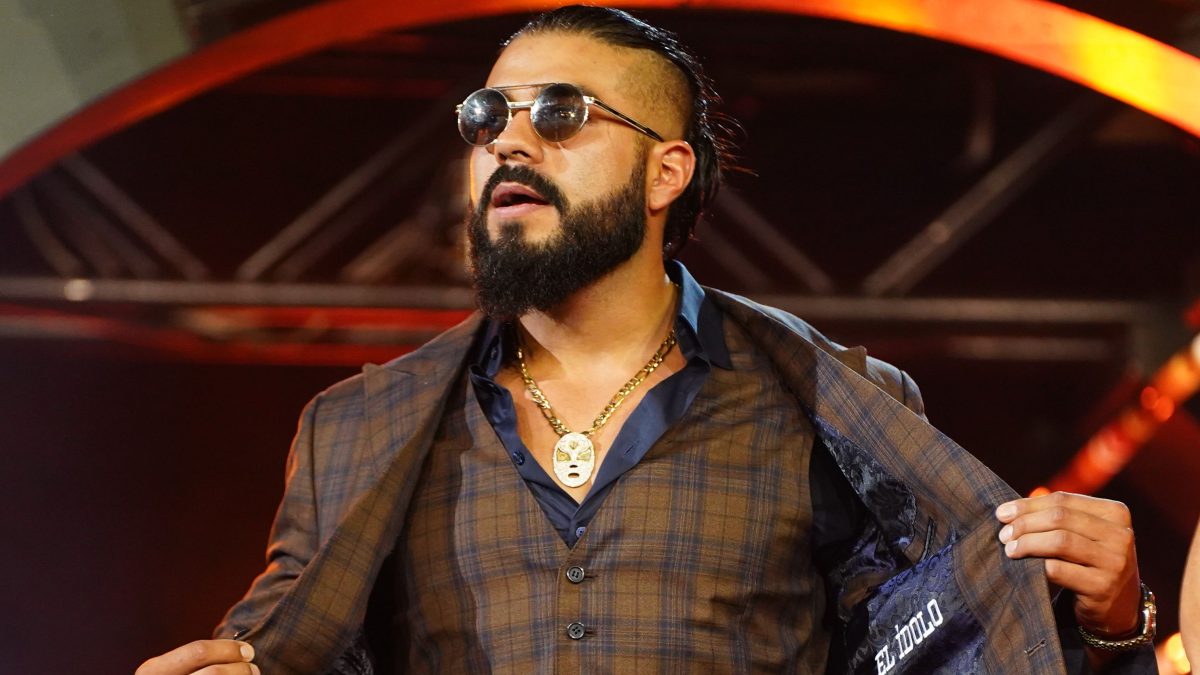 UPDATE: Guevara has now responded to Andrade's callout, tweeting:
YOU didnt say s**t to me you liar but heres some truth you ungrateful prick You would be jobless if it wasn't for your dad in law. Are you really mad at me or mad at yourself for failing to get over for a SECOND time. Just go back to Wwe like we all know you want to do & f**k off
To which Andrade replied:
Ok I'm a liar 😂 see you on Wednesday!! I'll tell you to your face again!!! and nothing you say that you do not have any problem!
Reacting to the situation and the abundance of backstage issues in AEW recently, Ricky Starks tweeted:
Man, can my co workers just shut the f**k up for a minute?
Ok I'm a liar 😂 see you on Wednesday!!

I'll tell you to your face again!!! and nothing you say that you do not have any problem!

— "EL IDOLO" ANDRADE (@AndradeElIdolo) October 4, 2022
Original Story
Andrade El Idolo has called out Sammy Guevara, claiming that the former TNT Champion previously complained about his strikes.
There has been a fair amount of backstage drama in AEW this year, most notably between CM Punk and AEW EVPs Kenny Omega and the Young Bucks, who are all currently suspended following an altercation after All Out.
Speaking with Mas Lucha about his own issues with Sammy Guevara, Andrade said (Transcription via Fightful):
"I learned about the (All Out backstage fight gossip) initially via social media with many headlines saying "The guy fought this guy" and all that. Everyone usually stays in the same hotel on Wednesday for Dynamite until the Thursday after. I trained in the gym and then a guy reached out to me and asked if I had heard about the altercation and I was like "What? When? What happened?!".

"I learned that there was an issue between Kenny (Omega) & CM Punk. The two of them have always greeted me well, and I got nothing bad to say about them, and the same thing goes for The Young Bucks (Matt & Nick Jackson).

"They are all good with me, but I did have one issue with a wrestler. I am going to say his name, it was Sammy Guevara. I had an issue with him because he once came to the locker room and complained that we hit him too hard.

"It's wrestling, solve it in the ring. If I hit hard, hit me hard too. I learned that he came in and that he accused me like a little girl. After I learned about it, I spoke to him and asked if he had an issue with me, but he said he did not and that's all there was to it.

"It's funny because not even in WWE. For example, Sheamus likes to hit, and all my respect for him because he loves to hit hard and loves the strikes. He is wild. Even The Miz likes to throw strikes. Not even John Cena complained about me, so if he did not complain, imagine this kid who is just starting, but there's that."
Sammy Guevara appeared to respond to these comments on Twitter, seemingly calling Andrade a 'favor hire'.
Andrade has since called out Guevara online, tweeting:
I said it to your FACE if you had a problem with me and you said NOTHING, I wont beat your ass because im a professional, don't be scared.

When I say something I name names, and im not scared to get fired!
#Sammy
There has been some speculation about Andrade's future with AEW, with the former WWE star set to face the Dark Order's 10 on Friday's (October 7) edition of Rampage in a match where if he loses, he will be forced to leave AEW.
Check out WrestleShop.com for all your favorite WrestleTalk merch, the WrestleTalk Magazine, wrestling shirts for grown-ups, and more!