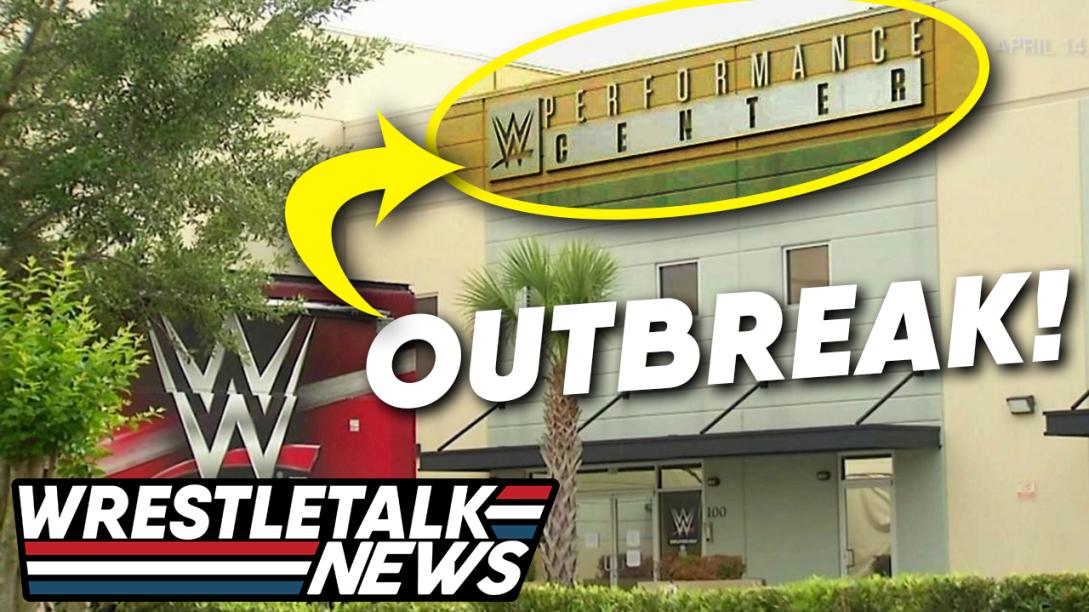 On yesterday's WrestleTalk News I spoke about the Fightful Select report that Vince McMahon was frustrated with his own roster and staff because he thought they weren't taking the pandemic seriously enough, asking the talent to wear masks outside the company as WWE builds to its biggest show of the year. And it turns out his fears were well-founded, as Fightful Select is now adding there has been another series of positive cases at the Performance Center, marking the third major outbreak at the venue.
"There will be some significant changes to NXT this week…there is fear of another breakout in NXT after a meeting/event took place on Thursday in which many WWE PC trainees were required to attend. Several of the people there were said to not be taking the proper precautions, leading to numerous talent being pulled, and others quarantined."
Dave Meltzer of the Wrestling Observer then confirmed this report, stating "There was an outbreak of COVID-19 resulting in a number of positive tests in NXT coming from the Performance Center."
And then added what might have caused this latest outbreak:
"What is known is that on Thursday they were building and moving rings at the building next door to the Performance Center and it was said workers were not wearing masks. One report is that there were people who tested positive that both were and weren't there at the time", calling the amount of people who had tested positive "substantial".
WWE are in the build to both NXT TakeOver Stand & Deliver, their first two-night TakeOver, and WrestleMania 37, so we'll have to wait and see if any of these positive tests will impact either of the shows.
Updates On Andrade & Charlotte In WWE
Someone that likely won't be on either show however is Andrade, who reportedly had his WWE release denied at last week's Raw taping. According to PWInsider, Andrade was not present at last night's Raw. This could mean Andrade will sit and wait at home until his contract expires like so many did before him.
For contrast, his fiancée Charlotte Flair is The OmniFlair and seems set to challenge for the Raw Women's Championship at WrestleMania, let's be real here, winning it. But there may be a new development with her WWE plans, as according to Deadline, she's been cast in a starring role in a remake of Walking Tall that will air on the USA Network.
This could mean she'll need time away from WWE for filming, and depending on when that is, it could affect whatever the company had planned for her WrestleMania or post-WrestleMania storyline. Like maybe, possibly, not beating Asuka for the Raw Women's Title. Thank you Walking Tall, I always liked you more than The Rundown!
New Day Shoot On Fans
Speaking of title changes, The New Day became 11-time tag team champions on last night's Raw – which some fans criticised for being too many. This led to Woods & Kingston shooting on fans in a post-show interview:
"A lot of people are upset right now… 'Oh, we're tired of seeing New Day as champions.' Don't be mad at us, be mad at Shelton and Cedric for not being able to keep the championships. Be mad at all your favorite tag teams for not being able to step up against your boys. Don't be mad at us, we're just doing our jobs. All we do is go out and entertain and win championships. That's it."
And now it's time for a review of last night's episode of Raw, in about 5 minutes!
WWE Raw Review
It's the go-home show for this Sunday's WWE Fastlane, so Raw opened by announcing a match… for WrestleMania 37 four weeks away.
The start of the show just had the commentators announce Bobby Lashley will defend his WWE Championship against Drew McIntyre – which kind of robs the Raw side of Fastlane of any intrigue whatsoever. Firstly, robbing the feud of a much-needed angle to restart it. And secondly, making the Drew vs Sheamus match for the pay-per-view incredibly predictable. McIntyre isn't losing there when we know he'll be facing Lashley at WrestleMania. You could've easily just held off on the Mania announcement by a week, and had Fastlane be a No. 1 contenders match between McIntyre and Sheamus.
MVP and Bobby Lashley cut a promo, again without the other half of the Hurt Business faction, everyone interrupted, giving us Sheamus vs Lashley for the main event, and McIntyre vs Miz right now!
Which was mostly just Drew beating up Miz, getting his revenge for the cash-in plot, and then tapping him out in the Hurt Lock. I sure hope all those people who wanted a long, serious reign from the Miz are happy.
Doing it the wrong way round, Braun Strowman vs Shane McMahon – in a match nobody wants to see stipulation – was announced for Fastlane rather than Mania. 
In the opposite of last week, it started with another apology demand from Strowman, but this time they just spent the entire segment shouting over each other rather than stalling. It wasn't as bad. And isn't that the aim of WWE, to not be as bad as it was last week?
And I can't believe I'm saying this. I actually quite enjoyed what came later.
McMahon and Strowman actually had a match, kind of, which Shane started off by stalling again, even having a full hopscotch mat out at ringside in a spot that actually made me laugh, and then having a great spot where Shane used a cameraman to counter Braun's running-around-the-ring train. We even got the vintage Shane flying elbow off the top rope through the announcer's table outside spot.
Unfortunately, they brought this crashing back down to disappointment with Shane pouring two buckets of a viscous green liquid over Strowman – giving the feud more in common with Nickelodeon than a wrestling match – and then walked off. The match never technically started, and I reckon we're getting something very similar at Fastlane to build to Mania.
All the midcard Raw women were standing in a row ahead of their tag match against each other. But they're such good friends, look at them all.
We got three minutes of Lana & Naomi vs Mandy Rose and Dana Brooke action before Asuka – the babyface – interrupted them for a brawl with Shayna Baszler. Dana quickly pinned Lana to win. Setting up a future tag team title shot at WWE No One Cares.
But what was very exciting was what happened with Asuka later on.
Off of her legit knocked out tooth a couple of weeks ago, Asuka beat Shayna in a few minutes of fiery action, fighting off Nia Jax interference and rolling through a choke to pin Baszler. You can argue Shayna was protected because she had Asuka in a submission when her shoulders were on the mat, but I think she really should understand that's the way wrestling works by now. This has happened multiple times before Bazler.
But then Asuka continued to beatdown Shayna afterwards, targeting her mouth, exposing the bottom turnbuckle, and being stopped by the ref before she could buckle stop Baszler's teeth out. It was the most interesting and badass Asuka has been for about half a year, and could be a way to slowly turn her heel ahead of the expected Charlotte Flair match at Mania, or…
Britt Baker to WWE confirmed.
The New Day have a fun new entrance bit where they transform into a coffee table, which was a power so great, they beat The Hurt Business for the Raw tag team titles next.
This was a fantastic match, particularly the work between Woods and Alexander. There was shades of great Usos vs New Day tag feud. This could be the backbone of the division. It kind of sucks that the Hurt Business just lost here without much build, and the months of Shelton vs Cedric tension didn't even play a part to protect them, but sometimes WWE just do a shock title change to reignite the feud, especially on the way to Mania.
Unfortunately, that didn't happen, as the Hurt Business just Thanos clicked away, spoiler, and AJ Styles and Omos came down to book a Raw tag title match at WrestleMania.
I think it's obvious WWE only cares about Lashley right now. His title win is sadly not a case of elevating the other members of his faction. 
And that wasn't the only huge title change! As the joint third longest reigning 24/7 Champion ever Bad Bunny was defeated by R-Truth in a backstage segment, via gifting. Bunny just swapped the championship belt for some new Stone Cold merch because the day after, today, is 3:16. I'm stunned that a comedy title with zero meaning can still annoy me so much. 
Damien Priest then squashed Jaxson Ryker in two moves, Bad Bunny punched Elias in the post-match, but then Miz dinked Bunny with the guitar to fully start their reported WrestleMania feud.
Rhea Ripley is still 'coming soon'.
Alexa Bliss challenged Randy Orton to a match at Fastlane. Has there been a main event wrestler in WWE in the last decade that's had more feuds with women than Randy Orton?
Riddle beat Ali in a quick title match, which had very good action, it was just way too short to properly get invested in.
Drew cut a promo about not wearing a top and then sat down backwards on a chair at ringside boyband style to watch our main event: Sheamus vs Lashley.
This was yet another great pay-per-view calibre match from Sheamus. The guy is on the best in-ring run of his WWE career right now. He's so physical and desperate, wrestling like each move is his last, and the just as physical Lashley was the perfect meaty opponent.
It's just a shameful day, lobster head, that he's just not the guy right now, and he picked up yet another loss. Bobby beat him with a spear, continued the beatdown with a Hurt Lock, and Drew Claymored Lashley out the ring.
What did you think of Raw? Let me know in the comments down below, and vote in our Poll on a Pole match on the community tab, where 59% of you voted for R-Truth def Bad Bunny via gifting.
As usual, the matches on Raw, when they're given enough time, are brilliant. The tag title match and main event were so, so good. It's everything else that's the problem. The booking, the repetitive in-ring segments. The bizarre decision to announce a bunch of Mania matches, undermining your pay-per-view this Sunday. This week's Raw is AvRAWge.
What are your thoughts on the above story? Let us know in the comments on Twitter or Facebook.