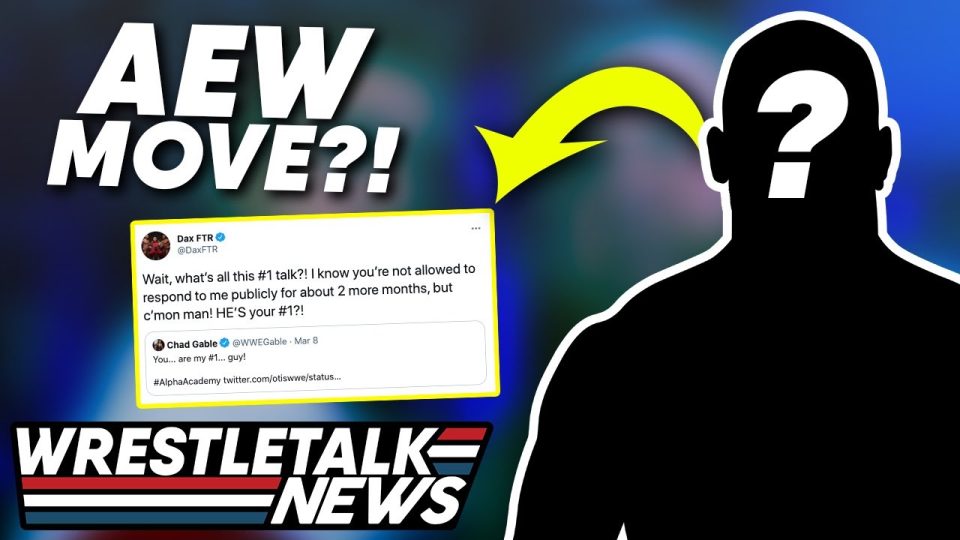 Hello and welcome to the WrestleTalk News, I'm the cutest online wrestling reviewer in the world, Mr Davis. Kawaii, Kawaii, Kawaii!
Another WWE Wrestler To AEW
Just like TNA before them, AEW is inevitably leaning into the meme 'what's ex WWE star with their name slightly changed doing in the IMPACT Zone?' It's rather unavoidable, as because WWE has run unopposed for two decades, any wrestler with mainstream star value has been with that company.
It's like trying to find a bankable Hollywood actor who hasn't been in a Marvel movie. Who isn't blonde. And white. And a man. And called Chris.
On their very first pay-per-view Double or Nothing, we got former WWE star Dean Ambrose debuting as Jon Moxley. On their very first TV episode, we got former WWE star Jack Swagger debuting as Jake Hager. And on last December's Winter Is Coming special, we got former WWE star Sting (I can't think of any significant runs with other promotions he's had) returning to wrestling as Stiiiiiiiiiiing.
And it's gone into overdrive in the last fortnight, with the former longtime WWE veterans Paul 'Big Show' Wight and Christian Cage both signing multi-year deals with AEW, shockingly choosing All Elite over contracts offered by WWE.
So who's next?… not that guy. Not that guy either.
CM Punk to AEW confirmed.
Going by Dax Harwood's Twitter account – himself a former WWE star in the Revival who jumped ship with Cash Wheeler as FTR – it appears current SmackDown wrestler Chad Gable's contract is expiring soon, and Dax wants him in AEW.
Gable recently formed a heel tag team with Otis, so Otis wished Chad a happy birthday on the 8th March [TWEET]. To which Chad responded "You… are my #1… guy!"
Which Dax retweeted with:
"Wait, what's all this #1 talk?! I know you're not allowed to respond to me publicly for about 2 more months, but c'mon man! HE'S your #1?!"
The wording of Dax's tweet has sent speculationamania running wild, specifically about Chad not being able to respond to Dax on Twitter for 2 months.
Firstly, that implies there's a behind-the-scenes WWE ban on their talent interacting publicly with AEW stars, which isn't that surprising considering WWE imposing more control over the wrestlers' social media since last October, and the leaked banned image list from the Thunderdome production desk including AEW.
And secondly, that Chad being able to reply to Dax in two months means Gable will be free of said contract restrictions by then.
Gable is one of the most underused wrestlers on WWE's roster. A former Olympian who can wrestle and do comedy, he's earned comparisons to Kurt Angle throughout his career. There were even plans to make Gable Kurt's illegitimate son several years back before WWE preferred the SWERVE and made it Jason Jordan instead. But despite reports Vince McMahon has been 'high' on Gable at various points, it's only to a very 'short' extent – booking most feuds around his lack of height, and even giving him the disastrous Shorty G gimmick until last October.
But as we've seen in the reported re-signings of Ricochet and Matt Riddle with WWE, bad main roster booking isn't enough to drive people away.
What do you think will happen with Chad Gable? Let me know in the comments down below because I'll be replying to people FROM OUTTA CUTENESS KAWAII!
WWE's answer to Chad potentially leaving for AEW? Debut more belts!
New WWE Belts Leaked For NXT
Tonight's episode of NXT is being promoted around two "game-changing" announcements from the show's General Manager William Regal, and now Sports Illustrated's Justin Barrasso has spoiled what they are.
The first, as the WWE Network schedule accidentally let slip last week, is that NXT will have a two-night TakeOver event on Wednesday 7th and Thursday 8th April in the build up to the two night WrestleMania that weekend. This is the first ever two night TakeOver, with the first night airing in the usual Wednesday night slot on the USA Network, and the second being on the WWE Network and Peacock Premium.
It was expected the second announcement would be NXT's heavily reported, all but confirmed move from Wednesday to Tuesday nights, but Barrasso notes Regal will instead unveil plans to create tag team championships for their women's division. Which is a great way of showcasing more of NXT's very deep roster of talent – as we saw with the first ever Dusty Rhodes Tag Team Classic lady edition last month, but it does somewhat undermine the original idea behind the other set of women's tag team titles in WWE, currently held by Nia Jax and Shayna Baszler.
Those belts were meant to be the only floating championships in the company, able to be defended across Raw, SmackDown and NXT. With NXT's own set of women's tag belts, it further draws a line between the Triple H-verse of NXT, 205 Live (yes, that's still actually a thing) and NXT UK, and the main roster of Raw and SmackDown, where dreams go to die.
Do you think more titles in WWE is a good idea? Let me know in the comments, calling the people who disagree with you S, A, W, F, T… SAWFT.
Please don't actually be nasty to each other in the comments segway!
Big Cass On WWE Return
Big Cass made his shock wrestling comeback on the Lariato Pro Wrestling show last month, where he looked in fantastic shape saving his former WWE tag partner Enzo Amore. He's since spoken to WrestleTalk.com's Louis Dangoor about his return and journey back to the ring – and whether he'd go back to WWE.
Make WrestleTalk.com Your Homepage!!
You can watch that full Big Cass interview on WrestleTalk.com by clicking the link in the video description below, where he also talks about working with Enzo Amore, and if there was ever any truth to them returning to NXT for the USA Network debut two years ago.
And for extra bonus points, make WrestleTalk.com your homepage for all the latest wrestling news. We're trying to make it the best place for wrestling coverage on the whole internet, and we're putting a lot of time and energy into interviews like this to make that happen. It'd be a huge help if you could all go there as much as you can, and share it around.
With the reports that NXT is moving to Tuesday nights, AEW's Cody Rhodes has told Action Sports Jax, "We have destroyed them for over a year now in that space, and them leaving, perhaps that opens up a different viewership for us on Wednesday's." And, obviously, a bunch of ex-WWE stars.
Christian Cage On AEW Debut
One of these was Christian Cage, who made his surprise debut at Sunday's AEW Revolution. He's now done at interview with Renee Paquette's Oral Sessions podcast – you're old news, Talk Is Jericho! – where he revealed the last seven years out has given him the proper time to heal his injuries. "I feel good, not just physically, but mentally. I'm in a good place."
It was actually his unsanctioned match with Randy Orton on Raw last Summer that first got him thinking about his return. WWE were so careful with him not being physically touched – as they should be – that it got Christian to start pursuing getting medically cleared. This paid off with his Royal Rumble return, but then he revealed who actually got in his ear about signing with AEW instead of WWE… Jon Moxley.
"He talked to me and had his opinions. It made me think that maybe I am doing myself a disservice if I don't at least explore all my options at this final stage of my career.  I had a conversation with Tony [Khan] and it escalated very quickly. It went very fast. Within a week, it was a done deal."
But what about his tag team brother Edge?
"Well, he was one of the very few people who knew. When I told him what I was thinking, he was very supportive… he's a great sounding board."
While money is most definitely a factor, AEW's apparent willingness to give their wrestlers more creative input must be a huge reason why so many WWE stars are defecting. And nowhere is that more evident than in Revolution's Street Fight of Darby Allin and Sting vs Brian Cage and Ricky Starks.
Speaking on the post-show scrum, Allin revealed he was involved in 90% of the cinematic match, and "was up for weeks producing this." He talked about having to drop out of film school, so this was a good test for his directing. AEW seems to want to develop wrestlers, their skills, they value them. With Darby, they're allowing him to pursue his movie making dreams while also being a wrestler. Whereas with WWE, it often seems like they want to limit their talent from ever growing.
AEW have announced Christian's first promo for tonight's episode of Dynamite – where we'll likely get our first clue of what his debut feud will be.
And that's not the only thing AEW will be explaining on the show.
Following the botched ending to Revolution's Exploding Barbed Wire Deathmatch, Tony Khan has reiterated the kayfabe explanation that it was Kenny Omega's bad engineering that stopped the final bomb from going off. On his latest paid advertisement on IMPACT Wrestling, Khan said we'll find out what happened and why on tonight's Dynamite.
But that was by far from the biggest announcement on last night's IMPACT, as there was some huge industry shaking news – setting up the next chapter of one of the most exciting storylines in all of wrestling right now. Here's WrestleTalk.com's Tempest with that, and a round up of everything else in the wrestling world.
There was backstage fury in AEW about the botched ending to Revolution. Click the video on the right to find out more. And what the hell was that Shane McMahon segment on Raw? Click the video below that for mine and Luke's podcast review. And please please please go check out WrestleTalk.com for all the latest wrestling news. I've been Mr Davis, Kawaii that Kawaii.