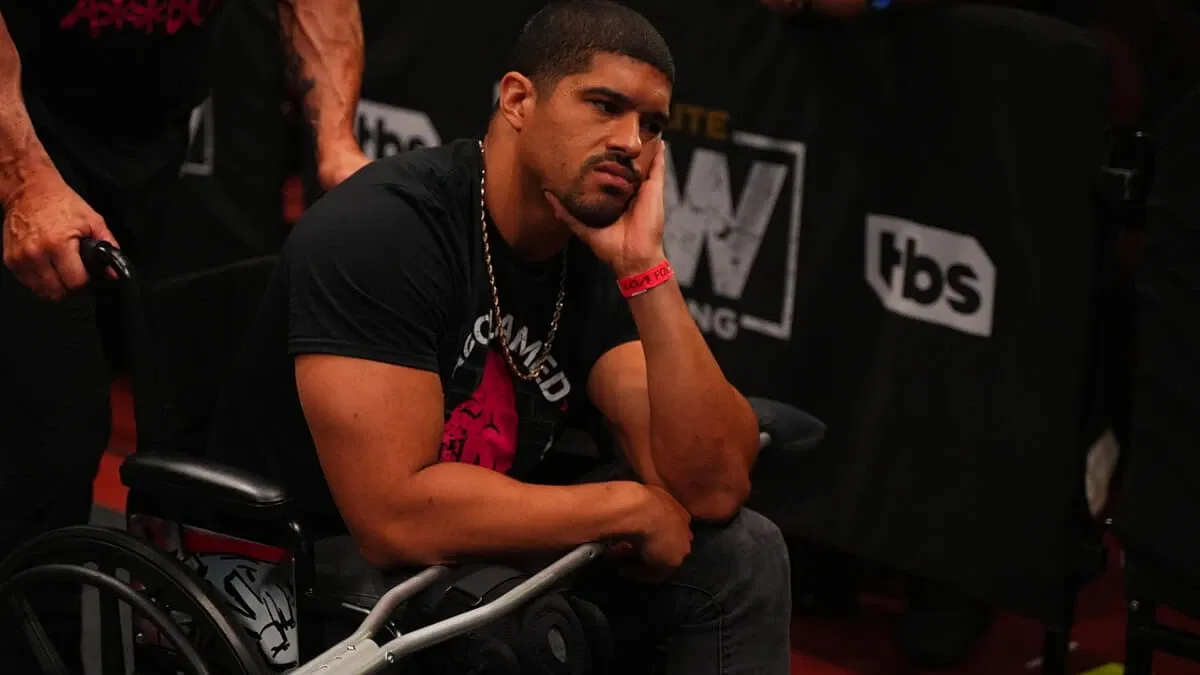 The Acclaimed are quickly becoming one of the more popular acts in All Elite Wrestling in recent months, with the duo of Max Caster and Anthony Bowens capturing the AEW fans' attention.
However, it could have not happened at all, as Anthony Bowens recently appeared on Talk is Jericho, where he discussed a WWE tryout that he had, and how he 'blew it'.
He explained:
"So, physically, I did great, so I'm like this is fantastic. And then on the third day they have you cut a promo and you sit in front the entire room and get all the coaches and it's led by Coach Regal and you know, when you know him he's super sweet. But if you don't know him, he comes off as very, very intimidating. He's got these very fierce eyes that look into your soul. So I got up there and the one thing he told me going into it was he's like, you've got a lot of the tools that we need to make you a superstar just work on your promo and your personality, but don't cut promos like a wrestler, just have a conversation. So that's what I practiced, and I cut the promo. It could be about anything, whatever. I did something along the lines like I have scars over my legs from surgery, and I was like a model at the time. So it's kinda like an inspiration, you don't have to be this portrait of beauty to be a model, that guy kind of vibe. Okay, and then he goes, 'alright, Anthony, can you do one more wrestler like', and I was like [stammers]. And at the time, I didn't really have a character, I was still in the closet, so there was this imaginary wall up that I couldn't like really get my personality out. So I was just this bland, blue-chip athlete with just nothing else. And I cut the worst [promo], they probably have in the archives, I hope they burn it. I cut the worst promo probably in the history of wrestling. I think I made fun of [head coach Matt] Bloom's voice it was brutal.

"I think that's what it was for me, it was terrible. And then I actually when I got the email, it was the worst day of my life. I woke up that day, I got the email from them that said not right now, but keep in touch. Then I went into the city because I was in such an abysmal mood and I blew a casting that I had with Foot Locker and then I came home and then I found out my grandmother passed away, which she was like one of the most important people in my life. So it's just kind of like it was the first day that life kind of kicked me in the balls. It was also probably one of the biggest days of inspiration that I had because I'm not one to kind of accept negativity too well, I like to spin everything to a positive. And I just kind of I went crazy. I want to do everything I could to get better and prove them wrong that they made a mistake that they didn't sign me and also to make my grandmother proud. So I started taking acting classes, I did improv classes, I did sketch comedy shows, we started the YouTube channel and grew that I got an agent, I started doing commercials. I just wanted to do everything I could to kind of get my personality, you know, out of that gutter. And it worked."
Bowens has recently been out of action with a knee injury, though he appears to be all healed up based on his actions on this week's episode of AEW Dynamite. For a full list of currently injured AEW stars, click here.
transcription via InsideTheRopes
To make sure you stay updated with all the latest wrestling news, add WrestleTalk.com to your Google Discover feed and follow us on Twitter!