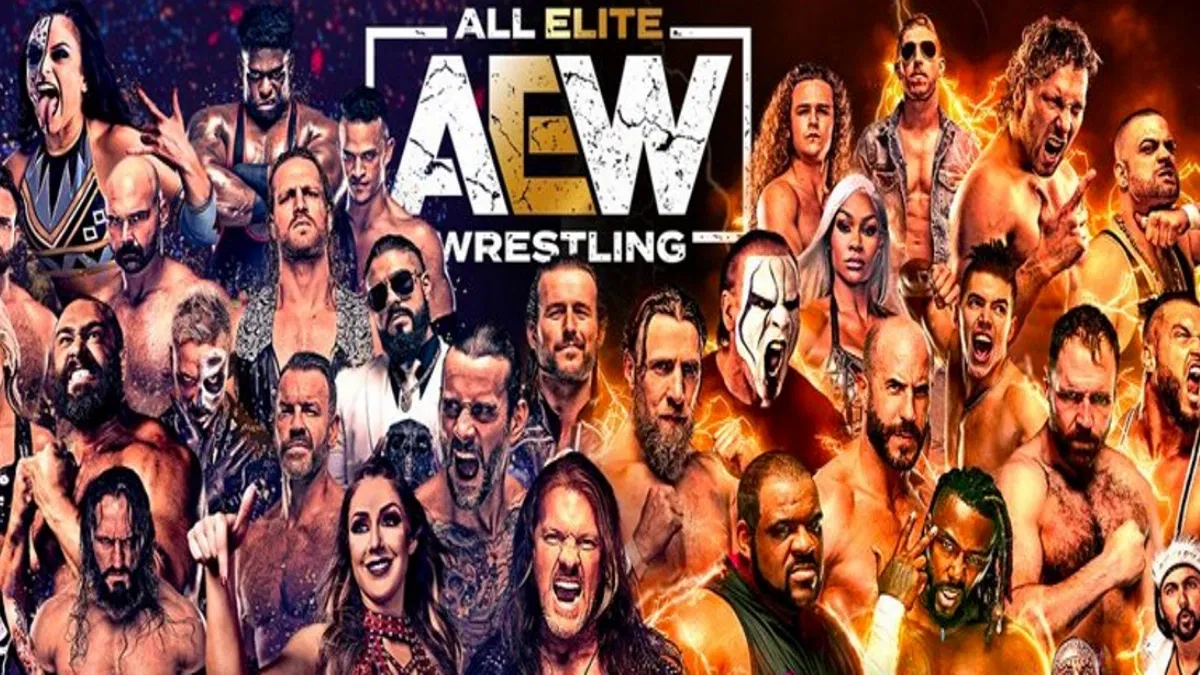 More backstage heat on AEW stars has been revealed, and update on Roman Reigns' WWE contract, a spoiler on a return for SmackDown, and more.
It's Friday, and what better way to start the last day of the week than getting caught up on all the latest wrestling news – I'm Liam Winnard for WrestleTalk.com, and this is our news bulletin for August 26, 2022.
More Details On Backstage Heat In AEW
Even more details came out yesterday about a couple of separate backstage heat issues going on in AEW right now.
Yesterday, we covered the incident between Eddie Kingston and Sammy Guevara including a statement from Kingston, but Guevara has now issued a statement of his own, and more details on what actually happened have come to light.
According to Fightful Select, the line that appears to have caused the issue during Guevara's promo that never made it to air was him calling Kingston a "fat piece of s**t".
The report suggests that it wasn't necessarily just the fact that Kingston found it offensive, but more that he thought it buried the match because he was planned to win, and that would mean Guevara was going to be beaten by a "fat piece of s**t".
However, there had apparently already been some issues backstage between Guevara and people he'd previously worked with, notably with him being deemed "difficult" during the time he was working with Scorpio Sky, Ethan Page and Sonjay Dutt.
After that, Kingston had specifically asked to work with Guevara at a time that not a lot of people particularly wanted to.
Going back to the incident, Kingston apparently yelled at Guevara backstage about the "fat piece of s**t" line, Guevara smiled at him, and Kingston then 'pie-faced' him, which is what resulted in Kingston's suspension. Guevara was not suspended according to Dave Meltzer.
Guevara gave the following comment to Fightful on the matter:
"As a professional you communicate things that you don't want to be said (like other people I've been in programs with and have worked with Matt Hardy, Jericho and others) and I did communicate of what I didn't want to be said in this angle and Eddie didn't. But Eddie did not do the same and Eddie did not mention to me or the coaches or TK or anyone in AEW what he didn't want said.

"So after Tay's and my match with Skye Blue and Dante I cut a promo on Eddie insulting Eddie and the fans as a heel. Which I know the thing everyone loves to do is hate Me & Tay so I'm the perfect person to play this ass hole character for Eddie to ultimately beat at All Out. I see what people say online about Eddie and his appearance. (Which anyone who legitimately shames Eddie for how he looks can go to hell, it's the same people who shame me for being too small) so Sammy Guevara the character I could be the physical person playing that person that Eddie can shut up at All Out.

"But Eddie did not do the professional thing and communicate to me, which if he did I never would have said it cause the last thing I want to do is hurt someone for real. So after the promo I get to the back and Eddie is flipping out yelling "YOU CANT CALL ME FAT" over and over as I'm trying to walk down the stairs in gorilla making a big scene. People get in between us, Eddie tries to pie face me and he more like touches my face, it was weird. And everyone backs everyone up.

"It was unfortunate cause this promo was on a taped show and easily could have been edited (which they ended up doing anyways) i know this isn't Eddie's first time being aggressive and getting out of control backstage. I know he had to do some kind of anger management after this whole thing. This whole thing was very unnecessary but it Is what it is, Live & learn I guess, onto the next we go."
We mentioned it yesterday but just to recap, Kingston's statement to PWInsider was as follows:
"You know the truth. I wouldn't lie. I was wrong for being unprofessional. That is the blind fact. He did what he did and the public can judge that but I know for a fact I was wrong."
The issue with Kingston and Guevara isn't the only instance of backstage heat in AEW right now though, as there's reportedly dissension in the women's division too.
There were some rumors flying around about Thunder Rosa which we didn't cover yesterday as they weren't backed up by reliable sources, but Fightful has now published a report on the situation.
The report states that Rosa and Britt Baker "can't stand each other", and that's been the case for over a year, but they've tried to remain professional in working with each other during that time.
Heat has also emerged between Rosa and Jamie Hayter, stemming from Hayter having her nose broken during their match at Battle of the Belts.
It was noted that talent in the locker room is split on Rosa, with some believing she's done a lot to help young talents in the division, while others believe she's developed an 'ego'.
Fightful does back up what PWInsider reported yesterday which we'd covered, which is that Rosa's announced injury is legitimate and that's what's keeping off the All Out Card, not anything to do with backstage issues.
However, one thing Fightful added was that the original plan for the previously announced Rosa vs Toni Storm match at All Out was that Storm was going to win the Women's World Championship.
It's unknown if that's still the plan right now. The new match is Storm vs Baker vs Hayter vs Hikaru Shida to crown an interim champion in Rosa's absence.
After the report about her came out, Rosa announced she was leaving social media.
There were also some more details that emerged about the mandatory talent meeting that was held before Dynamite, but nothing particularly notable with the exception of PWInsider hearing that Kenny Omega was the "harshest towards the locker room" out of everyone who spoke in the meeting.
Roman Reigns New WWE Contract
Shifting gears to WWE now, and some news on Roman Reigns' contract status with the company.
It was reported back in May that Reigns had signed a new deal with WWE that meant he'd be working much fewer dates, and we've seen plenty of evidence of that recently.
In a new interview with Sports Illustrated, Reigns confirmed that he did indeed sign a new contract as he wants fatherhood to be his number one priority.
He said:
"The main thing is, no, we're not going to be on every single pay-per-view, but anything that I am on, which will be all the major ones and a couple of the other ones that fall in-between the big four and the Saudis. I'll always support those with TV to build the story and rivalry going forward.

"Compared to what I did, technically, compared to a full-time, on everything, you only get a day and a half a week, yeah, it's part-time compared to what I usually run. I'm an annual character on WWE television. It's done well so far. The reactions, it makes everything feel more special if you're not as attainable or available. It puts a little mystique around you."
He also spoke about the difficult mental adjustment to only being part-time as he feels like he's not in control as much as he used to be, comparing it to a 'micromanaging complex'.
Reigns went on to explain why he was pulled from Money in the Bank, saying:
"The strategy for the first few months after Mania was to be on Money in the Bank, but once the show was changed and it was moved from Allegiant Stadium and into the arena, we re-strategized and we stayed on the path of hitting the huge ones going into the winter."
Of course the next time we see Reigns in action will be very soon at Clash at the Castle in Cardiff on September 3 against Drew McIntyre.
Spoilers On SmackDown Returns
There have been numerous returns in WWE recently under Triple H's leadership, and a couple more appear to be planned for tonight's SmackDown tapings.
It's worth noting that there are two episodes of SmackDown being taped tonight – this week's and next week's, because talent will be in or travelling to Cardiff next Friday for Clash at the Castle.
The most notable name reportedly set for SmackDown according to Fightful is Hall of Famer JBL, who still appears regularly for WWE on pay-per-view pre-shows.
According to the report, JBL is "slated to be used in some capacity" at the tapings.
Another planned return which is a bit less notable is that of Xavier Woods, who has been out of action for the duration of August after being written off TV via an attack from the Viking Raiders.
Again, it's a dual-taping, so perhaps if we don't see either of those names on tonight's show, it just means they'll be on next week's instead.
Other Stuff
In other little bits of news…
After the recent allegations of 'contract tampering', Dave Meltzer reported on Wrestling Observer Radio that WWE has contacted "multiple" AEW talents, not just one.
Meltzer also mentioned that the currently planned main event for All Out is a rematch between Jon Moxley and CM Punk, despite it only taking Mox three minutes to beat Punk on Dynamite.
FTR were announced for NJPW's return to the UK at Royal Quest II on October 1 and 2.
Fightful reported that when it asked WWE about Lacey Evans' recent absence, WWE said it was due to her being "medically sidelined".
According to PWInsider, there has been a lot of talk lately about NXT's Solo Sikoa – the younger brother of the Usos – being called up to the main roster soon, in fact possibly as soon as next month.
In an update on recent reports of WWE moving to TV-14, PWInsider stated there was "smoke to the fire" at the time, but it's no longer the case and there are currently no plans for WWE to move away from a PG product.
Images emerged via TMZ from Vince McMahon's 77th birthday celebration at the Waverly Inn restaurant in New York City. Those captured in attendance included an 'unidentified woman' accompanying McMahon, John Cena and his wife Shay Shariatzadeh, Brock Lesnar, and Pat McAfee.
Since it was notable due to the big main event, the viewership for Wednesday's AEW Dynamite was 1.049 million viewers and a 0.34 in the 18-49 demographic.
AEW filed to trademark 'The Iron Savages' which is the new name for the tag team previously known as Bear Country.
And announced for tonight's SmackDown is Ricochet vs Happy Corbin, and the 'second chance' four-way match in the Women's Tag Team Championship tournament after Toxic Attraction were pulled due to Gigi Dolin suffering a concussion. The teams in the four-way are Doudrop & Nikki ASH, Dana Brooke & Tamina, Natalya & Sonya Deville, and Shotzi & Xia Li.
Be sure to stay tuned to WrestleTalk.com throughout the day to keep up with all the news from the world of pro-wrestling, and I'll see you Monday morning for another round-up.
Check out WrestleShop.com for all your favorite WrestleTalk merch, the WrestleTalk Magazine, wrestling shirts for grown-ups, and more!