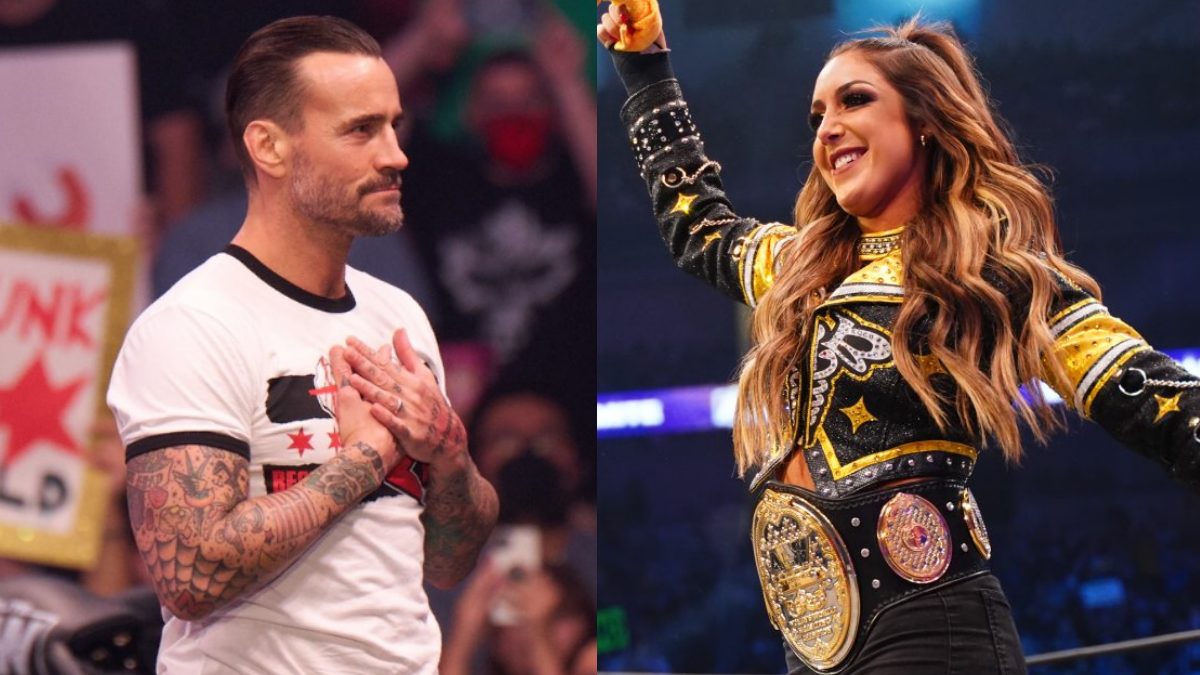 Some insight into the reaction of AEW stars backstage to the debut of CM Punk has been revealed by Tony Schiavone.
Schiavone mentioned how everyone had gathered in the go position (AEW's version of Gorilla) so they could feel the crowd instead of just watching from afar backstage.
Kenny Omega and the Young Bucks were there, and Britt Baker was "beside herself" when Punk mentioned her at the start of his promo.
If you missed it, Punk opened by telling his hometown Chicago crowd: 'You really know how to make a kid feel like Britt Baker in Pittsburgh', calling back to the reaction she'd gotten from her own hometown a week prior.
Schiavone also spoke about the meal with Tony Khan, Punk, Baker and others after the show. On What Happened When, he said:
"So he goes out to the go position where everybody bumps fists, we're all excited. Tony's excited. And then everybody starts to come out at the go position because we've got a monitor out there. I'm telling you, Kenny was out there, the Young Bucks, everybody just – they didn't wanna sit in the back and just watch it, they wanted to come out, right behind the curtain, and feel it. I'm gonna be honest with you, it was one of those from the heart, just ass-kicking moments wasn't it? It just was.

"So, he did it and came back, and people were so excited about it. Britt was beside herself that he mentioned her name. I had to get up early the next morning to fly to Detroit to work the Astronomicon in Ann Arbor. So I waited until after the show's over, I usually ride with Jeff Jones and Jeff Jones has some things he's gotta do with social media so we hung around a little bit. They had the media scrum, we hung around a little bit, so Jones says, 'Alright, let's go'.

"And I walk out, and we're talking about probably like 11:30pm, maybe midnight, we walk out and Tony Khan's there with his girlfriend and his driver and some other people, and he says, 'What are you doing?'. I said I was going to go back to the hotel. And he said, 'Come on, hop in with me'. So I hopped in with him, and we went out to dinner with Punk and his entourage, and we had some of our people there. Rebel was there. Britt was there. Orange Cassidy stopped by. And I sat beside Tony at the table and CM Punk's sat across from us and we talked about his return, and it was just a very, very special moment.

"Now, the fact is I had to get up at 3:30 for a 5am flight, so I got back to my room at 2:30am. Yes it was (worth it). So I stayed up all night, I didn't go to bed, first time I've stayed up all night since I don't know when. But I was really riding a high, I think we all were riding a high, feeling good about our company, about what Tony has done.

"I jokingly told Tony, I said 'Maybe I should send out a tweet that says this is the greatest moment in the history of our great sport'. He goes, 'Yes! Yes, that'd be great!'. So, I did."

If you use this quote or any portion of it please credit WrestleTalk.com and link to this page.
Schiavone also revealed the original plan for Punk's debut, which was changed on the day of the show, as well as what CM Punk was specifically told to say during his promo.
CM Punk will be appearing on AEW Dynamite tonight for an interview with Schiavone.
I have been asked many times: Hey Schiavone, what is the greatest night in the history of our great sport? My answer: This! #CMPunk #AEW pic.twitter.com/eWDuFUUSGS

— Tony Schiavone (@tonyschiavone24) August 21, 2021
To make sure you stay updated with all the latest wrestling news, add WrestleTalk.com to your Google Discover feed and follow us on Twitter!