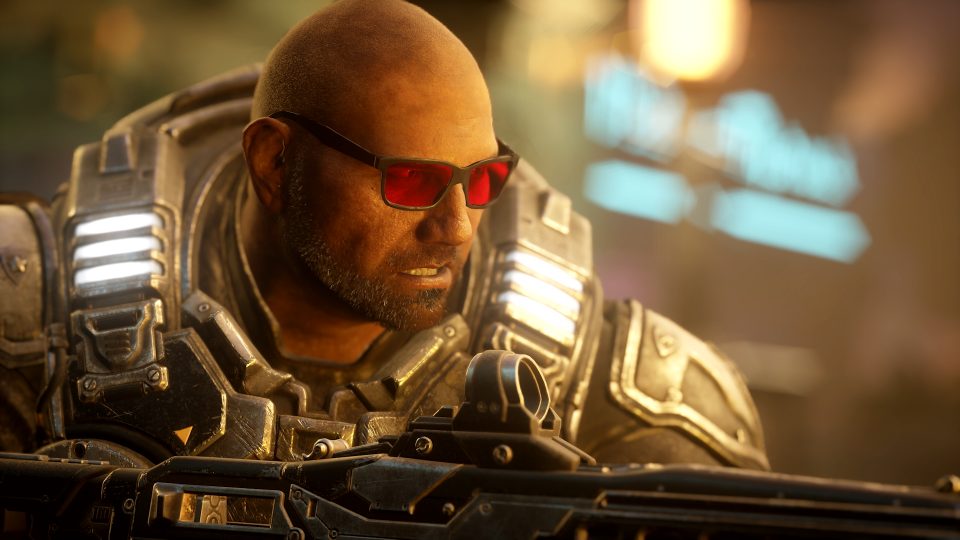 Batista revealed on Twitter earlier today that he will be a playable character in the upcoming Gears 5 video game:
It's about damn time. Play as me in #Gears5 starting Sept 15 after @WWE Clash of Champions. @XBox @GearsofWar #DreamChaser pic.twitter.com/bCU4ZIjdw1

— Vaxxed AF! #TeamPfizer Poor Kid Chasing Dreams. (@DaveBautista) September 3, 2019
Gears 5 is the latest game in the Gears of War series, and will release on September 10.
As Batista stated in his tweet, he will be available to play as following WWE Clash of Champions on September 15.
As part of this announcement, Xbox has revealed a partnership with WWE which will include a special countdown to Batista being available as a character, and some behind the scenes content on Xavier Woods' UpUpDownDown YouTube channel:
"Xbox has partnered together with WWE to create a special countdown to Batista's availability in the game, including behind-the-scenes with Gears 5 and Batista on WWE's UpUpDownDown gaming channel. This all leads up to WWE Network's "Clash of Champions" event on Sunday, September 15, available through a 30-day free subscription on the Xbox app (new subscribers only)."
The 'Animal' will feature in the Gears 5 multiplayer modes, and game developer The Coalition confirmed the role in the following statement (via Bleacher Report):
"Dave has long been passionate about joining the Gears franchise, and we're thrilled to be working in partnership with him to bring his signature WWE style to the game. The iconic attitude of WWE's Batista will be incorporated into 'Gears 5' as a multiplayer skin, allowing both Gears and wrestling fans alike to jump into the action as Batista across all multiplayer modes including Horde, Versus and Escape."
Rod Ferguson, who has cast and directed every Gears of War game, revealed more about Batista's role:
"Adding Batista to Gears 5, we started with the fantasy of 'Batista as Marcus,' putting Batista into Marcus' armor, and starting with Marcus' script. Then we added elements of "The Animal" Batista into his voice performance and onto his look by adding his signature Hollywood shades to his character.  Batista was great in the booth and I can't wait for Gears and Batista fans alike to stomp some Swarm as The Animal."