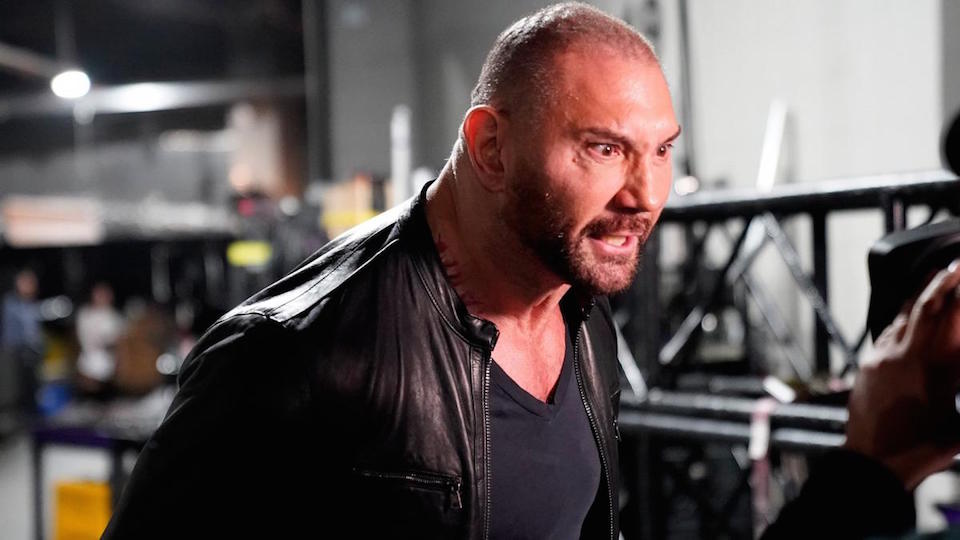 Earlier this week, Batista sat down for an interview with The Tampa Bay Times as previously reported. The 'Animal' discussed several aspects of his acting career and made it clear that he should not be compared to former wrestlers-turned-actors John Cena and Dwayne 'The Rock' Johnson.
Batista stated that those two names want to be movie stars whereas he wants to be a respected actor. He does not "care about Fast and Furious or Bumblebee." Instead, he wants to work with Academy Award winners:
"Do not compare me to The Rock or John Cena. Everyone does it. Those guys are wrestlers who became movie stars. I'm … something else. I was a wrestler. Now, I'm an actor."

"Rock was, in a way, a movie star before he was even a movie star. There is something about him that's really special. I'd never take that away from him. Would I consider him a great actor? F— no.

"I want good roles. I don't care about Fast and Furious or Bumblebee. … That's not the kind of stardom I want. … I want to be in Dune. I want to work with Denis Villeneuve. I want to work with Sam Mendes and Jodie Foster. I want to work with Academy Award winners. I'm proud to be a character actor. I want that respect and credibility and education."
I suppose we better not mention his role as Drax in several Marvel franchise movies or as Mr. Hinx in Spectre…
Regardless, it is fair to say the former WWE World Heavyweight Champion has been more selective with his film roles than his former colleagues.
Many believed that his comments on the Rock, in particular, were incredibly harsh as he is one of the highest paid actors in history after all.
Batista has since seen these comments and has taken to Twitter, thanking news site Movieweb for making it clear that he was not "bashing" anyone. He states that he is "not a disrespectful person" but he does "stand by the interview"
Retweeting this because although the headline is a bit misleading, I really appreciate them pointing out that I was not bashing anyone. I'm not a disrespectful person. I speak from the heart and sometimes it comes across harsh. I stand by the interview w/ @TB_Times #dreamchaser https://t.co/7yCtNasolh

— Vaxxed AF! #TeamPfizer Poor Kid Chasing Dreams. (@DaveBautista) February 27, 2019
You've got to respect the man. He tells it how he sees it.